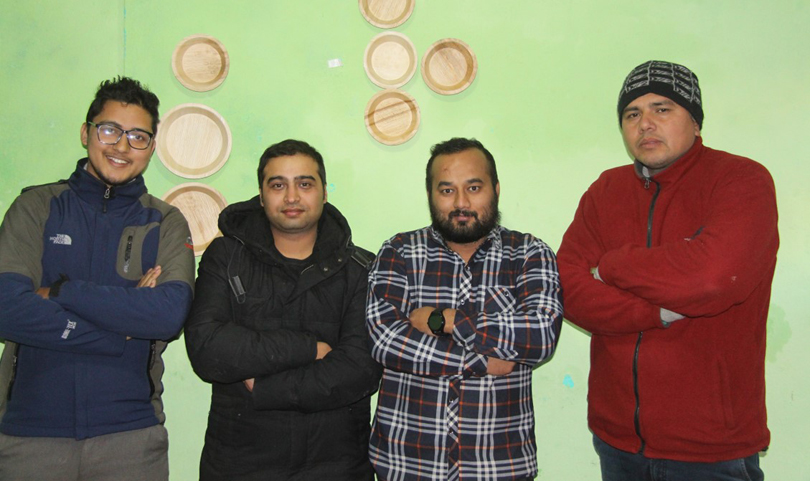 Kobit Singh Baniya, Swaviman Acharya and Bidhan Pokhrel completed their high school from an institute in Kathmandu in 2009. After around four years, they wished that their school established an alumni association so that they could get connected to members of recent batches.
One day, they approached the school's CEO with the proposal. The CEO gave them a positive response. So they entered into a nearby momo shop to have a quick lunch. The shop served momos in taparis, plates made of sal leaves. While eating the dumplings, they realised how ineffective the plate's design was and wanted to improve it. "Hence an idea was born to do some business in the sector," mentions Acharya.
Inspired from the drawback of the sal tapari, Baniya, Acharya and Pokhrel started a company named Leaf Plus that produces similar plates using areca (supari) leaves. The plates are biodegradable and microwavable; and the company now targets replacing plastic plates popular in the market capitalising on these features.
Why areca leaf plates?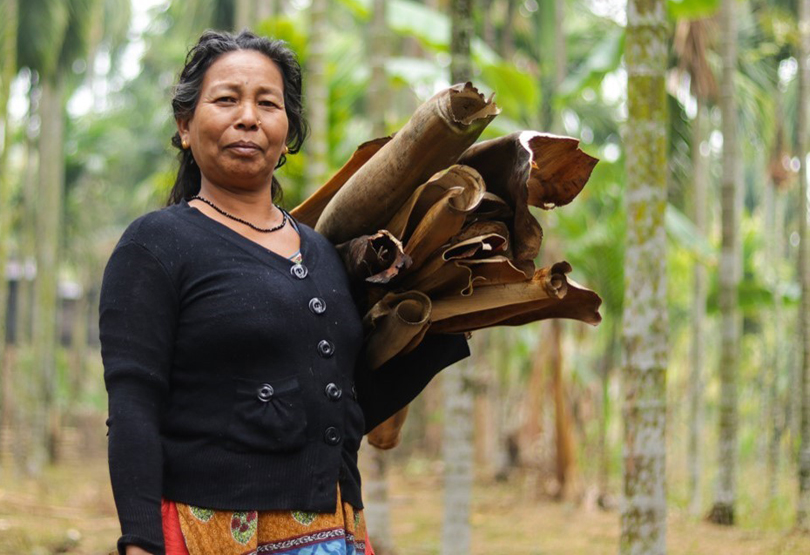 Few months after the momo incident, their quest began with identifying where and how the sal taparis were made. After doing some research on the nature of the source material, they discovered some of its properties that made the taparis not so useful for hot liquids in particular.
The three youngsters went to Danda of Nawalparasi to observe how a sal tapari factory works. From their inquiry, they were able to identify a couple of problems with the sal tapari products: it was incompatibie with microwaves and refrigerators and it leaked when liquid was placed on it, informs Baniya.
All of that seemed to provide an explanation for its failure. Through their research, they discovered that areca leaves possessed certain unique properties that would make it possible to overcome all those defects. Acharya says, "With areca is a commodity available in a commercially viable amount, we decided to capitalise on it."
It was a sort of coincidence that Acharya visited Jhapa around the same time for an event as a member of the US Embassy Youth Council. "I already knew that Jhapa was rich in areca plants. Interestingly, I met one Hari Dahal, the personal secretary of the then lawmaker Rabin Koirala, who gave me more ideas about the plant," he shares, "From him, I learned that around 10 leaves fall off one areca plant annually."
After that, the team began exploring further information about the plant. They discovered that there were approximately 3.8 million areca plants in the district as determined by a study of the Ministry of Agricultural Development. It means total 38 million leaves go to waste every year that could instead be used for a commercial purpose.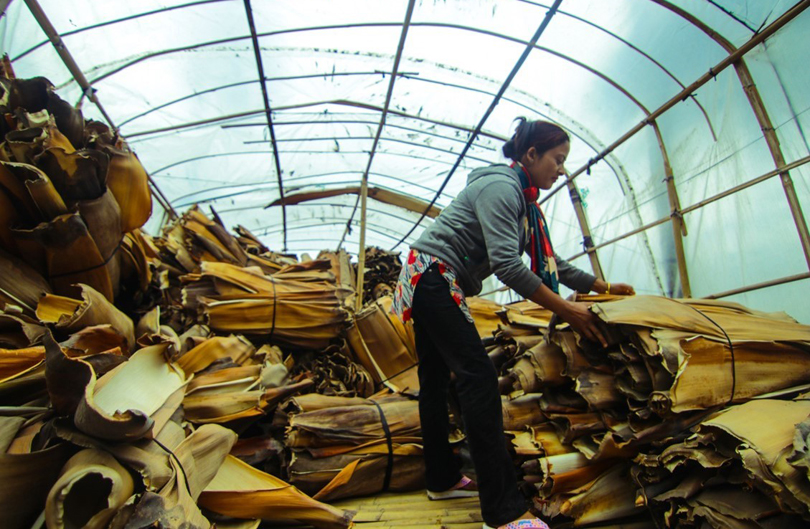 After Dahal agreed to coordinate among areca farmers to collect the leaves in Jhapa, they established a factory in Hetaunda of Makawanpur district with the aim of making it a research centre and transportation hub.
Growth of the company
They registered the company in early 2017 collecting Rs 10,000 from each of the team members. The four people also spent around Rs 150,000 on their trip to Tamilnadu of India to further their investigation.
While exploring the business potential in Nepal, they learned that they were not the first ones to have made such an attempt as previously a small organisation with the government aid had launched the project. However, it could not grow up and continue operation due to different reasons.
"The business model under which they operated was not very effective," mentions Pokharel, adding, "We, hence, decided to incorporate that model while addressing the causes of its failures like inconsistency in the availability of raw materials due to seasonal changes."
Acharya says that their model is based upon collaboration with entrepreneurs of all levels so that it would be easy to address inconsistencies. They also claim that they are scaling up the production capacity to satisfy the current market demands with the establishment of the second factory in Jhapa.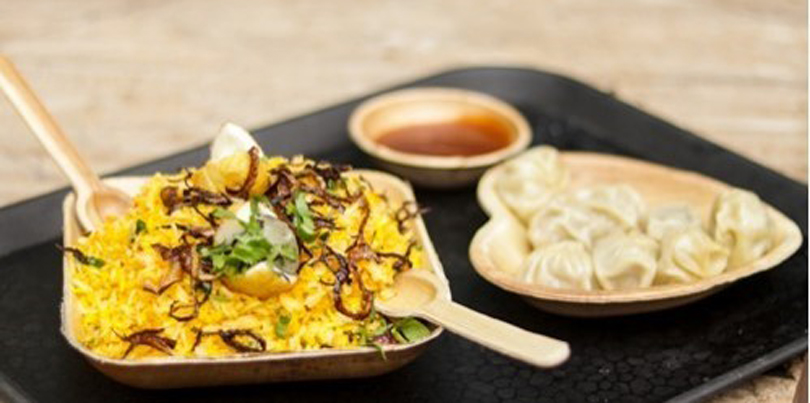 He also states that they are working on developing new products including the ones that are customisable as per customer demands. Baniya proudly claims, "Our research centre is also focused on making the product biodegradable and eliminating the usage of plastic in its production process."
Market response
The company has completed the first year of its production few months ago. It says it has received mixed responses from consumers. "Some state that the price, which ranges from Rs. 8 to 25 per piece, is quite reasonable given its quality while many think it's still not suitable for mass consumption given that plastic plates are cheaply available for just Re 1," Acharya shares as Pokhrel adds, "However, due to the quality of the product, there are still a lot of cases in which certain consumers find it quite economical and useful in events like parties and picnics. Even restaurants find it quite appropriate."
Its unique feature that it's microwavable and biodegradable will help the company assert a strong presence in the market, Acharya adds.
It has received positive reviews from the Prime Minister's residence and some United States Embassy officials. Acharya informs that Prime Minister KP Sharma Oli ordered 10,000 pieces of such places after he gifted one of them as a souvenir to the PM last year.
The company claims its scope is wider than what is has been serving now. Baniya hopes that the full-fledged functioning of the second factory will result in increased production so that the company can receive returns of the original investment, which they say amounted to around Rs 15 million, within next two years. "After that, we will use the revenue on research and development," says Acharya.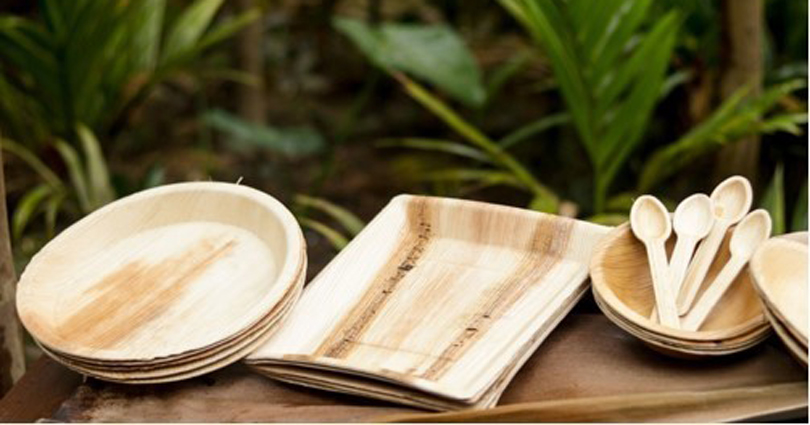 A good thing about this startup is that it has a vision of uplifting the socioeconomic status of Nepali society. "We want to brand itself as an enterprise that is not focused on manufacturing only, we want to empower the society by providing employment to farmers," says Acharya, adding that is why they discourage the use of machinery in the production process.
These entrepreneurs seem quite optimistic about its growth potential to the point of finding an export market and boosting production levels to accommodate foreign demands.
However, the question of sustainability is likely to pose a serious threat to their business potential as they haven't yet given regard to planting the trees. For now, it can be just hoped that the company would think of it in the next decades to come.
Nevertheless, they are hopeful that the government will support their initiatives as it has declared Jhapa as an areca super zone.