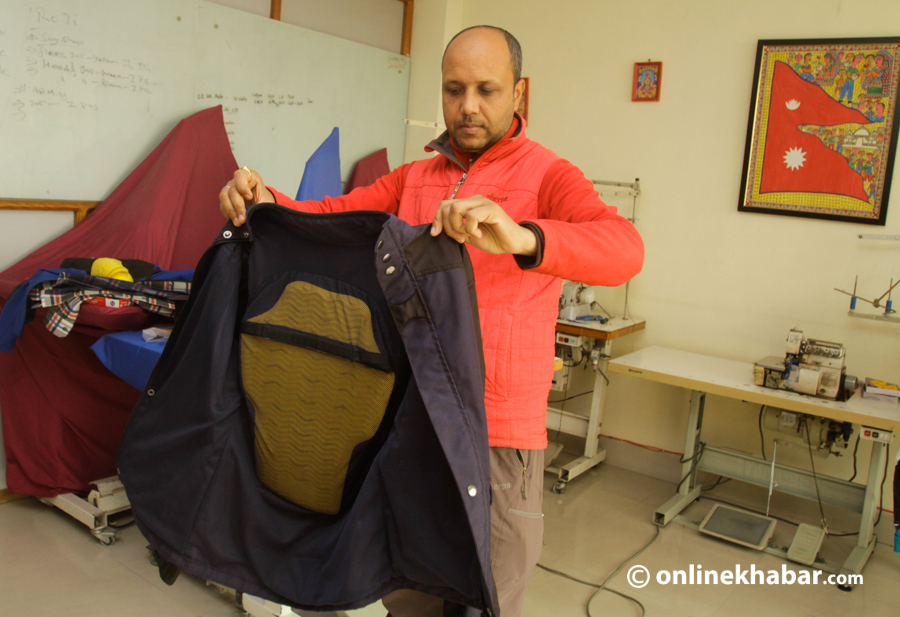 Arabinda Subedi was excited about bikes since his early youth, but the fear of accidents would always haunt him. Though he never had any serious accidents while riding, he knew many friends and colleagues who sustained injuries in severe accidents. "Further, post-accident hassles would be equally painful. It would take months of bed rest, without any guarantee of complete recovery," he remembers.
But, he was surprised to see a friend survive a 'dangerous' motorbike accident without a scar on his body, around four to five years ago. "After he fell off the bike, the witnesses began preparing to send him to some facility for medical attention. But, we suddenly found that his clothes were not damaged, which meant that he did not have any injury."
Then, Subedi realised the importance of safety gear for riders. Kavach, Nepal's pioneering riding safety gear brand, is the result of that realisation.
It's not only about business, it's about saving lives
A clever Subedi does not forget to mention that his product is not only about profits but also about saving people's lives. "There are around 15 to 20 road accidents in Kathmandu Valley every day, and more than half of them involve two-wheelers," he says.
He argues that if people learn using safety gear while riding, it can significantly reduce the possibility of suffering life-threatening injuries.
"That is why we have used world-class materials such as armours and fabrics," co-founder of Himalayan Accessories, which is the official name of the company that produces Kavach, Jayanta Bhatta says, "We have spent nearly one-and-half years researching on safest items in the international market."
Bhatta himself leads the research and development unit in the company.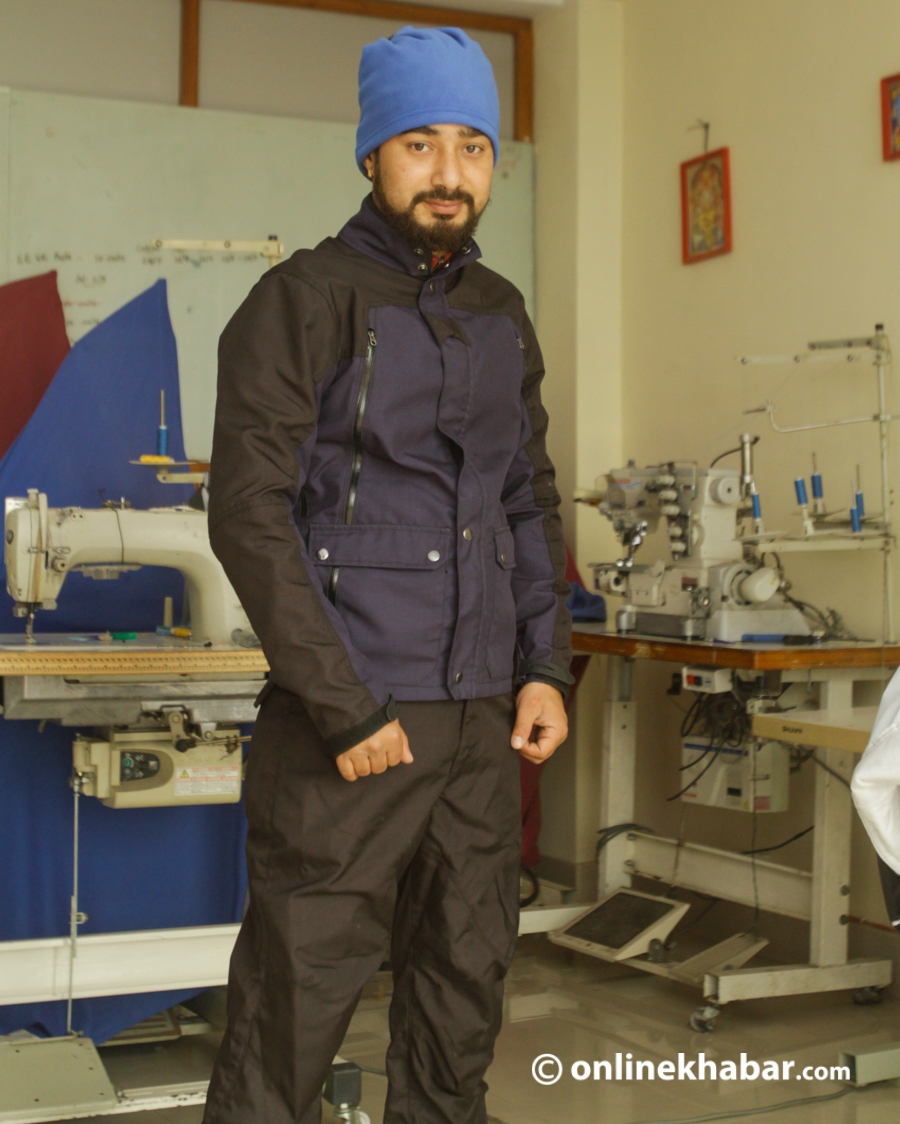 Meanwhile, Subedi says his company also cannot compromise comfort and design for any other enticement.
Actually, he wants to promote his products so much so that one day the government would make wearing safety gear mandatory for bike riders. "Our ultimate goal is that safety gear is also recognised as an essential protection like a helmet," he says, "If making it mandatory in all cases is not possible, the government should make sure that high speed and long route riders are equipped with safety gear."
"We are hopeful that it will be a reality during our lifetime," he says, adding the company wants to reach out to at least two percent of Nepal's riding population, which is around 40,000 people, in next three to five years.
Bhatta informs his team has developed 'salesman's samples' and bulk production will begin immediately after the New Year.
Selling global standard goods at local price
As the Nepali brand is all set to hit the market within the next few months, similar international products are already available. Most of them are imported from China.
"But, we aren't worried about the competition," Subedi calmly says, "While we ensure a global standard on our products, they will be available to Nepalis at a reasonable price."
He informs that a pair of a jacket and trousers for riders will cost around Rs 10,000, almost equal to the price of a Chinese pair. "When you have two choices which cost almost equal but are significantly different in terms of quality," he looks certain, "You obviously pick the one with greater quality."
Further, imported jackets and pants do not easily fit the body size and shape of Nepalis, Subedi argues. "There is not any other Nepali company in our knowledge producing such gear; therefore, the size factor makes us the best choice in the Nepali market."
The company will give a two-year warranty in the safety gear; therefore, the promoters are hopeful that it can easily beat foreign competitors.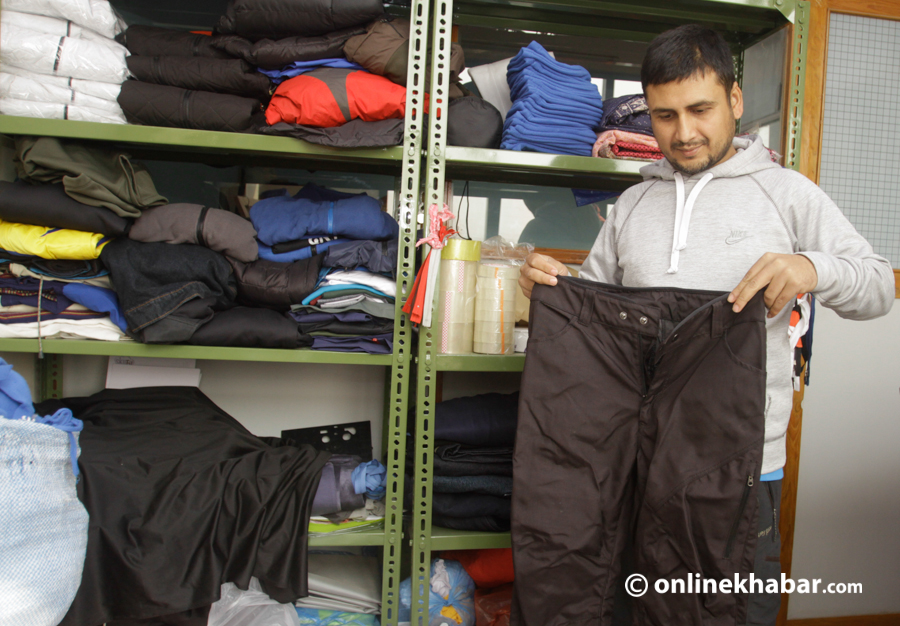 Bhatta, on the other hand, adds that the company will adopt an effective market strategy to tap available market opportunities and create new ones simultaneously.
He has been carefully taking note of some cultural shifts in the country and believes they will be helpful to promote the use of safety gear. "There are many bullet bike clubs. Some of them are hosting bike trips to Mustang. We need to approach them."
"We are not here to challenge anyone. Our market is different," Subedi says, "We are here for innovation, not competition."
Growing up with 'no money'
Subedi attributes his former employers, Sherpa Adventure Gear, for making his dream come true.
"I worked for Sherpa from 2012 to 2017, first in its factory, then in HR and administration departments," Subedi shares, "I learned about different dimensions of the industry there."
Sherpa's success in the market gave Subedi a motivation to do something on his own. It also gave him a friend to partner with, to launch the new business. He had first met Bhatta at Sherpa as he joined the company as a 'garment engineer' in 2014.
"As a graduate of apparel engineering from India, I was interested in further research in the field, so I left Sherpa and kept on exploring new possibilities," Bhatta said, adding, he, therefore, was ready to invest when Subedi proposed establishing Himalayan Accessories last year.
The two made the team to launch the business, but they did not have money. "Both of us had saved some portions of our salary. We decided to launch the business with that," Subedi says, "Our preliminary investment was just around Rs 50,000 to Rs 60,000. In the business world, you can consider it no money."
Meanwhile, Bhatta adds, "We managed to register the company anyhow, but did not have money for research and development."  Then, they approached Safal Partners, an investment company, which later put in an angel investment of around Rs 4 million in the company. Bhatta informs that the investor collected the money through crowdfunding.
The company's current capital value is around Rs 10 million, which is way bigger than other startups. But, Subedi argues that his company is still a startup, claiming, "We established the company with almost no money."