"I can make money inflating balloons!"
When Jivan Shrestha first told this to his friends five years ago, they dismissed him strongly. But, soon enough, he showed that even such an "impractical" claim was possible to achieve.
In all gatherings, from meetings and seminars to weddings or events, Shrestha started decorating the venue with balloons. With at least two events a day, he is generating enough income from it. Not only that, he has employed 10 people who help him in the process.
To understand this balloon artist more closely, one has to go back about nine years.
From feeling misfit to finding his calling
Shrestha is a former Nepal Army staffer. He joined the army in 2004 and resigned in 2009 as he could not meet the needs of his family with the job. Then, like many others, he also dreamed of going abroad and earning to meet the basic needs of his family.
But, for a year, Shrestha could not go abroad; that made him frustrated. "All the problems could have been solved if I had gone abroad, but when I could not go, people started talking behind my back. I was very frustrated."
After much struggle, he finally went to Saudi Arabia to work as a waiter. But, he was not satisfied with his work there as well.
After some time, he started looking for a different job.
That is when he landed a job to inflate balloons in an event company [in Saudi Arabia]. Remembering people inflating the balloons with the mouth in Nepal, he could not sleep the night and second-guessed himself. Laughing, he recalls, "I was worried all night about how many balloons I could fill with my mouth the next day."
But, once he reached the workplace, he realised that he would be inflating balloons with the help of a pump instead. Then, he breathed a sigh of relief.
Strangely, the work gave him satisfaction. After working for about three and a half years there, he returned to Nepal thinking of doing the same work here.
Originally from Inaruwa, Sunsari, he had plans to stay in Kathmandu for some time and go home. But, things did not go as planned and whatever money he had saved got spent. He had no money to invest in his plan to resume his work here.
With no way to move forward, he again decided to go abroad. This time, he went to Kuwait to work as a balloon artist. He started working and decorating balloons at weddings, birthdays, anniversaries, baby showers and more. After working for 15 months, seeing a strong future in the feat, he returned home in 2017.
Happiness in colourful balloons
When he came to Nepal, he brought a suitcase full of colourful balloons from Kuwait. He inflated them and distributed them, free of cost, at Bus Park, Kalanki, Ratnapark, Sundhara and other places in Kathmandu. "I closely observed the happiness on people's faces when they got colourful balloons and understood people's attachment to the balloons of different shapes and sizes," he recalls.
Balloons started being used in various programmes, yet he did not find any Nepali balloon artists but only Indian and Bengali ones. Then, he went to fairs in different places inside the Kathmandu valley, Dharan, Biratnagar and started selling balloons.
Finally, he decided to make a living out of it and told the plan to his family and relatives. But, no one believed him. "You cannot make money by inflating balloons," everyone teased him. Nevertheless, he started working hard and informed everyone he knew of his work.
He knew he would not find work to decorate balloons immediately, so he opened a grocery store in Chabahil. "But the shop went in loss as I had no idea about running grocery stores," he says.
Coincidentally, he got the job of decorating balloons for the annual event at the army barracks in Ramechhap and Lamjung. Thereafter, he gradually started getting work. He posted a photo of his work on social media, created a Facebook page and gradually his work flourished.
Changing life with balloons
The Chabahil-based shop that he started alone, Balloon Party Shop, now started getting work. He even opened another outlet at Bhatkekopul and employed ten people. Now that more people are seeing the future in the field, many Nepalis have joined in.
Jivan Shrestha has worked up to 20 programmes in one day. "I have worked day and night to get to where I am now; inflating balloons all night and decorating sets all day," he shares.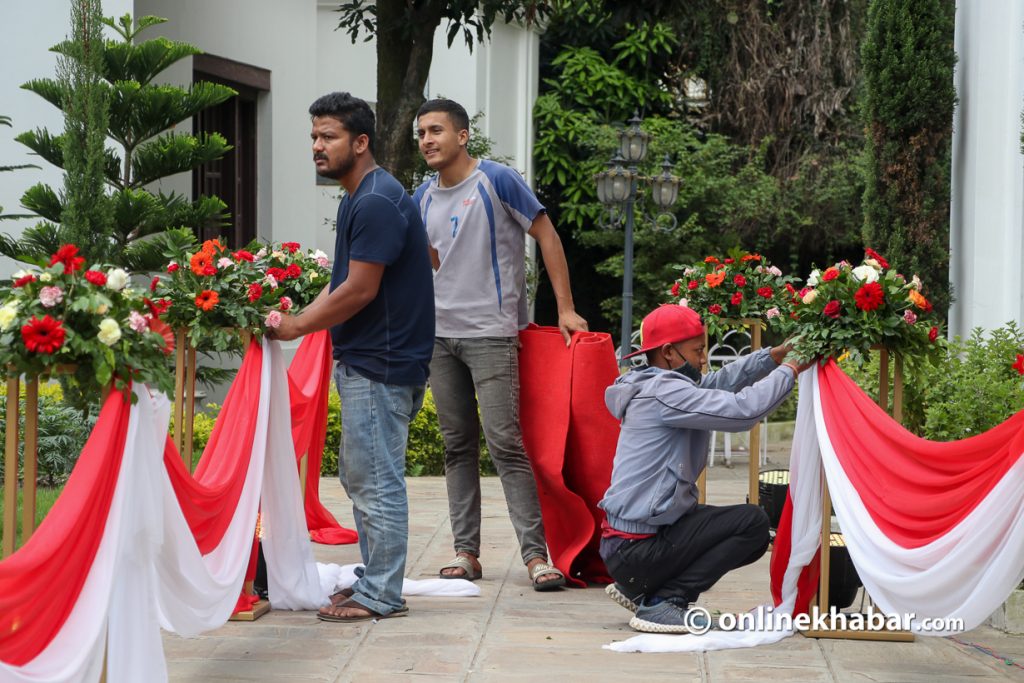 He takes all kinds of orders, the smallest being for birthdays. At present, his monthly income stands at around Rs 200,000, after paying the rent and paying his employees. He makes a minimum of Rs 6,000 to Rs 350,000 for his work.
For parents with weak economic footing who still want to prepare balloon decorations to make their children happy, Jivan Shrestha does so without adding any profit to his orders. "My job is not only to inflate the balloons but also to make them feel colourful, enthusiastic. So, I want everyone to be happy as much as possible."
After he started making good money, his family, relatives and friends have started appreciating his work. Friends who were ashamed to talk to him while he was selling balloons before started appreciating his work now. He says, "You have to struggle alone. Only after success can you get along with others."
Apart from Kathmandu, there is demand for their work from Pokhara and Dharan too, but his team has not been able to meet the demand. Hence, it is preparing to train interested people in those cities.
Jivan Shrestha has also started working on flower decoration along with the balloons. He claims that Indians and Bengalis still dominate the section, and he wants to change the scenario to promote Nepali artists instead.
He says he is also trying his best to change the mentality of the generation that thinks working in Nepal is unfruitful. "There are many possibilities in Nepal. My understanding is that we have not been able to cash in on it."
"If one can work hard, the future is good in the field. The market is also growing day by day as schools, government and non-government organisations are preferring balloon decorations in their events."