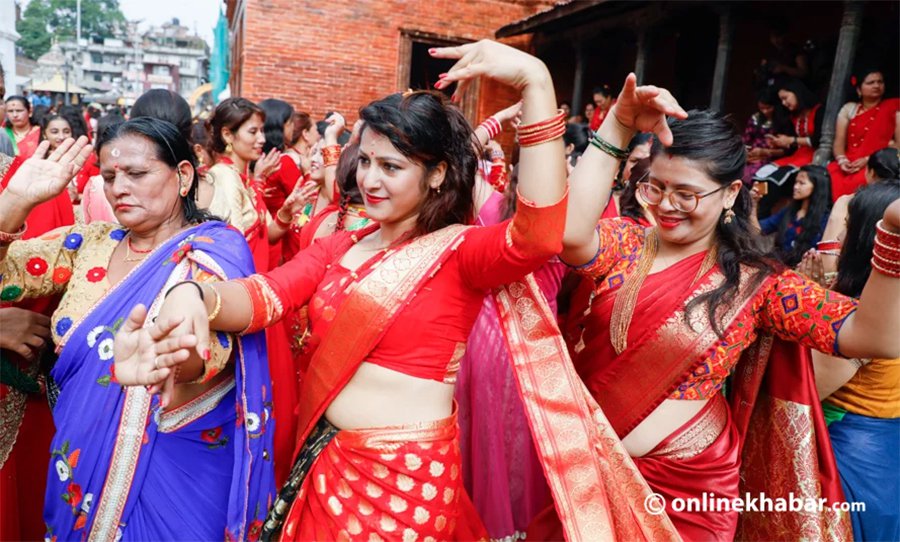 What is the first thing that comes to your mind when you hear the word 'Teej'?
Well, the most obvious answer to this question is 'women'. The sight of women and girls decked out in all glittery red or green ethnic wear like saree and kurta pairing them with a variety of jewellery, dancing together in the premises of their houses or temples, might come to your mind when you hear about Teej.
Although Teej is tagged as the greatest festival of 'Hindu women' and seems to be a celebration of womanhood and femininity, many gender experts and activists belonging to the new generation stress that Teej is a celebration of patriarchy, a festival celebrated FOR men.
Patriarchy into play
Santosh Giri, a gender studies lecturer at Tribhuwan University, believes, "Traditionally, how Teej is perceived and practised is a mechanism to control women. No doubt, this is a traditional patriarchal issue."
She, however, maintains the festival's perception is entirely subjective: everybody has their own view and perception regarding anything. Nepali women have been culturally practising what their ancestors followed in the name of religion. Believing that taking a day-long fast and wearing sindur, red 'poteys', bangles and tika by married women would grant their husbands longevity and sound health and taking fast by unmarried girls with a wish for a good husband as a blessing of Lord Shiva are all based on myths, she says.
For her, these myths were created by the rule of Brahmins (she calls it 'Brahminism'). "All the cultural practices and systems that time were made by men, which women also were told to follow. They made wives obliged to consider their husbands as gods and treat them accordingly, but it was to keep women in a boundary of subordination in the name of religion."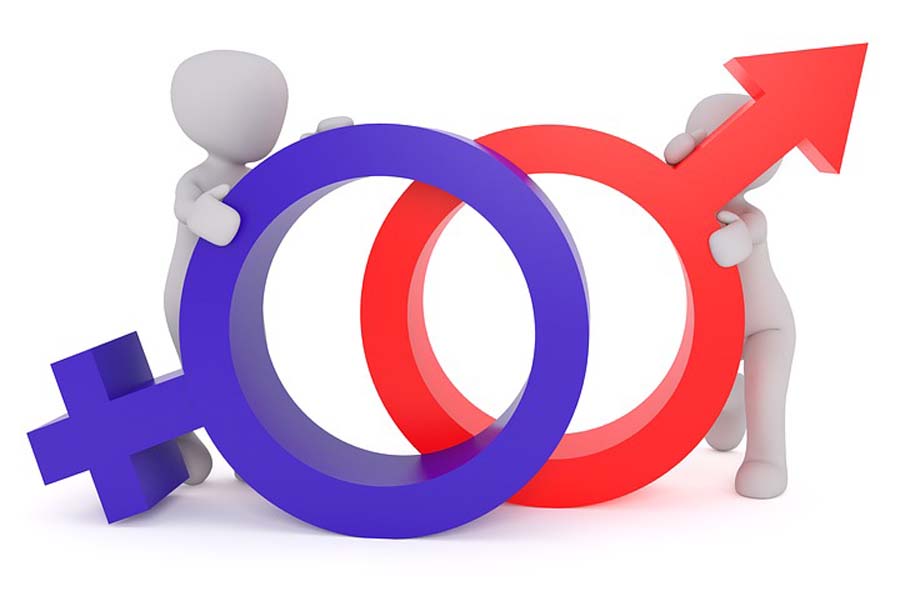 Likewise, Naresh Regmi, a student leader with a feminist inclination, regards Teej and Rishi Panchami as a 'sweet poison' for Hindu women of our society. He questions, "How can Teej be the greatest festival of Hindu women?"
He elaborates, "In this festival, in which married women take a 24-hour-long fast without even drinking a drop of water in the name of husbands, in which unmarried girls fast with a hope of getting a good husband, in which married women break the fast by drinking the water used in washing their husbands' feet. This festival considers women and young girls impure, requiring to purify their souls and bodies from the sins of menstruation. How can this even be a festival for women?"
Non-reciprocation
Giri also has similar questions regarding why should only women fast for their husbands and why not husbands for their wives. "Why do only women have to worship and revere their husbands with devotion regardless of how their husbands are?"
Stressing that all of these practices exhibit the clear discrimination among the genders since antiquity, she states, "Most of the traditional rituals of the Teej festival such as fasting without even drinking a drop of water are internalising the patriarchy."
Meanwhile, she also clarifies that if one woman or maybe a man as well is taking fast out of his/her choice being devoted to each other, we cannot tag them as 'wrong'.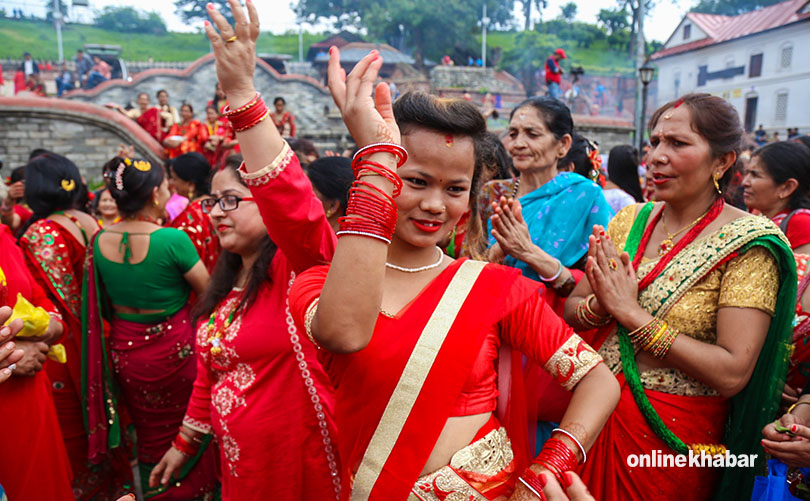 Corroborating Giri, Rachana Upadhaya, a researcher at the South Asia Institute of Advanced Studies, does not view Teej in isolation, but just a part of how a religion performs itself.
She explains, "We cannot understand our society by observing different events or festivals in isolation. If you look at how religions operate, you will observe they have rituals that require a kind of performance or act. And, the burden of those rituals is mostly on women. They are obliged to practise the rituals of religion on an everyday basis. Most of the festivals that we have, there are certain roles designed for women. In the case of Teej as well, there is a performance of women."
Can't we turn the tables?
Upadhyaya acknowledges there are two major two lines of the argument regarding Teej. One group views it is completely patriarchal, it is not right, hence should be discarded. On the other hand, some others consider it a part of the women's identity movement and an opportunity to redefine the festival in their own language by owning it. But, she finds herself sceptical about the second position. "But, the entire idea of Teej is that the identity of women depends on the existence of men."

Upadhyaya also believes that patriarchy is in the foundation of Teej. She views, "The ideology and foundation of this festival are very patriarchal and I firmly believe that manifestation of this will also be guided by patriarchy. I do not fall into the category that would define Teej as a liberating festival for women."
Regmi agrees with her. "In our Hindu society, there are many festivals dedicated to men and women. The festivals dedicated to men are designed to make them more powerful. On the other hand, Teej, being the festival celebrated by women, does not empower them, but makes them weaker."
Regmi gives an example of Teej songs to prove his point. The songs are in the limelight during this festival every year. He believes such songs, traditionally, do not make any effort to empower women; they just express their sorrows.
This year, Regmi has been the fan of Sophia Thapa's 'Abako Teej ma no brata please' that courted controversy as many people said she attacked the Hindu culture. But, Regmi says, "Most of the contemporary Teej songs mainly highlight the capitalistic patriarchy, but this song is much more liberating and empowering."
At the same time, he clarifies that he has no problem with women gathering in a place, singing, dancing, and being happy and healthy. However, he questions, "What does that happiness mean if your identity is at loss?"