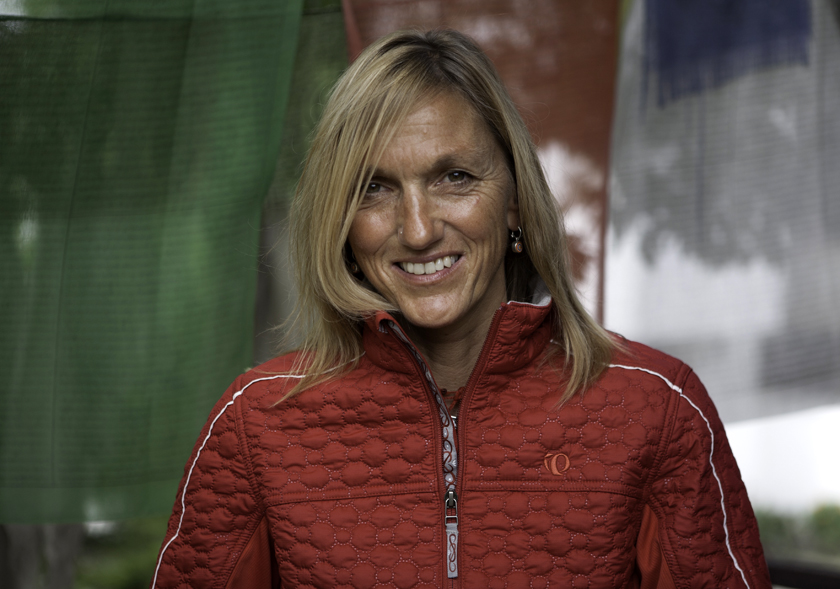 Billi Bierling is a journalist and works in the development field. But her bigger exploits have been on mountains. She has climbed Everest. She is the first German woman to summit Manaslu, the eighth-highest mountain in the world. Bierling is the first German woman to climb Lhotse and the first German woman to climb Manaslu without using supplemental oxygen. She is also an assistant to Miss Elizabeth Hawley, the legendary chronicler of mountaineering in the Nepal's Himalayas. Kapil Bisht caught up with Bierling to talk about her mountaineering journey.
Excerpts:
You have said that when you were in your teens, you wished to get rid of the mountains around your hometown. How did that girl turn into a mountain lover?
When I was in my mid-twenties I moved to the UK to work as a German language teacher for a couple of years. There I met Mike, my partner for ten years, who was a rock climber. I started rock climbing and absolutely loved it. However, I still did not like hiking very much. It did not take long for me to realise though that climbing also meant hiking, and when we started climbing in the Himalayas, I was often faced with having to trek for two weeks to get to a mountain. So to this very day, I don't just go hiking. I either run up a hill or hike to get to a climb.
Your CV shows a strong academic background. How did you get into mountaineering then?
Well, not that academic really. I left school at the age of 16 as I was not studious enough to finish high school. I did an apprenticeship as a shop assistant and then went to the US to work as a nanny. I was 19 and looked after five children, all of whom were great, but maybe that explains why I never had kids of my own. When I went back to Germany afterwards, I wanted to study. But what could I do without A-levels? I found a school that took people without A-levels and trained them to be translators and interpreters, which was something I could do as I had improved my English significantly.
When I was in the UK, I also did a lot of translations, which often involved newspaper articles. Being interested in writing such articles myself, I found a master's course at City University that accepted my application even though I did not have a proper bachelor's degree. The course was called International Journalism.
That is how I ended up being a journalist. The mountaineering side, like I said before, was happenstance, triggered by my then rock climber partner.
What brought you to Nepal the first time you were here?
Funny enough, it was trekking and climbing. Mike, my partner, had planned a long trip to the Himalayas in 1998 and I just tagged along. I ended up climbing Pachermo (my first 6,000 m peak), Ramdung Go, Island Peak and Mera Peak and we trekked for about two months. I absolutely loved it (even though I often think that if you asked Mike he might say that I also complained a lot about the hardships, but that is something I have long forgotten.)
What made you want to keep coming back?
Just being in the mountains and being away from 'normal' life back in Europe is what brings me back. The simplicity of life in an expedition was always a huge attraction for me. Not having to worry about what to wear the next day, not having lot of things around you and just waking up to a tent in the midst of the high peaks make mountaineering appealing for me.
You work for aid agencies and also take on jobs on mountains. It's an unusual mix. How did you get into these two worlds that are poles apart?
After Mike and I split in 2003, I moved to Switzerland and worked there for Swiss Radio International. One day I did an interview with the head of Switzerland's Humanitarian Aid and I asked him whether they also needed journalists in the field.
He told me about the pool of experts they usually send to disaster zones for a short time, and such missions are usually covered by the media. He also said that they also needed journalists acting as spokespersons. So I applied–it was a long process–and I got the job. It is not a fixed position and the Swiss Humanitarian Aid usually offers me short-term contracts. So I lived in Pakistan on and off for two years. I was in Jerusalem for six months and in Jordan and Lebanon for a few weeks. At the moment I am in Tajikistan working for the Swiss for four weeks.
This is how I make my money.
You wrote in an early blog entry that you were shocked to find wifi and fresh strawberries at Everest Base Camp. That was years ago. What is it like now?
When did I say that? I think I am no longer shocked about anything at EBC. Everything is possible now, and with helicopters going back and forth dozens of times a day, everything can be flown in. We even had crème brŭlée once when I was at EBC.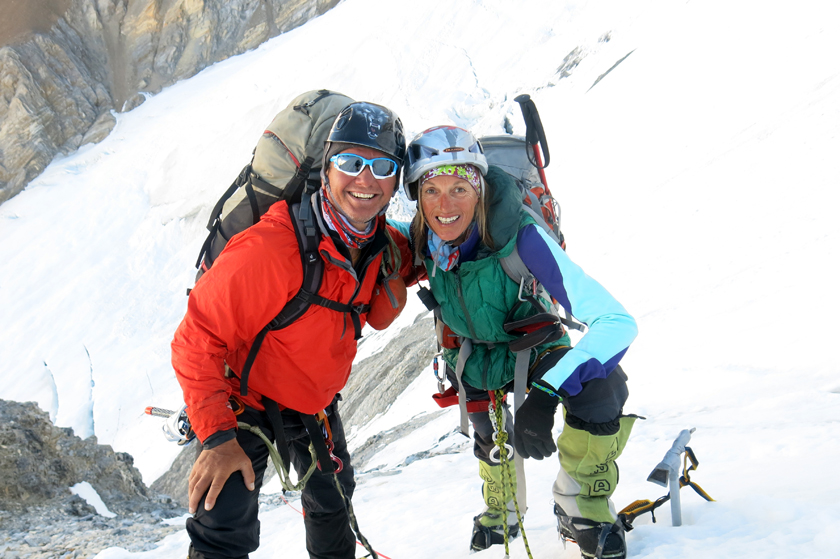 Tell us how you got to work as an assistant for Elizabeth Hawley.
In 2002, Mike and I went to Nepal to climb Baruntse. As Baruntse is an expedition peak, we received a phone call from Miss Elizabeth Hawley asking for an interview. Mike was ecstatic and I (at the time) had no idea who she was. She came and interviewed us and that was that. After Mike and I had split, and I was fed up with my job in Switzerland as a journalist I thought it would be nice to live in Nepal. But I needed something to do. So I wrote a letter to Miss Hawley asking her whether she needed help.
She wrote back to me telling me to get in touch once I got there, which I did.
The rest is history!
What are some of the good things about that job?
Meeting a lot of interesting people, being in the know of what is happening on the mountain and just spending time with Liz Hawley, who has great stories to tell. The job has opened a lot of doors to me as a journalist. It has also provided me with some very good friends. So I am very grateful.
Are there any unpleasant things about that job?
Always having to beg people for their time and information. Most people, be it mountaineers or trekking agents, are usually extremely helpful, but still I have to bother them during a very busy time as I need them to tell me who is coming to which mountain and so on.
And even though most climbers like talking to us, I also sometimes have the feeling that I bother them. Being so reliant on other people and their time and pestering them is sometimes hard.
You worked for the United Nations Office for the Coordination of Humanitarian Affairs (OCHA) as a press spokeswoman in Pakistan. The job required working with millions of people displaced by a combination of military operations and the 2010 flood, which killed almost 2,000 people. You've seen the beauty of mountains and the depressing state of violence and poverty in countries like Pakistan and Nepal. Is it hard when you are climbing in a place that is mired in so much misery?
I have always enjoyed living in Pakistan. As I was in Islamabad I had a relatively good life and I could move around quite freely. I would go for runs in the morning (decently dressed of course) and take my bicycle to work.
I love the Pakistani people and I had a fantastic time there. I have made some real good friends in Pakistan and I will never forget their hospitality! And it was good to know that I could help them during the floods. And even though I am not the one handing out food or blankets, I can write their stories and get donors to fund some of the relief aid.
When you climb in the Karakorum, you are so far away from politics that you don't really think about it. Of course, walking to Broad Peak base camp you see a lot of army men, which is due to the proximity with India, but they were always friendly.
Once you are up on the flanks of Broad Peak looking across at K2, it is so peaceful and beautiful that militancy or hostility do not enter your mind.
Do you think there is more to mountaineering than personal glory?
Well, everyone climbs for a different reason.
There are a lot of people who do it for personal glory, but why not? There are a lot of things in life we do for personal glory and if this is right for someone, then go for it. Of course, it is important to respect the mountains and it would be desirable that people climb the mountains because they love their beauty and the surroundings.
Maybe this is becoming less and less the case, given the fact that now a lot of people can take a helicopter to base camp and often don't even know where exactly they are in Nepal. But then again, I still know many mountaineers who do it for the love of the mountains and I am glad that even though most of the climbers I see in the spring season go to Everest, there are still some who go out pioneering.
Some young climbers take new routes or climb virgin peaks. Another very nice development is that there are now some young Sherpas who have taken up mountaineering as more of a passion (or maybe also personal glory) than profession. They do new mountains and new routes. They no longer want to be the 'high-altitude workers' helping clients to reach their glory.
They go out and do it for themselves, and I think that is great!
What is the situation like in Germany in terms of women taking up mountaineering?
Well, you see a lot of women in the mountains. However, if you look at the statistics and the fact that I am still the only German woman to have climbed Lhotse and Manaslu, it goes to show that there are not so many female high altitude climbers in Germany. With my five 8,000 m peaks, which is not that many, I am second on the list of German women who have summitted 8,000 m peaks. Alix von Melle has climbed six eight-thousanders.
Have you made any effort to encourage other German women to take up mountaineering?
Well, I always love motivating people, no matter whether it is for mountaineering, trail running, exercising or simply going out and doing adventurous stuff. When I was on Cho Oyu in autumn 2016, another German woman was on our team. It was her first 8,000 m peak and I was happy to support her and give her advice. So yes, I love motivating people no matter what for.
And in Nepal?
Same as above, I guess. I have not really done anything specifically other than teaching an exercise class to a team of Nepali women who climbed Everest a few years ago.
What are your plans for the next mountaineering season?
I did not climb this spring and I will go climb Kyajo Ri this autumn. It is a 6,000 m peak in the Thame Valley. If I have enough funds and time, I will attempt Dhaulagiri 'I' in the spring of 2018.