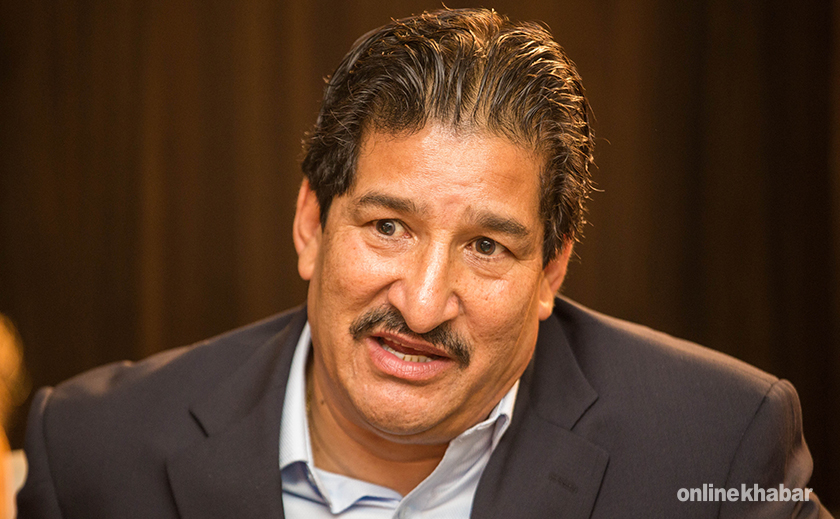 Ganesh Thapa's name was synonymous with Nepali football for over 35 years. Having started his career as a footballer, he later became president of All Nepal Football Association (ANFA), and held the position for over three decades. Thapa, who was recently handed a 10-year ban by football's world governing body FIFA on charges of corruption, says he is focusing on politics and social work, especially in his home district Makwanpur, these days. Thapa, who is also a member of Parliament, talked to Onlinekhabar recently about his political career (he was reluctant to talk about football on the record).
What is your daily routine like these days?
Well, I have been busy. After exiting from football, I have kept myself busy with political and social work. I spend around 15 days in a month in Makwanpur. Even when I am in Kathmandu, I frequent the ministries with local problems that need to be addressed.
Did you get into politics by choice or out of compulsion? 
After separating from football, I had two options. The first option was to retire and live a life of leisure. The second one was to keep myself busy with political and social work. I chose the second option. I would not like to say it was by choice or compulsion, I would like to say what has happened had to happen sooner or later. I have faith in god, maybe god carved this path for me.
If your brother Kamal Thapa were not the party president, would it have been possible for you to get so much space within RPPN?
For anyone who has a status like me, there's no need for anyone to do hand-holding. It's not that I do not have ties and reach within other political parties. I could have become an MP representing a bigger party that RPPN . But I chose RPPN because only it reflects my political outlook. Because I believe in the causes of monarchy and Hindu state, there was no other party I could choose. So, there is no need to connect the dots to my brother.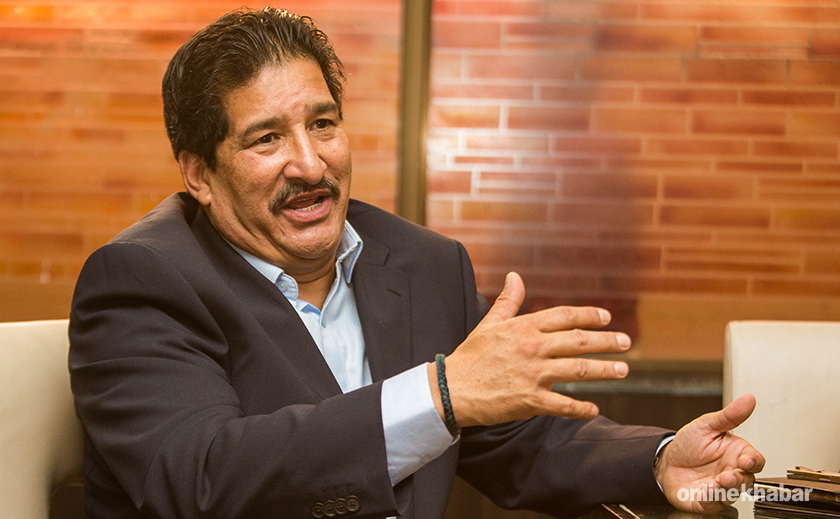 "I chose RPPN because only it reflects my political outlook."
You have been accused of corruption several times. Did you choose social work to absolve yourself?
As regards the corruption case, I have already received clean chit in Nepal. No one can point a finger of suspicion at me. As regards the cases outside of Nepal, I would not prefer to speak at the moment. But I am assured that time will prove that I was innocent.
In response to your question that if I had chosen politics to absolve myself, I would say that hundreds of people in Makwanpur are getting benefits from the work I do. I personally provided Rs 25,000 each to families in which one or more members died due to the quake. With my own hands, I distributed tarpaulins to hundreds of people. I made sure that five VDCs in the district had ambulances. I am even helping those people who could not afford to get treatment in Kathmandu. I am also helping rebuild temples and schools. Don't all these things count?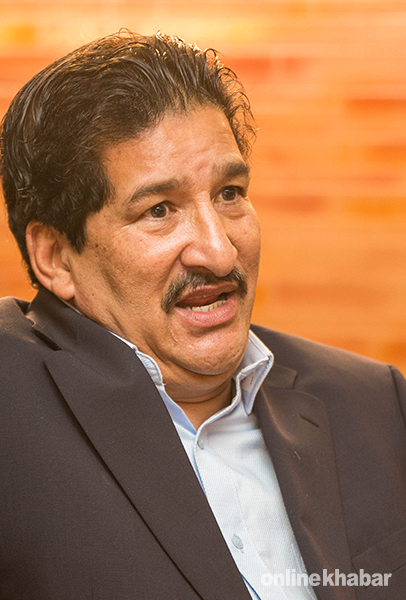 So, you are preparing grounds for local support in the next election?
The next election is not on my mind now. We still have more than a year-and-a-half for election. I may not even contest. But I would be happy if the work that I have done in the district helps my party become stronger in Makwanpur. My brother is the party president as well as the country's Deputy Prime Minister, and because of the responsibilities these jobs come with, he hasn't had time for our own district. That was why we decided that I should oversee things at the district level, and he can concentrate on national issues.
"As I spend time in the district, members of other parties have felt the heat."
As I spend time in the district, members of other political parties have felt the heat. That is exactly what I wanted. I want to do away with the tendency among politicians to go to their constituencies only 15 days ahead of the election. I think that there should be a competition among political parties over the work they do for their constituency. If I help build five public taps, another party should try to build 10.
You said you have helped a lot of people financially. What is the source of your funds?
I spend my own money for small things. In addition to that I am using my reach and influence to get resources. The AFC's former President Bin Hamam and I have a close relationship. He is a billionaire. He has shown interest in the work that I do, and helped me. We will soon sign an agreement with Bin Hamam for the development of Makwanpur.
I do not spend the pay I get as an MP on my personal stuff. I hand over everything to the party, and the party spends it for the benefit of the people.
What is politician Ganesh Thapa's ultimate goal? 
I do not have any big ambition. Politics does not run in my blood the way football does. I don't know till when I will remain in politics. But I am already in politics, and when I leave it I would want to do so by giving my role a logical conclusion. There are many people who have joined RPPN in the district because I have become the face of the party. If I leave the party, it would be akin to a betrayal.
How assured are you that monarchy will return to Nepal?
I have always been in favour of monarchy. When I was in sports, I had to suppress my political allegiance. I have been able to advocate for things I believe in ever since I entered politics.
I do not want to claim that monarchy will return or not return to Nepal, but I can say that monarchy is necessary for the country. I also do not say that all the problems facing the country will end when monarchy returns. My belief says that monarchy is needed to prevent the country from disintegrating. But monarchy in its active form may not return, if it does it will only get a ceremonial role.
In the past, I was afraid to see my brother advocate for Hindu state. But now the people themselves are talking about it. People will also start talking about monarchy in the near future.
"In the past, I was afraid to see my brother advocate for Hindu state. But now the people themselves are talking about it."
Are you in touch with the former king?
I have not had one-to-one meetings, but I do meet him during wedding receptions.
They say that the former king has accepted that  Nepal is now a republic. So why are you worried about monarchy? 
I have already said bringing back monarchy is our political line. We don't know what the former king thinks, but monarchy is our political stand.
There was a time where you said you cannot imagine being separated from football. But the situation is such that you are no longer part of football. How painful has the experience been?
At this moment in time, I do not want to comment on football. We have a situation in which whatever I say about football would be taken negatively. But I still say that football runs in my veins, and it will continue to do so forever.
"I still say that football runs in my veins, and it
will continue to do so forever."
I think it would have been difficult for me to come to terms with the loss if I had taken some time off. But these days, I am wholeheartedly fulfilling my new role the same way I used to fulfill my role as ANFA president.
Did you watch Nepal's international matches in the last few months?
Of course I did. When I say I have taken time off football, it does not mean my love for Nepali football has ended. I watched the game on TV with friends and family. I must say that watching the matches on TV, I felt the same anxiety I used to feel watching the game from up close. During every match that Nepal plays, my heart skips a beat. For someone like me who's been associated with the game for a long time, every win that the team achieves becomes memorable. I am proud of each and every footballer.
There are many who say that Nepal's national side started playing better after you left. What do you say to that?
Yes, I agree that during my tenure, we could not get results that were expected from us. Everyone has the freedom to analyse the situation the way they want to. But Nepal's football was never weak. Nepal was seen as one of the top contenders during every south Asian event. We have beaten all South Asian sides, but not beaten all of them at once. There are times when I think that we had a spell of bad luck.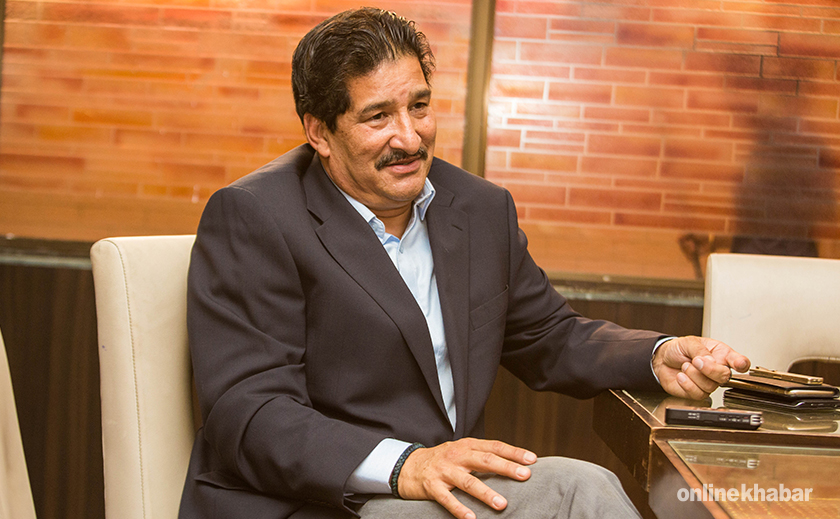 You must be following the conversation on social media on football in Nepal. What is your reaction to the comments people make about you?
You must understand that anyone can write anything on social media. Yes, I do read them. I say that during my lifetime I have dealt with extremes of both praise and criticism. I have received so much respect in the past, that I no longer yearn for more. The criticism that I have faced was of such a low grade one, that it has taken me past criticism.
I am waiting for my time to come. I know that those who are resorting to slander now will come to my defence in the future. For now I don't have any answers to them.
You are writing an autobiography. 
Yes I am. I am writing it to share life's experiences. The book's been delayed because I wanted it to be up to date on the recent turn of events.
Do you think you will ever make a comeback in football?
That would be difficult to do. Maybe it's better if I stay away. In addition to that I am already in politics. Would it be easy to get out once you are in politics?