Ruksana Thami, from Thosey Bazaar in Gokulganga rural municipality in the Ramechhap district of central Nepal, always wondered what a huge metal machine was doing in the compound of the local Sharada Secondary School, where she studied.
As a child, it made her very curious, but it was not until she had to prepare a report during her time in college that she started to ask people why the machine had occupied a good part of the school compound.
"People told me those machines were used to process raw materials brought from an iron ore mine a few kilometres away from Thosey Bazaar," she says.
Now, Thami is a teacher in the same school and fears that in a few years what remains of the iron mines will disappear completely.
History of Thosey and Thosey mine
According to former secretary Govinda Kusum, who worked as a local development officer in Ramechhap from 1986 to 1988, the history of iron ore mining in Thosey dates back 100 years.
He says that during the war between Nepal and Tibet in 1854, there was a shortage of arms and ammunition, so a weapons production centre was established in Thosey Bazaar by King Surendra.
"There were internal disputes within the royal family and weapons were also needed for the war," says Kusum. "The Thosey mine was created to produce guns and ammunition to ensure we [Nepal] won the war."
According to an article written by Bhupa Hari Paudel in 1987 for the Department of Archeology's Prachin Nepal magazine, the government established an iron mine at Ekan Phedi in 1864. The mine was later relocated to Thosey in 1893, and it began to be referred to as Thosey mine.
"It was relocated to the place where Sharada School currently stands," says a local teacher Uddhav Lal Pradhan. "After the plant moved to Thosey, the place started to be known as Thosey Magazine where they produced guns, cannons, bullets and pellets."
According to Paudel's article, nine-barrel guns were made at Thosey mine, and people also tested the guns in the area before taking them to the king. 
He also writes that the place started to make spades, sickles, boxes, locks, stands, ink pots, khukuris, keys and graters in 1908.
According to Pradhan, various materials at Thosey mine were brought from Sweden at that time. 
"It was brought to Nepal through India," Pradhan says.
According to the study of former secretary Kusum, at that time, there was a harmonious relationship between the Nepali and British governments. The equipment for the mine and industry was brought from Kolkata for Rs 125,000.
Bad days
But, things started to change. Modern weapons started to be produced in Europe in a more efficient manner and gun production at Thosey Magazine stopped. A shortage of fuel to melt the raw iron was also a reason for the stoppage.
"When foreigners started making good weapons, Nepal started importing these weapons," says Pradhan, "Then, Thosey mine started to make agricultural tools."
Until 1923, iron mines were allowed to be run by local contractors. The contractors used to buy 15 kg of iron from the government for Rs 1 and sell it for Rs 4 per kg.
"Due to their knowledge about metalwork, six Newas were brought to work at Thosey mine by force. That is why this area has a large Newa community," says Pradhan. "One produced items while others sold them."
As the factory stopped production, the artisans and businesspersons left Thosey. Some returned to Kathmandu while others travelled elsewhere.
According to Prachin Nepal, the government started to run the mine itself by 1923, but the effects of the 1951 revolution had a negative impact on the mine. Protestors set fire to the mine damaging its office and machines.
Following that, production at Thosey mine stopped completely. Most of the mine's equipment was auctioned off in 1967.
As mentioned in the book Mineral Resources of Nepal published by the Department of Mines and Geology in 2004, the iron ore mine of Thosey used to meet the local demand until 1913.
According to the Department of Geology, there is potential for iron production in Phulchoki in Lalitpur, Tosey in Ramechhap, Labdhi in Tanahun and Jirwang in Chitwan. However, now that there is no production, Nepal is completely dependent on foreign countries for iron. According to the data of the Customs Department, iron and steel are the fifth most imported goods in Nepal.
In the fiscal year 2021/22 alone, the statistics of the department show that 665 million kg of iron products worth Rs 51.29 billion were imported. 
Assessing the reoperation possibilities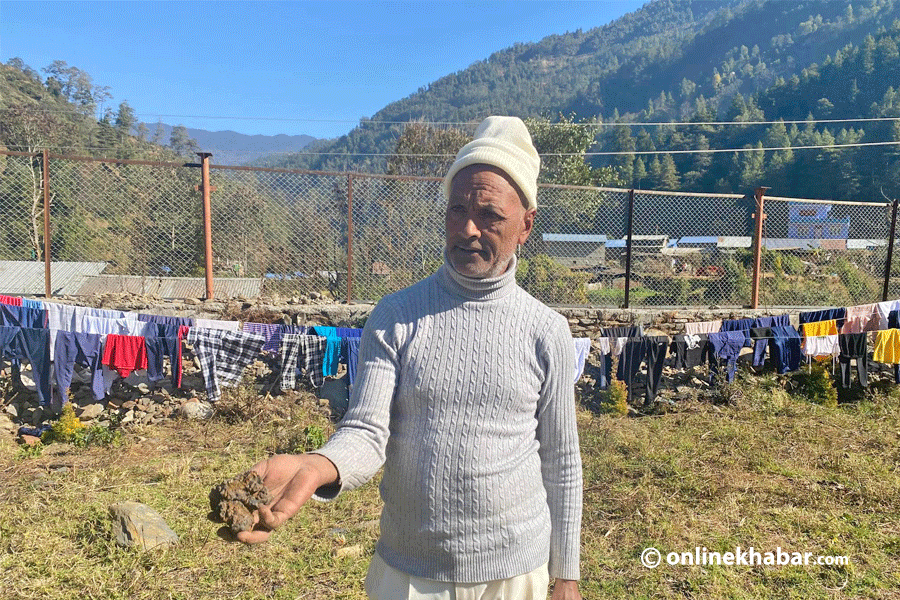 Ramechhap businessman Wanghu Sherpa thought that if he could produce iron in Nepal, he would be able to meet the local demand. In 2007, he obtained an inspection permit, and in 2012, he also obtained a mining licence.
Involved in business in Lhasa, he planned to start a mining business near his village in coordination with Tibetan miners.
"But, it is difficult to work from the private sector in Nepal. I spent nearly Rs 70 million, but it all went in vain," says Sherpa. "I tried very hard but I received no support from the locals or the government."
According to Sherpa, he had to spend a lot of money even before getting the licence. He faced a lot of issues when he tried to build a road from Thosey Bazaar to Arubot Mine. The earthquake also did not help him.
"At that time, I requested the Nepal Electricity Authority several times to bring electricity to Arubot, but I did not get the necessary support," says Sherpa, adding the government did not help him revive the mine.
Frustrated, he tried to send the iron ore to Udayapur Cement Factory, but the government's lack of cooperation meant his plan failed again.
Although permission was initially obtained for 20 years, the Department of Geology later revoked the licence as the production did not start.
"This was also a matter connected with history, but without the government's will and support, it is not possible to operate the mine again," says Sherpa.
Chandra Dhakal, the senior vice-0president of the Federation of Nepalese Chambers of Commerce and Industry (FNCCI), attending the 14th annual general meeting of FNCCI Ramechhap, demanded to bring the mine into operation by involving the private sector.
UML's manifesto also stated the need to revive Thosey mine but no initiative has taken place so far. It is clear no one cares and that can be seen by how the remains of the mine are kept. Many of the old historic equipment have been stolen.
The locals know the history behind the mine. But with no plan and lack of government effort, they know that Thosey mine will never revive.
---
This story was translated from the original Nepali version and edited for clarity and length.