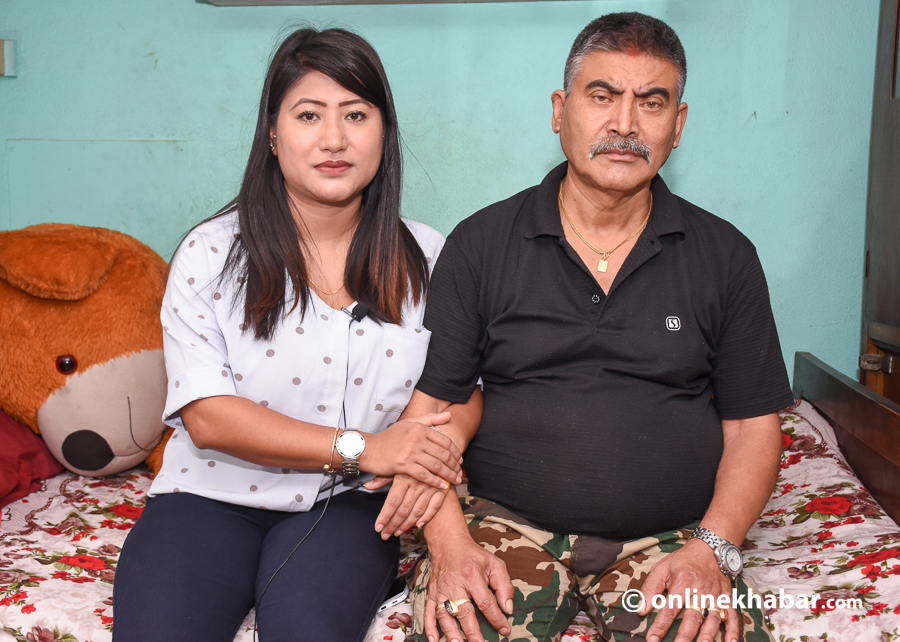 On the Father's Day three years ago, Sarita Maharjan brought a cake and put it in front of her dad Hira Kaji. Written on the cake was 'New Life'. Everyone shouted, "Happy Birthday to you, daddy".
This was Sarita's attempt to bring back the 'lost' happiness to her father's life.
The next year, on Father's Day again, she did the same. This time, the "Second Year" was written on the cake.
Sarita and her sister Sarila did not order any cake to celebrate the Father's Day last year–for they were mourning the death of their mother, Manju. (Most Nepalis celebrate Father's Day on the full moon day of Bhadra, in August-September, every year.)
Though there was no cake this year, Sarita was still taking care of her father.
Two years ago, if Sarita had not given her father her liver, perhaps he would not have been living with her today.
—
Today, Sarita stays with her sister and father at Lagantol, Kathmandu.
She has two elder sisters, both married. According to Hira Kaji, Sarita and Sarila were born while the parents were wishing for a son. However, now he is proud of his two daughters, "What they have done for me is something that no son would do. They are my sons."
In the third year since his liver transplant now, Hira Kaji is living a healthy life. In trimmed, salt-and-pepper hairs and shaved beards, he looks younger than his age.
He runs a momo shop at his house's ground floor; the shop is extended to the yard where he has kept a table. This is the same place where he was born 62 years ago and brought up.
—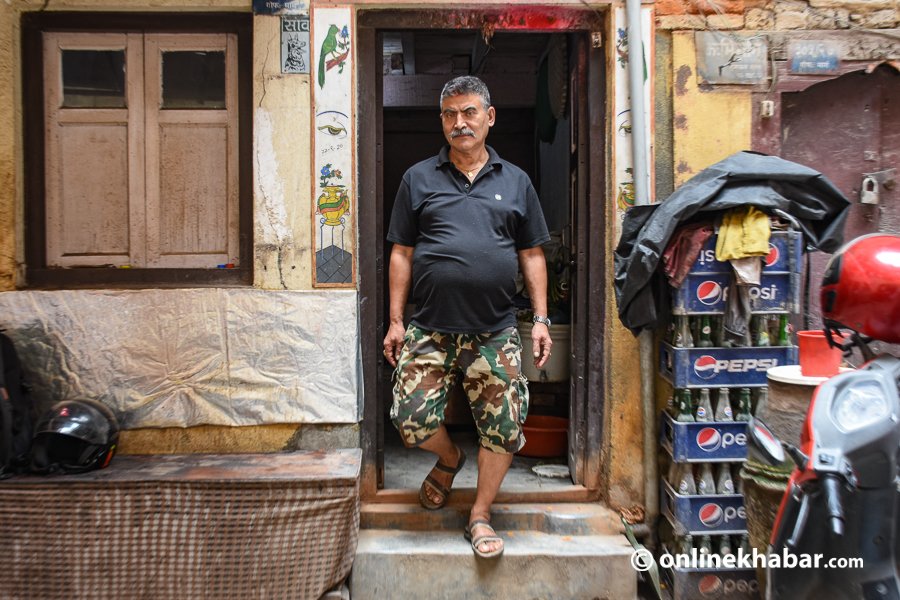 Born in a Newari family, alcohol was not a taboo for Hira Kaji from a young age. He tested alcohol for the first time before he was one year old. Nevertheless, he claims that he did not like its taste in his youth and got addicted to it after opening a Newari khaja ghar (snacks shop). He says, "After a whole day of work, you get tired, body aches; you drink and then sleep."
Everything was good until six years ago when his wife Manju had a heart attack. Fortunately, she was taken to the hospital on time and received the treatment right away. She was in a ventilator for 11 days. However, there was not much progress; she got even sicker, and her kidney failed.
The wife's health had a direct impact on Hira Kaji's wellbeing. He found himself tenser; he though more alcohol would make him relieved.
Manju had to get dialysis twice a week, for which Sarita managed everything. Owing to her care, the mother gradually recovered, and Hira Kaji too found himself calm.
But, his bad luck had not ended, it seems. The family's residential house cracked in the 2015 earthquake and it left the family helpless. Hira Kaji, as in the past, again thought that alcohol would help him get relaxed. He began to drink more liquors than the amount of food he used to eat every day.
Sarita vividly remembers those times. She says her dad was taken ill after a few days. "We took him to the Teaching Hospital. The doctors said his liver was damaged, and it would take millions of rupees to treat it abroad."
The treatment was beyond what the family could afford, and the doctors gave an alternative to take medicines and lower the risks. She told the doctor, "We cannot afford the operation, but we will certainly lower the alcohol consumption."
On the other hand, Manju was getting sicker, and now going for dialysis thrice a week. She was not able to tolerate the pain, she would scream, "I cannot…Better give me poison."
Sarita was running a boutique then, but her income started falling down to cover the medical bills of her parents. Hira Kaji stopped running the business after having to go to the hospital regularly. Then Sarita started working in the mornings. "One month, daddy would be sick; mummy the next month. I was managing somehow," Sarita says, "But then both mom and dad got sick. Even my sister got sick.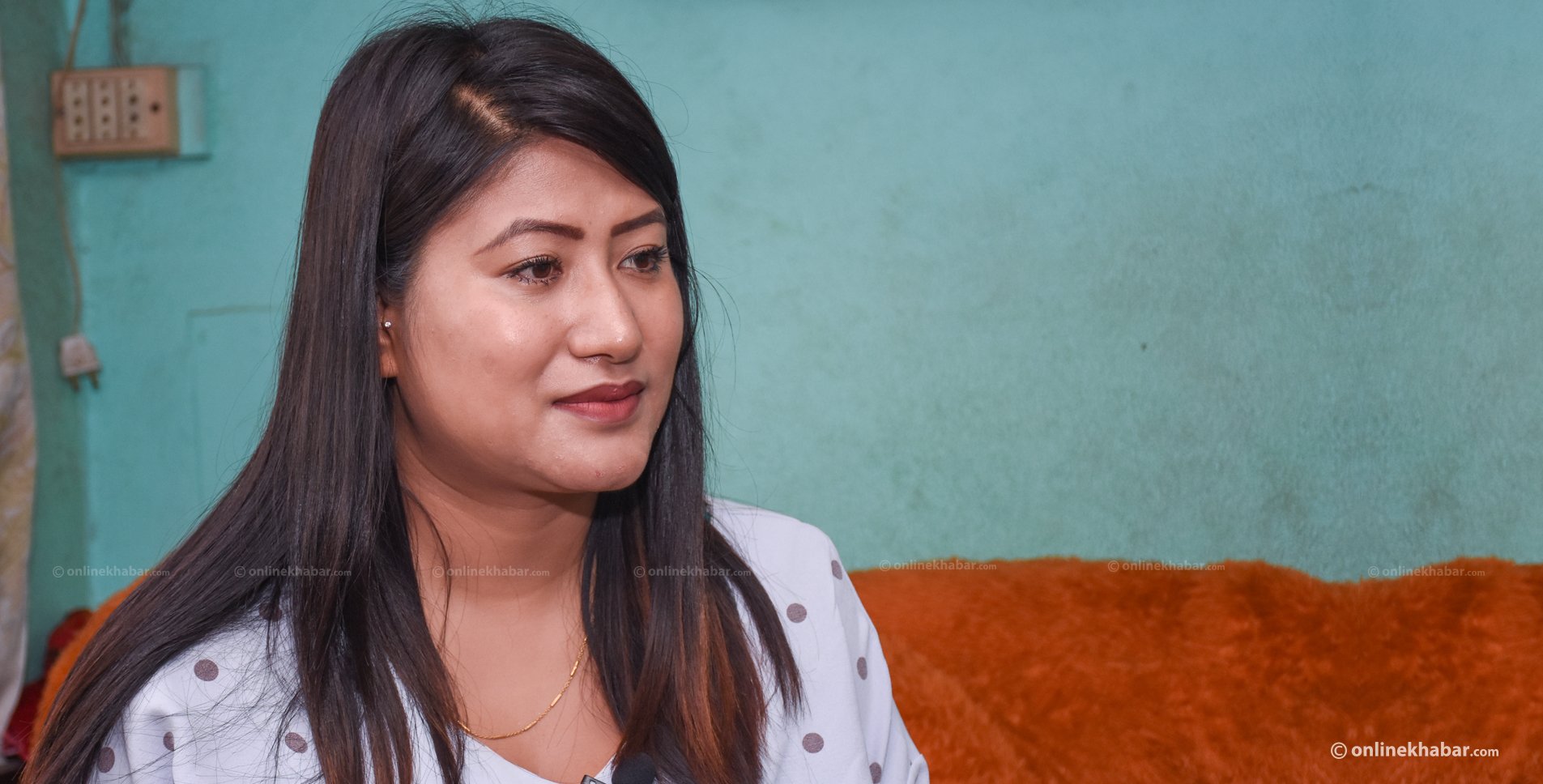 Then Sarita felt that she could not handle the situation anymore. She was questioning why the god gave her such hardship. But she got support from her friends. "You have done it for years, do not stop now," they said.
Nonetheless, some people would tell Hira Kaji and Manju, "See what happens when you do not have a son." That made them even more unsettled. Their first child was a son, but he died as an infant.
—
Sarita was busy with her boutique. Her mom called and said, "Come fast, your father is in pain." Sarita reached home as soon as she could. Hira Kaji was sub-conscious; first, she thought it was because of alcohol. "Dad, dad…," she called out, but Hira Kaji did not respond and she got worried.
The sisters brought Hira Kaji three stories down and took him to a hospital in Pulchok. He was kept on a ventilator, and after the checkup, "It is difficult to save your father; his liver is damaged completely. The only option is a liver transplant and it will cost two million rupees."
Now, what to do? She had never imagined her life without her father, she was very scared. She started watching videos about liver transplant and decided, "My blood group matches with him. I will give him my liver and save him."
Before talking to her father though, she consulted the doctor for the transplant. And, she told her father, finally. Hira Kaji said, "I was about to die anyway. My daughter wanted to save me anyhow. I could do nothing but agree."
But her mother did not agree, "You have to marry and go to somebody else's house, why would you be giving liver?" The mother's brothers were also not supportive. "Nobody supported, but my friends were there to support."
She started seeing the glimmer of hope on her father's face after he got the new lease of life. Her intention to save her father got stronger.
After two months, the operation was done. On July 6, 2017, at the Human Organ Transplant Centre, Bhaktapur, Hira Kaji got transplanted 45 per cent of Sarita's liver into his body.
—
After the operation, Sarita had constant pain; she used to cry out in pain. Her sister used to cry watching her suffer. She suffered all, as she had already decided to save her father. Sarita today shares it with happiness, "After gaining consciousness, on my wheelchairs, I first went to see dad. He was still unconscious then."
On the fourth day of operation, the doctor asked Sarita, "You want to meet dad?" She nodded in utmost happiness. "When we saw him first, he was walking, holding the urine bag, and said 'See, I am all better'."
Watching her father energetic, Sarita could not stop her happy tears. She wiped her tears secretly. She now says, "Watching him up and walking, I also wanted to do it. But it took me just 10 days to begin to move on my feet."
—
After the operation, they rented rooms in Bhaktapur and Kirtipur–he still had troubles going up and down the narrow stairs of their house. After a few weeks, he got better and went back home.
The required amount of medicines and frequency of follow-ups for Hira Kaji gradually decreased. He resumed his momo business.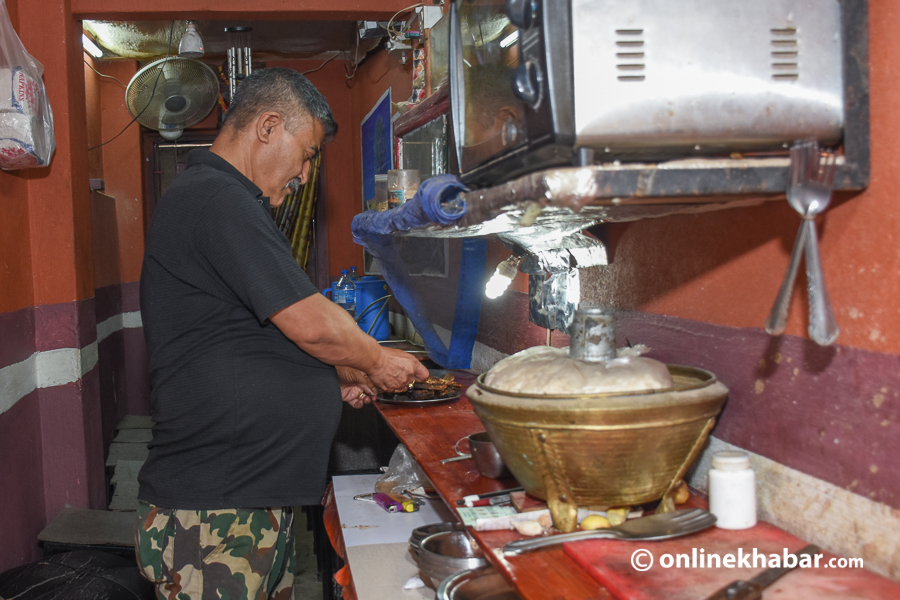 Manju also started seeing the hope of getting better after the operation. Sarita had also started preparing for the mother's kidney transplant. She found a donor too, and all the paperwork was done. Manju was also admitted to a hospital. The operation was scheduled two months away. But, only after a week in the hospital, Manju breathed her last.
Then, Hira Kaji shut down his shop again. But, he has not lost hope for life. "I am slowly handling myself. Those who died are gone, but my daughter saved me and I will live for them now."
Recently, he resumed the business. The income is just enough to cover half of the family expenses now. Sarita has also reopened her boutique to cover the other half.
Nowadays, people, who used to sneer at him for not having a son, have disappeared, into the unknown. Instead, other people come to meet him to offer their support.