All Nepali and English broadsheet dailies published from Kathmandu daily have given the top priority to the government crackdown on pro-syndicate transport entrepreneurs who launched, but later withdrew, an indefinite public transport strike on Friday. Likewise, a conclusion made in a parliamentary committee about not suspending lawmakers accused of criminal cases has also received significant attention. The proposed unification between CPN-UMl and CPN-Maoist Centre and upcoming visit of Indian Prime Minister Narendra Modi are some other issues discussed on the front page of Kathmandu newspapers today.
Important
Crime suspects won't be suspended from Parliament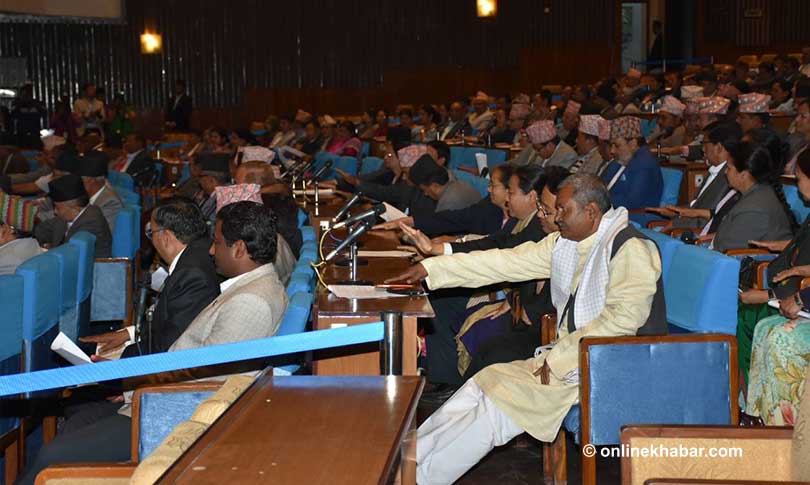 As an all-party panel in the House of Representatives has finalised the draft of the House of Representatives Regulations, it has been proposed that lawmakers do not get suspended from their position even if they are accused of criminal cases and sent to judicial custody.
Gorkhapatra comments that though government staff face immediate suspension in such cases, the lawmakers will enjoy their positions till the court convicts them. However, they cannot enjoy other material facilities for being a lawmaker and cannot take part in functions as lawmakers, according to the report.
Rajdhani says lawmakers of the ruling party were for immediate suspension, but they could not resist the pressure from main opposition party Nepali Congress as well as Rastriya Prajatantra Party and Federal Socialist Forum-Nepal.
Transporters arrested for blocking essential services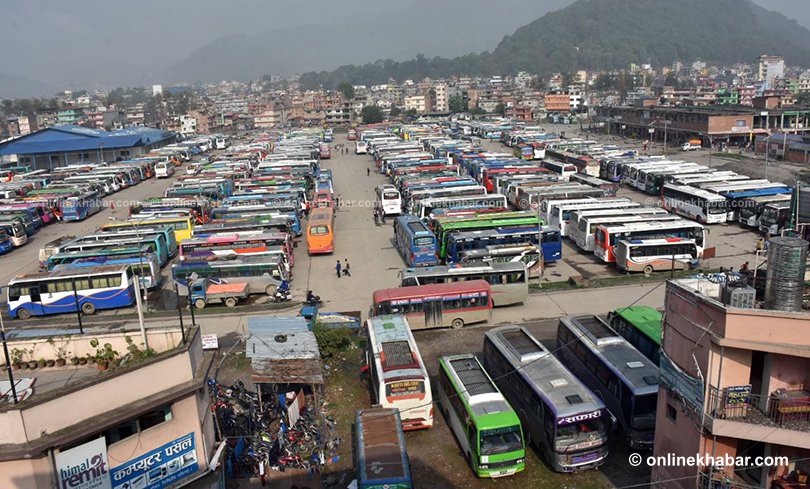 A day after the Federation of Nepali National Transport Entrepreneurs imposed a public transport strike, the government on Saturday arrested its President among some other key leaders on the charge of blocking essential services.
Nagarik reports that police arrested President Yogendra Nath Karmacharya, Senior Vice-President Bijaya Bahadur Swar, Deputy General Secretary Basanta Bhandari, Treasurer Kiran Khadka and Province 3 Coordinator Dharma Raj Rimal from Naya Baneshwor where they were holding a meeting.
Police are preparing to produce them before the Kathmandu District Court today, according to the report.
Rajdhani lead story says the court may send them to jail for upto one year or fine Rs 1,000 for blocking the essential transportation service, as per the provision of Essential Services Operation Act, 1957.
Ignored
Dahal hopeful of sooner breakthrough
CPN-Maoist Centre Chairman Pushpa Kamal Dahal once again has stated that his party would forge a final deal on unification soon, reports Republica.
According to him, only some minor differences over the wording of the draft documents including statute and organisational documents are yet to be resolved and the work on solving them will begin as soon as he would come back to Kathmandu. The report says Dahal was speaking at a function at his birthplace near Pokhara of Kaski yesterday.
Nepal's Hydropower investment environment weakest in South Asia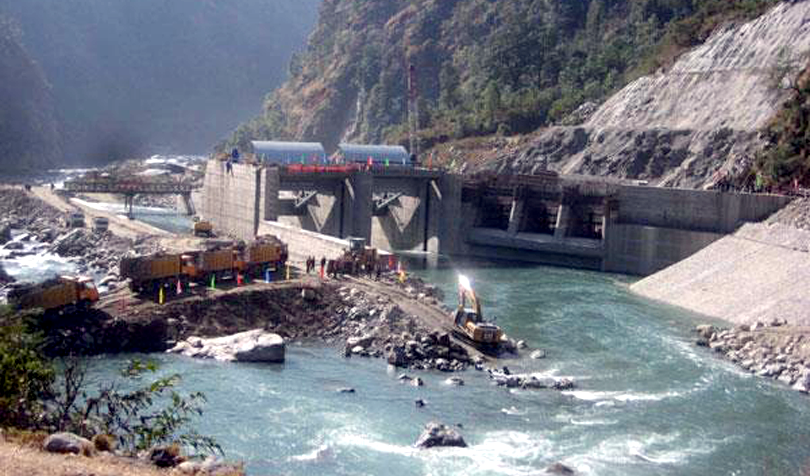 Anchor story in Karobar says Nepal's hydropower sector is the least attractive for investors in South Asia though it has a huge potential.
The South Asia Initiative-Energy supported by the United States Aid has made the conclusion after a comparative study of various indicators representing investment risks in the sector. Among four indicators, Nepal fared bad in three and very bad in one, according to the report.
Parliament's budget session to begin today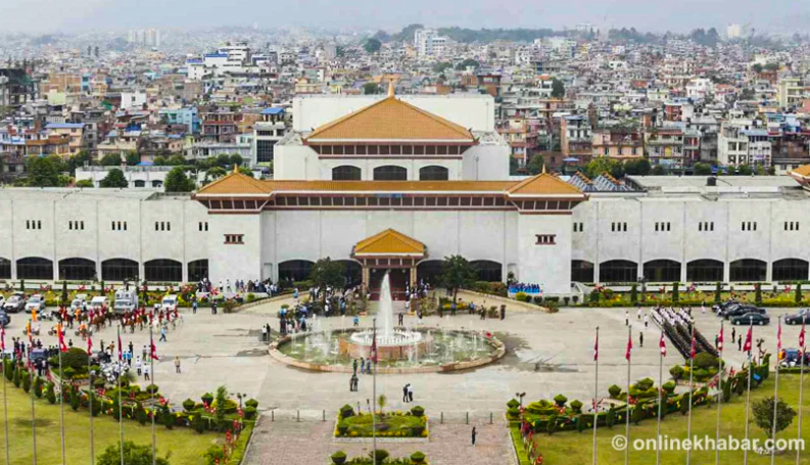 The second session of Federal Parliament is beginning on Sunday afternoon following a summons from President Bidya Devi Bhandari, according to Gorkhpatra. In this session, the government will present its annual policy and programme, and annual budget statement for next fiscal year.
Though the Business Advisory Committee is yet to finalise the schedule for today, the Secretariat has already published a list of likely agendas, the report informs.
Nepal football governing body gets news leadership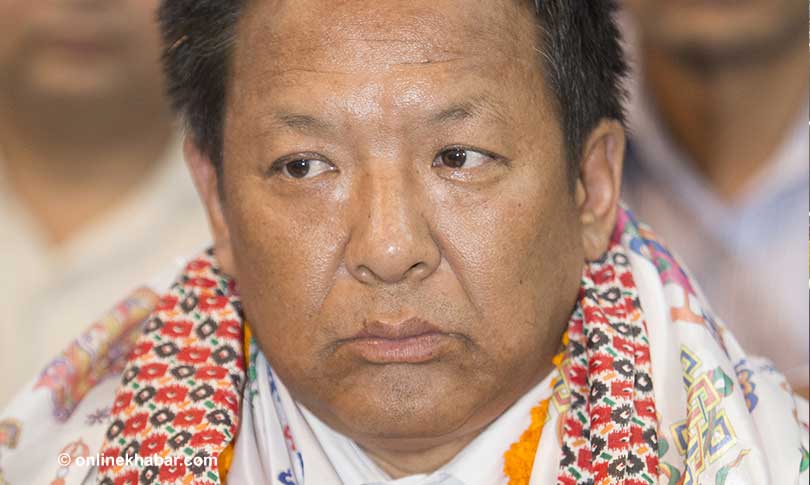 Ending the centuries-long influence of former President Ganesh Thapa, notorious for corruption and nepotism, the All Nepal Football Association on Saturday elected Karma Tshering Sherpa the President, according to newspaper reports.
There were 77 voters in ANFA and 76 had cast votes. Of them, Sherpa received 63 against 12 of his sole opponent Mani Kunwar, reports Rajdhani.
Meanwhile, Sherpa says organising the A Division league regularly would be his first priority, according to the report.
Interesting
10 overhead bridges in Kathmandu soon
As per the directive of the Department of Roads, there would be steel-structured overhead bridge in 10 places of Kathmandu Valley including Chabahil, Naya Baneshwor, Koteshwor, Maitighar, Kalimati, Gaushala, Bagbazaar, Tripureshwor, Maharajgunj Chok, and Babarmahal. The project would begin from the month of July-August at an estimated cost of Rs 50 million, according to Nepal Samacharpatra.
What will be India's three gifts to Nepal during Modi trip?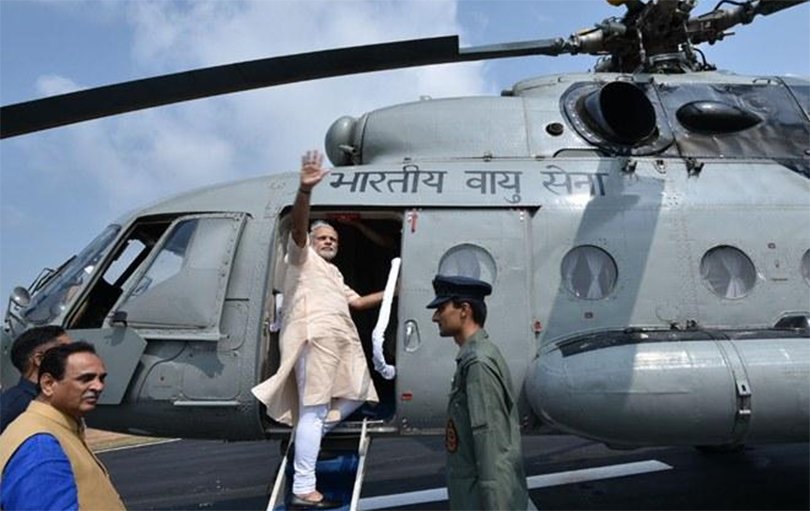 Indian Prime Minister Narendra Modi will announce three 'surprise gifts' for Kathmandu, Janakpur and Muktinath during his two-day official visit to Nepal from May 11, according to officials in New Delhi, reports The Kathmandu Post. This will be Modi's third visit to Nepal as a Prime Minister of India since 2014.
Left alliance for barring Nepalis from joining foreign military services
The work plan prepared by the left alliance task force recommended barring Nepali youth from joining the foreign military service stating that the Nepal as a member of the Non-Alignment Movement should not send its youth to join foreign armies, reports The Himalayan Times. A task force led by UML's Bam Dev Gautam has submitted the report to CPN-UML and CPN-Maoist Centre chairs in this regard.
Nepal's first jetboat in Koshi  
Jetboat has been operated for the first time in Nepal in Koshi River. This has been introduced as a latest adventure in Koshi River, along the New Bridge in Chatara and Samle of Bhojpur section, reports Kantipur anchor story. The jetboat operates at a speed of 30-40 kilometres per hour and makes a round trip of five to eight times daily