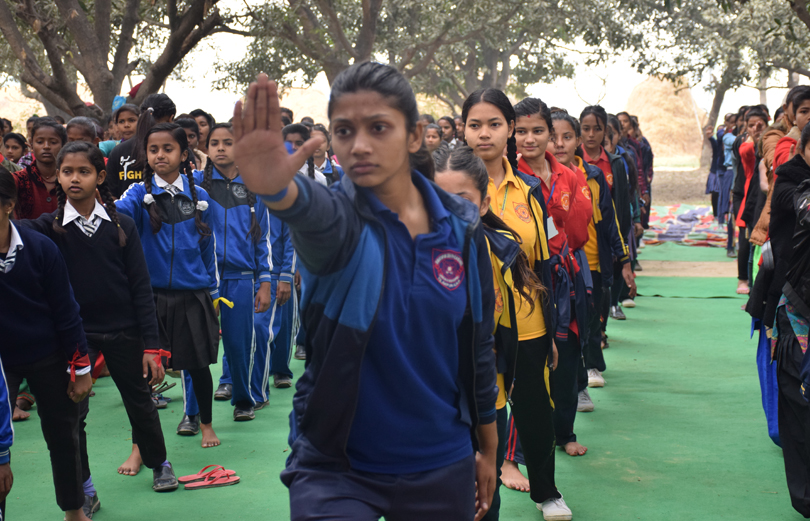 It had been a few months since her uncle (her mother's brother) harassed her. However, this teenage girl, studying at a secondary school in Lalitpur, could not report this issue to anyone. She thought no one would support her.
When her school organised a 'self-defence' training in 2018, she learned why it was important to keep herself safe from abuses and how she could ensure her safety. More precisely, she learned that she must share such incidents with her parents.
A few days after the training, she shared it with her parents. The parents, in turn, met the uncle and warned him not to harass their daughter. The girl feels safe now.
Until a few years ago, such stories would feature on nonprofit NGOs' progress reports only. But, this is what an international experts' team found while studying the impacts of work carried out by a private company.
Fightback, a self-defence training enterprise, is one of the handful of companies that have started working in Nepal, where cases such as the Nirmala Pant murder case are reported in the media almost every month
Their aim is to work towards establishing self-defence as a part of mindset and culture, especially among girls, and to make a business out of it.
The significant shift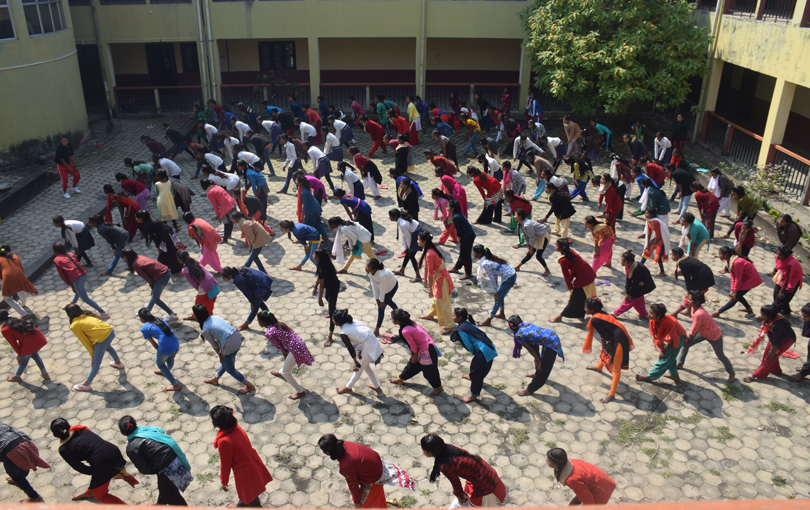 Vikrant Raj Pandey launched Fightback as a social enterprise around 10 years ago. His team's primary target was to establish self-defence as a skill that people can learn and utilise to earn a living.
"We realised that our education system incorporated many of the skills people could learn and earn through, but safety was missing," he shares, "On the other hand, all activities that aimed at women empowerment had a judicial approach—they would empower women to fight for justice after suffering violence. There were nominal efforts, if any, that focused on preventing violence."
Though Fightback was established around a decade ago, it came to the limelight after a few international media covered a self-defence training programme it organised for blind women in 2013. After the mysterious Nirmala Pant rape and murder case last year, the company received more attention.
Perhaps that is why Pandey hopes that Fightback will emerge as a self-sustaining business soon. His two companies have been supporting each other until today. "You don't need to look for external funding; the resources are there within you," Pandey says, "But, the consumers have to understand the value of our services."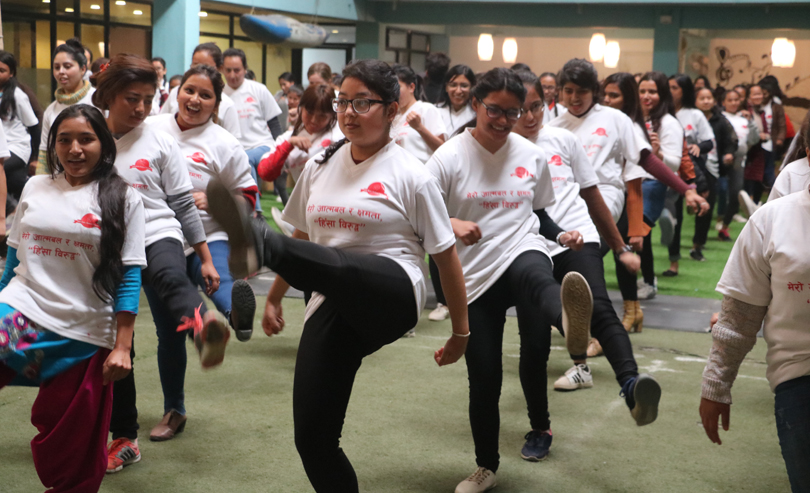 Pandey's confidence is subtly reflected on the growth experienced by Niraj Neupane, who first led Girls Kick as a 'loose network of martial artists' in 2015 and converted it into a nonprofit company two years later.
"I worked for some NGOs in the past, but I would like to introduce myself as an emerging entrepreneur."
Like Pandey, Neupane also does not entirely rely on Girls Kick for his living. He owns another company named SDGs Studio which produces and sells media content related to the Sustainable Development Goals. But, he is also hopeful that the market will expand gradually.
The funding model
Fightback and Girls Kick operate under similar business models. Things common between them: they are supported by national and international NGOs. The NGOs hire them as consultants to train women and girls that they work with.
Fightback, for example, has worked with DFID on different projects. Women Forum for Women in Nepal has also been its longtime partner. Likewise, Girls Kick has been working with Search for Common Ground and Mercy Corps.
With the historic empowerment of local governments after the promulgation of 2015 constitution, a big chunk of the government budget has been transferred to the local level. Therefore, these companies have also concentrated their focus on the grassroots.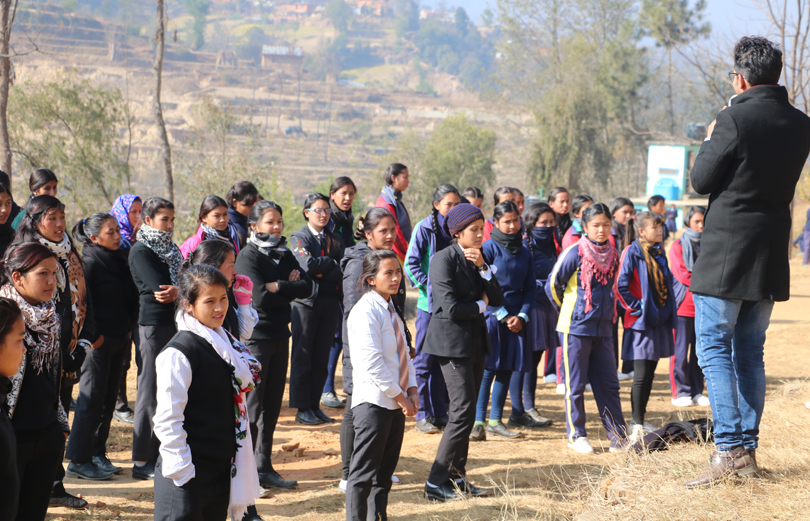 Girls Kick has launched women empowerment training programmes for women of Budhanilakantha, Tokha and Nagarjun municipalities of Kathmandu. Likewise, it is also working with Tulsipur Sub-Metropolitan City of Dang district for a project.
Pandey shares that many municipalities and rural municipalities of different districts have expressed their readiness to spend their money on self-defence training programmes. They are ready to bear up to 50 per cent cost for such events, he informs.
In addition, Fightback has reached out to diverse groups like public transport workers; and professional organisations of the concerned sectors are partnering with Fightback. "Recently, we conducted a session for drivers and conductors of Sajha Bus," the entrepreneur informs, "Now, Sajha Bus is helping us expand this campaign to workers of other companies as well."
Neupane says he has also identified some more vulnerable groups and his team is researching how to approach them more effectively.
Balancing business and social work
The discipline of self-defence is shifting its location from NGOs' to enterprises; but it still holds a tricky problem. While every individual has the right to defend themselves against abuses and attacks, every responsible business also has duties towards protecting people. But, the businesses also have to make money—they have to sustain and earn profits.
In the conflict between business and service, where do these entrepreneurs selling the idea of safety keep themselves?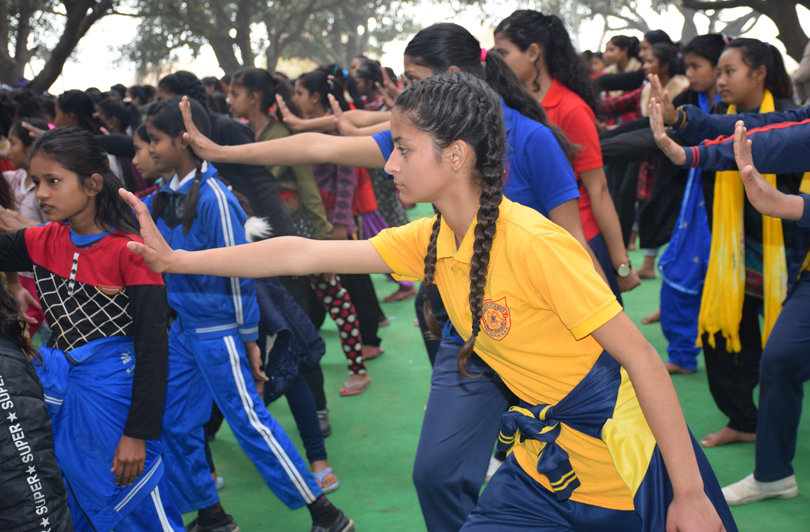 Fightback's Pandey says his company charges people who can pay but provides free training to people who cannot. "For example, private school students can afford to pay a few thousand rupees to attend our session. We utilise the proceeds to fund training for community school kids."
While Neupane is clear that his company's target is not to survive on people's risks and insecurities, his model is also quite similar to Pandey's. His team members have reached almost all government schools of Kathmandu Valley to train girls free; but they have also developed a three-day training module for people who are ready to pay.
At the corporate level, Fightback provides self-defence training under a 'barter' deal. For example, if a bank wants to get its staffers trained by the company, the bank can provide some nonmonetary benefits to the company to get the service free of cost, according to Pandey.
"Sometimes my friends mock me—they say increasing security threats is another business opportunity for me," an argumentative Neupane positions himself in the conflict, "No. More infections give more jobs to the doctors, but sincere doctors do not wish for more infections. Their target is to get rid of the diseases."
But, medical science is an ever-growing business almost everywhere in the world. Therefore, Neupane's analogy is suggestive of an immeasurable potential of the self-defence business in Nepal.
Image courtesy: Fightback and Girls Kick