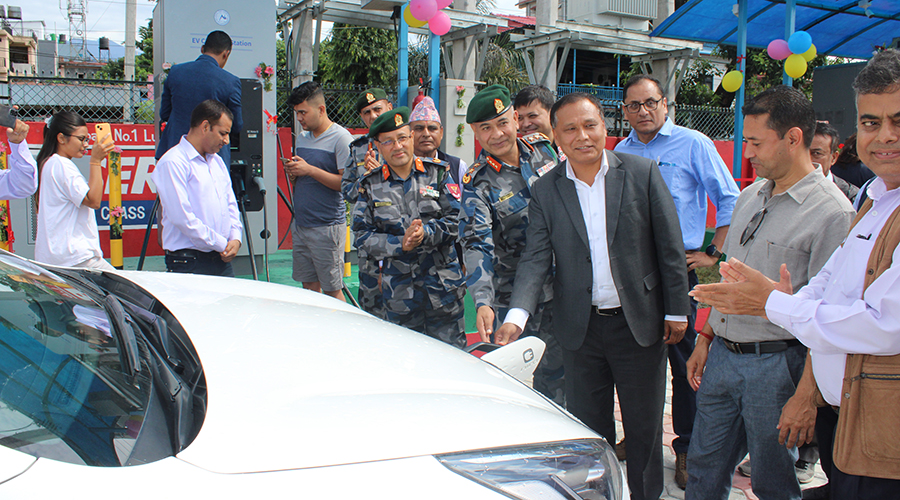 Kathmandu, September 10
Two EV charging stations have come into operation inside the Kalika Fuel Centre in Pokhara and the APF Welfare Service Centre in Kathmandu.
Operated by the Armed Police Welfare Service Centre, APF Inspector General Raju Aryal, and managing director of the Nepal Electricity Authority Kulman Ghising jointly inaugurated the two EV charging stations amid a function at Pokhara on Sunday.
Each of the charging stations has a 60 kilowatt DC charger, 22 kilowatt AC charger and two 142 kilowatt fast chargers.
On August 25, 2022, the APF and the NEA signed a memorandum of understanding to set up the charging stations. The NEA bore financial obligation and repair of the charging stations while the APF provided the land for the project.
Homework is underway to expand the establishment of more charging stations across the country as the use of electric vehicles helps increase the consumption of green energy produced within the country, said the NEA executive director Ghising.
The NEA has set up 51 fast charging stations at various places in the country.
Similarly, the process to set up 11 more charging stations has been proceeded, NEA said.
The project has been executed with the NEA's investment, concessional loans from the Asian Development Bank and technical assistance from the Government of Norway, said the NEA.