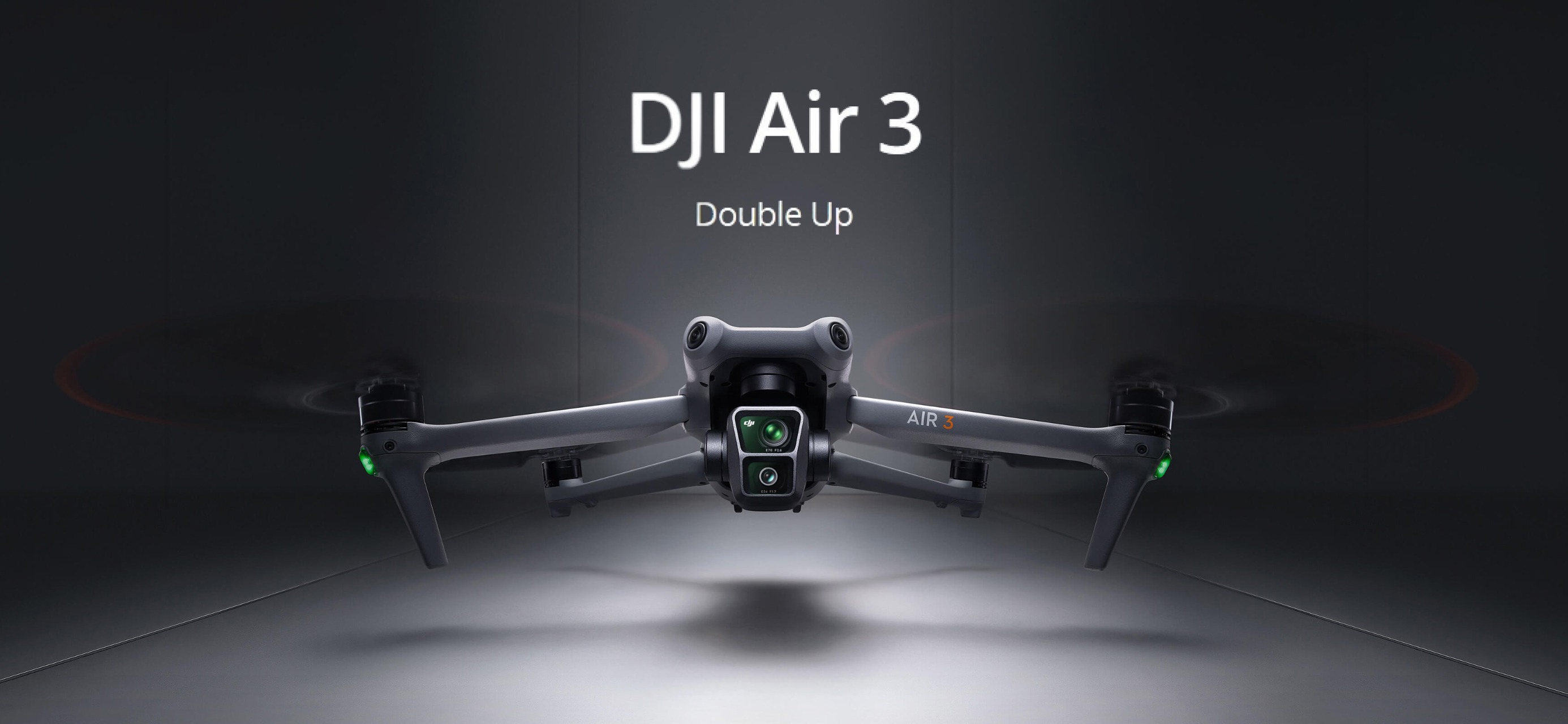 DJI have brought their latest drone the DJI Air 3 to Nepal. The drone is the successor of the famous and loved drone, the DJI Air 2S. The Air 3 was launched on July 25 and has made it to Nepal after a month. The drone has new upgraded features along with an exciting dual-camera setup and a 46-minute flight time.
The Air 2S, which was launched back in 2021, came with impressive specifications. However, the Air 3 has taken things even further with notable improvements in obstacle sensing, flight time, flight distance, and the dual-camera setup. Let us see what the drone has been featured with.
Specifications of the DJI Air 3
Dimensions (L*W*H)
Folded (without propellers): 207×100.5×91.1 mm
Unfolded (without propellers): 258.8×326×105.8 mm
Takeoff weight
720 grams
Flight time
46 minutes
Maximum flight distance
32 km
Transmission distance
20 km
Maximum speed
21 m/s
Maximum ascent speed
10 m/s
Maximum descent speed
10 m/s
Max hovering time
42 minutes
Operating temperature
-10° to 40° C
Stabilisation
3-axis mechanical gimbal (tilt, roll, pan)
Camera sensor
Wide-Angle Camera: 1/1.3-inch CMOS, Effective Pixels: 48 MP
Medium Tele Camera: 1/1.3-inch CMOS, Effective Pixels: 48 MP
ISO range
Video
Normal and Slow Motion:
100-6,400 (Normal)
100-1,600 (D-Log M)
100-1,600 (HLG)
Night:
100-12800 (Normal)

Photo
100-6,400 (12 MP)
100-3,200 (48 MP)
Zoom range
Wide-Angle Camera: 1-3x
Medium Tele Camera: 3-9x
Live view quality
1,080p/30fps, 1,080p/60fps
GNSS
GPS + Galileo + BeiDou
Wi-Fi
802.11 a/b/g/n/ac
Bluetooth
Version 5.2
Sensing
Omnidirectional binocular vision system, supplemented with an infrared sensor at the bottom of the aircraft
Battery
4,241 mAh
Li-ion 4S
Charging
Approx. 80 minutes (with DJI 65W Portable Charger)
Approx. 60 minutes (with DJI 100W USB-C Power Adapter and Battery Charging Hub)
Price
DJI Air 3 Fly More Combo (DJI RC-N2): Rs 218,000
DJI Air 3 Fly More Combo (DJI RC 2): Rs 248,000
Design and build
The DJI Air 3 has a similar design to the Air 2S. The changes include the new dual camera setup and a larger size. The wings also fold the same. There are two fish eye lenses on the front and the rear. Underneath the drone there lies a binocular and an infrared sensor. With all the sensors the drone has a complete 360-degree view along with the omnidirectional obstacle sensing helping it protect itself.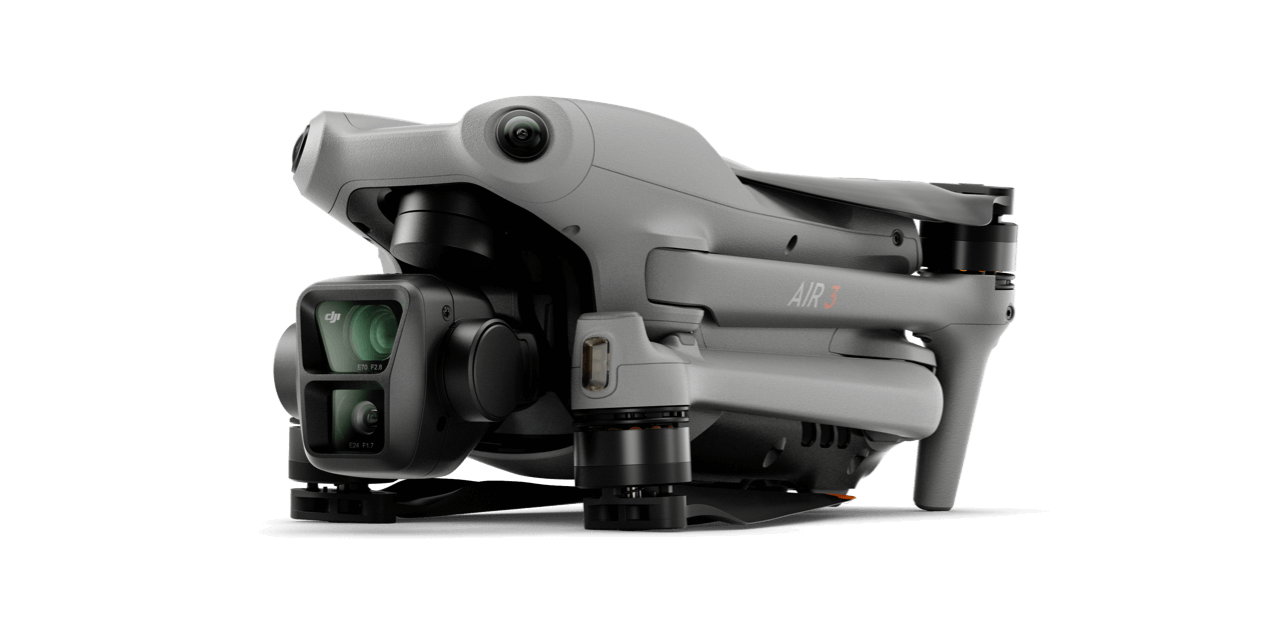 It features convenient folding dimensions of 207 × 100.5 × 91.1 mm without propellers and 258.8 × 326 × 105.8 mm when unfolded. This design makes it easy to carry and transport. The drone has a takeoff weight of 720 grams, ensuring stability and reliability during flights. The build quality is also good and features a larger battery pack than the Air 2S.
Performance
The DJI Air 3 has a better and improved performance. With a maximum ascent and descent speed of 10 m/s, it is swift and responsive. It can reach an impressive maximum horizontal speed of 21 m/s and withstand wind speeds of up to 12 m/s.
The drone's flight capabilities are extended with a maximum flight time of 46 minutes which is 48 per cent more than the Air 2S. It has a hovering time of 42 minutes. It can cover a substantial distance, reaching up to 32 km in flight. The transmission distance is 20 km for non-return home one-way flights. But can reach a maximum distance of 32 km. The GNSS system includes GPS, Galileo, and BeiDou navigation systems.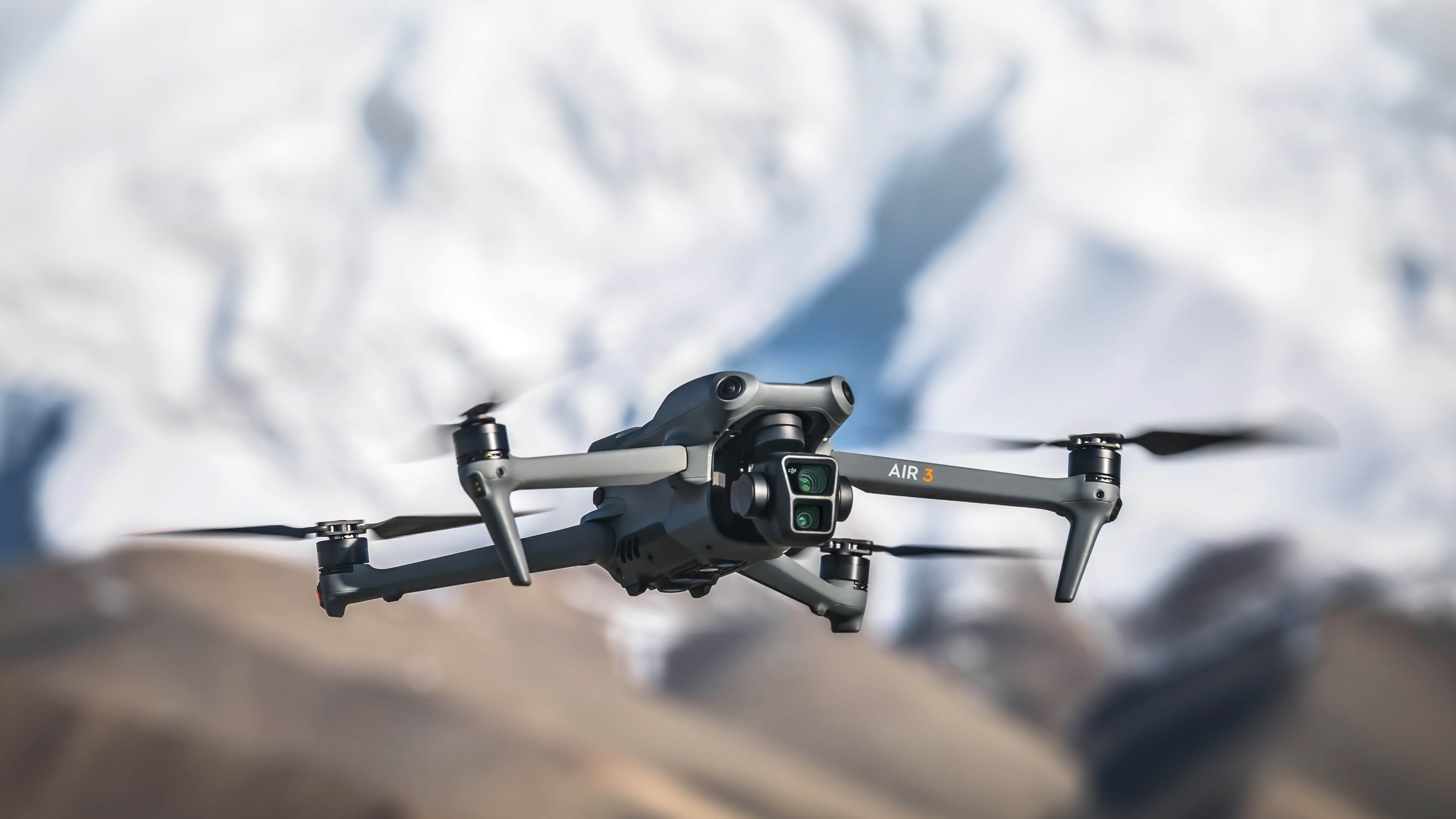 For stabilisation, the drone has a 3-axis mechanical gimbal (tilt, roll, pan). The gimbal provides an extensive range of motion: -135° to 70° tilt, -50° to 50° roll, and -27° to 27° pan. Users can also control the gimbal's tilt and pan within a range of -90° to 60° and -5° to 5°, respectively, with a max control speed of 100°/s. It also has an angular vibration range of ±0.0037° for capturing clear and steady footage.
Camera
The DJI Air 3 includes a dual camera setup, with a wide-angle camera and a medium telephoto camera that features 1/1.3-inch CMOS sensors, delivering an effective pixel count of 48 MP each. The wide-angle camera presents a spacious 82° field of view and a bright f/1.7 aperture, while the medium telephoto camera offers a narrower 35° field of view and an f/2.8 aperture. The drone's ISO range differs to various shooting scenarios, for both video and photo modes, and diverse lighting conditions.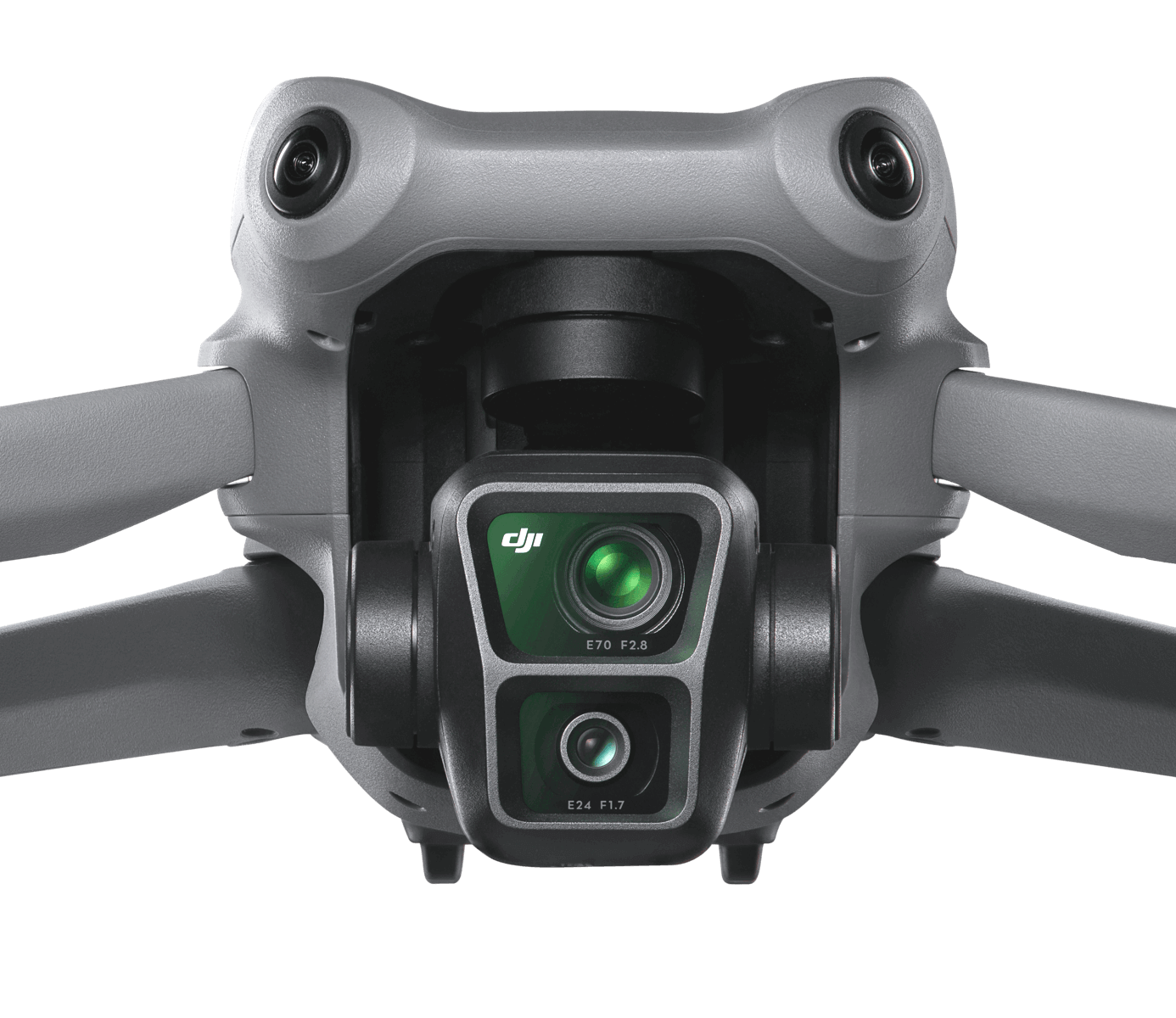 For photography, the Air 3 provides an array of modes for both the wide-angle and medium telephoto cameras, including single-shot captures, burst shooting with options for 3/5/7 frames, automatic exposure bracketing with 0.7 EV steps, and timed modes ranging from 2 to 60 seconds for the wide-angle camera and up to 60 seconds for the medium telephoto camera.
For video both the wide-angle and the medium tele camera offers the choice of 4K recording at 24/25/30/48/50/60/100fps, Full HD (FHD) at 24/25/30/48/50/60/100/200*fps, 2.7K vertical shooting at 24/25/30/48/50/60fps, and FHD vertical shooting at 1,080×1,920@24/25/30/48/50/60fps. It also has HDR support up to 4K/60 fps.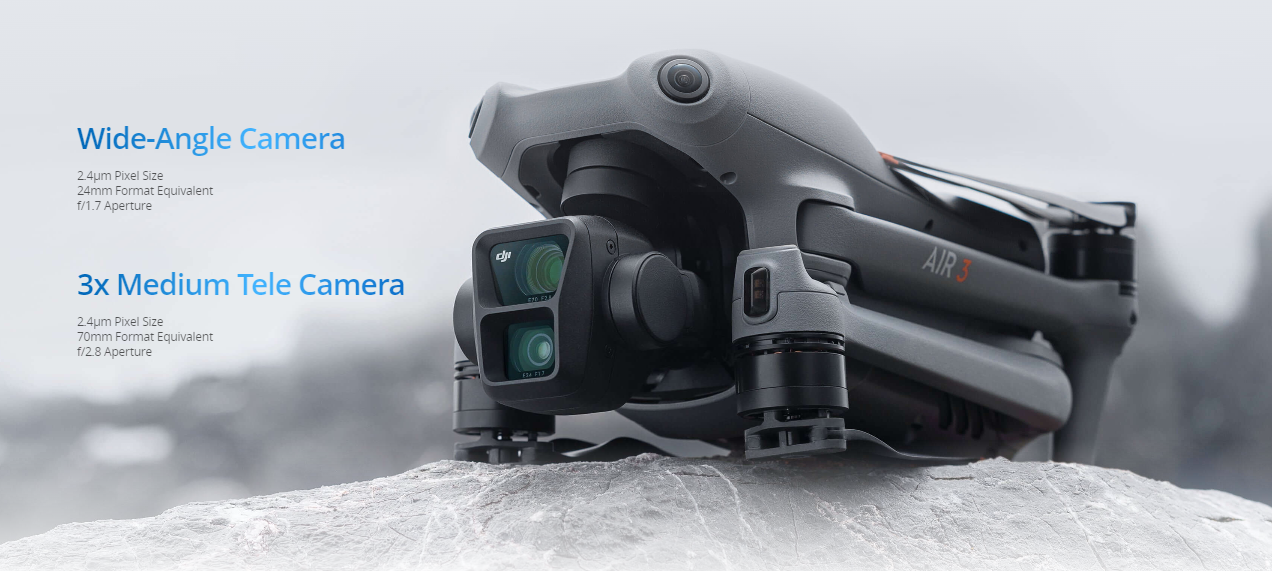 The Air 3 offers versatile colour modes and sampling methods. Both the wide-angle camera and medium telephoto camera provide a normal mode with 8-bit 4:2:0 colour sampling for both H.264 and H.265 codecs. It also has colour mode options like HLG (Hybrid Log-Gamma) and D-Log M in 10-bit 4:2:0 colour sampling for H.265 codec. For zoom, the wide-angle camera supports 1-3x digital zoom, while the medium telephoto camera takes it even further with 3-9x digital zoom.
Battery and features
The DJI Air 3 has a 4,241 mAh lithium-ion (Li-ion) battery with a 4S configuration. Charging the battery takes around 80 minutes when using the DJI 65W Portable Charger and using the DJI 100W USB-C Power Adapter and Battery Charging Hub, the charging time is approximately 60 minutes. It is equipped with connectivity features that include Wi-Fi support (802.11 a/b/g/n/ac) and Bluetooth connectivity of Version 5.2.
The innovative battery charging hub of the DJI Air 3 introduces an intelligent power transfer feature. By pressing and holding the function button, you can efficiently transfer the remaining power from multiple batteries to the one with the highest charge, ensuring that you have a more extensively charged battery when faced with limited charging options.
The DJI Air 3 has a range of features:
Omnidirectional Obstacle Sensing: The advanced omnidirectional sensing system equips the Air 3 with a comprehensive understanding of its environment, enabling it to detect obstacles from all angles. When obstacles are detected, the Air 3 employs APAS 5.0 to execute smoother avoidance manoeuvres, ensuring a safer flight experience. This functionality empowers both novice and experienced pilots to fly with confidence, fostering creativity with an enhanced safety net.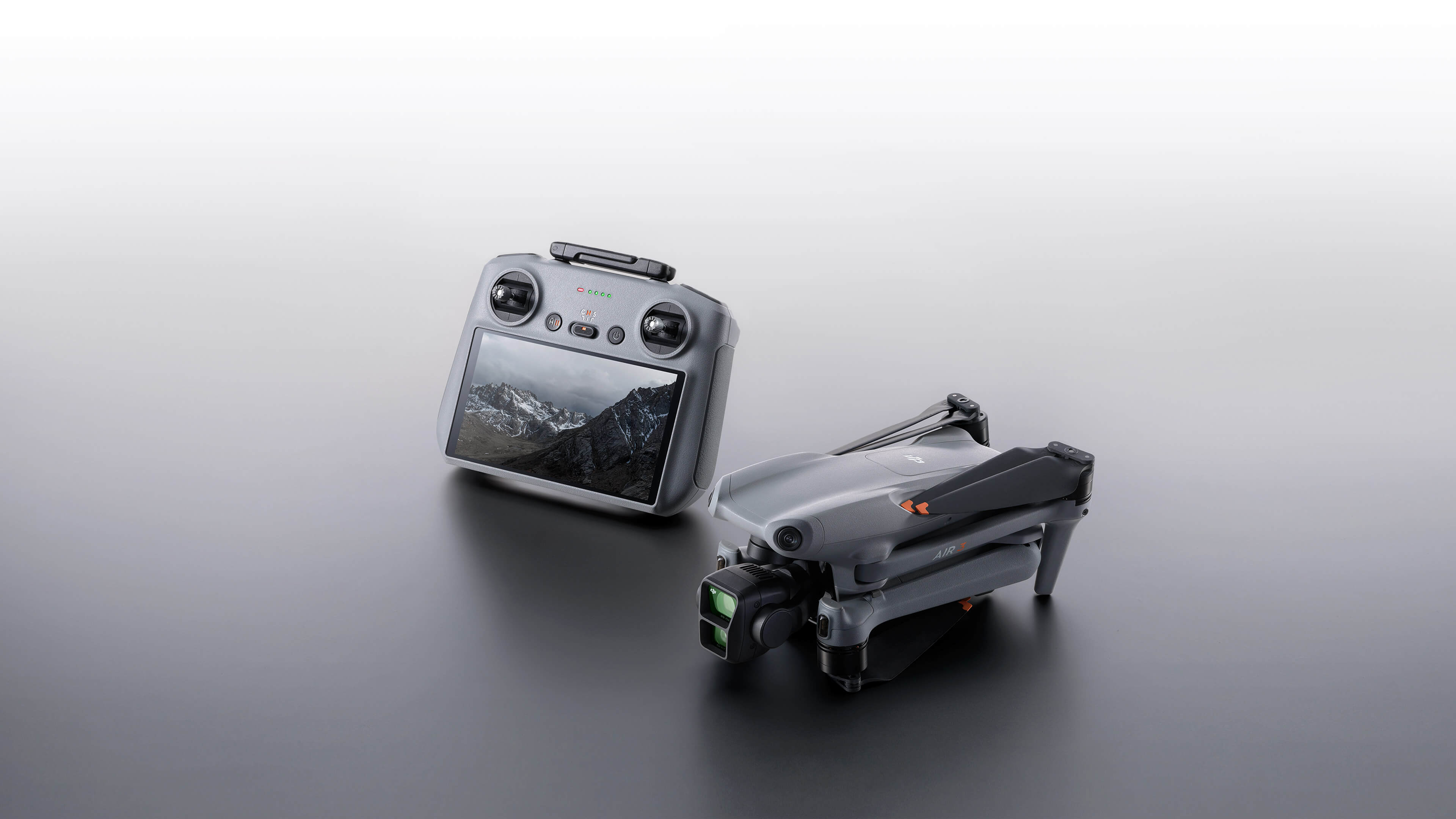 O4 HD Video Transmission: Featuring the next-generation O4 HD video transmission system, the Air 3 achieves significantly enhanced transmission performance. With a maximum range of 20 km and heightened stability, the drone offers a 1,080p/60fps high-quality live feed for exceptionally smooth viewing and operation.
Advanced RTH (Return to Home): The Air 3 introduces an intelligent approach to Return to Home. During Smart RTH, the drone autonomously plans an optimized flight path for Advanced RTH while maintaining its omnidirectional obstacle-sensing capability. This ensures a swift and secure return to its takeoff point.
FocusTrack: The FocusTrack feature ensures that you or your subject remains at the centre of the frame. Leveraging the medium telephoto camera's 3x zoom, FocusTrack enables spatial compression that highlights subjects. Combined with omnidirectional obstacle sensing, this updated tracking performance empowers users to capture intelligent, meticulously planned shots anywhere and anytime.
Spotlight 2.0, ActiveTrack 5.0, Point of Interest 3.0: The Air 3 offers an array of intelligent tracking options, including Spotlight 2.0, ActiveTrack 5.0, and Point of Interest 3.0. These features grant you the tools to effortlessly capture captivating footage while the drone takes care of tracking and positioning.
QuickShots: Air 3 takes creative camera movements to the next level with QuickShots, offering options like Rocket, Dronie, Circle, Helix, Boomerang, and Asteroid. These features allow for dynamic and engaging shots with cinematic flair.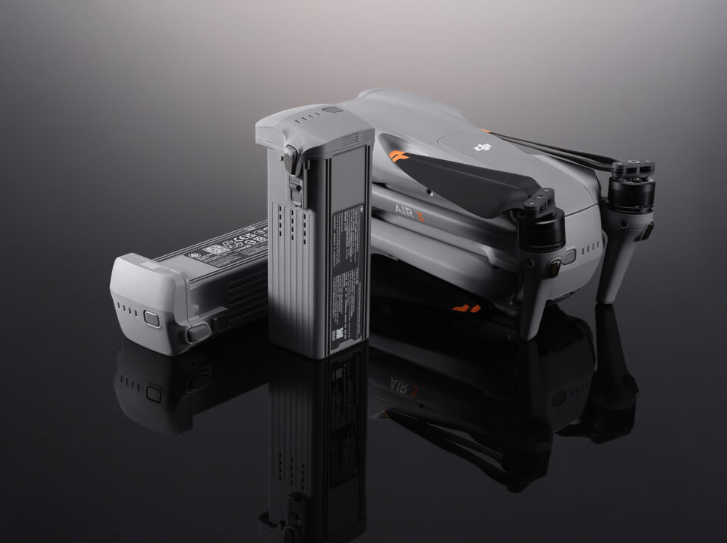 2.7K Vertical Shooting: The Air 3 supports 2.7K vertical shooting using both cameras, resulting in dynamic vertical footage that's ideal for landscapes and subjects. The 4:3 aspect ratio CMOS sensors enable vertical crops that maintain a 2.7K resolution, perfect for direct sharing on social media without requiring post-crop adjustments.
MasterShots: MasterShots automates diverse camera movements, capturing multiple clips and seamlessly editing them with music, cuts, and effects to produce cinematic footage quickly and effortlessly.
Hyperlapse, Slow Motion, Night Mode, SmartPhoto 3.0, QuickTransfer, Waypoint Flight: The Air 3 extends its creative capabilities with features like Hyperlapse with four options, including free, circle, course lock, and waypoint; slow motion at 4K/100fps for dramatic slow-motion videos; night mode for noise-free low-light footage; smart photo 3.0 for automatic scene recognition; quick transfer for wireless media transfer; and waypoint flight, allowing users to plan intricate flight routes and actions for advanced camera movements.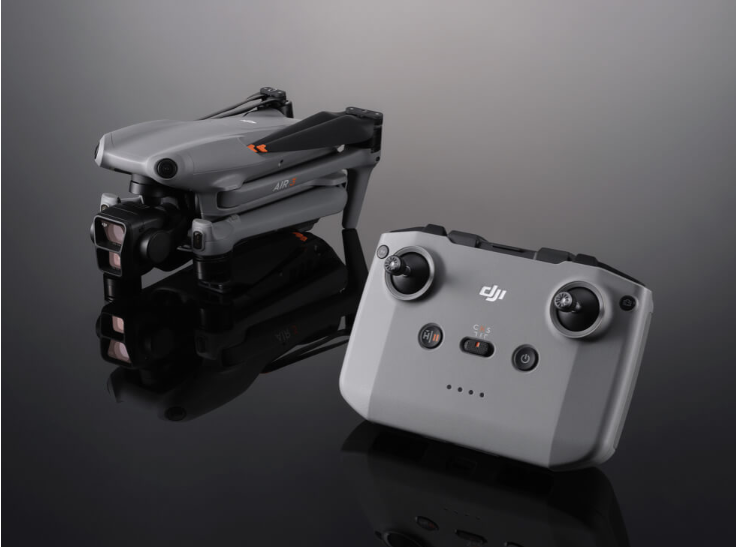 The DJI Air 3 comes in two options in Nepal; Fly More Combo (DJI RC-N2) priced at Rs 218,000 and the DJI Air 3 Fly More Combo (DJI RC 2) priced at Rs 248,000. The price differs because of the remote controller RC-N2 which is a normal one and the RC 2 which includes a 5.5-inch touchscreen display.