Kathmandu, March 2
With the 13th general convention of the Nepali Congress around the bend, leaders vying for party presidency are formally announcing their candidatures and also fielding their trusted lieutenants. From the establishment faction, NC Acting President Ramchandra Poudel and General Secretary Krishna Sitaula announced their candidatures on Wednesday. At a press conference held at the party office in Sanepa at 5 pm, Team Poudel announced it is fielding Shashank Koirala for the post of general secretary. The team will nominate Prakash Man Singh as Vice-president if Poudel wins presidency.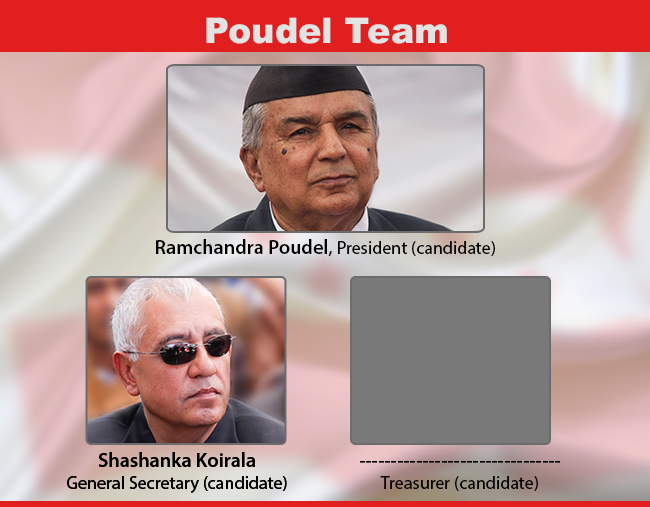 Sitaula fields self, lieutenants
NC General Secretary Sitaula announced his candidacy for the post of party President at Anupam Party Palace in Battisputali, Kathmandu, at 4 pm. From his team, Gagan Thapa and Uma Kanta Chaudhary are contesting the race for general secretary and treasurer, respectively.
Earlier in the day, party leader Sujata Koirala announced her candidature for the post of party President by organising a press conference at Mandikhatar.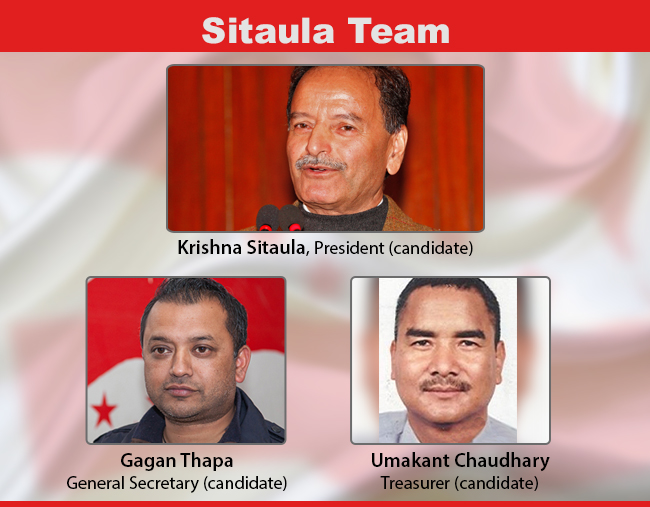 Deuba's generals
Team Deuba is fielding party leader Arjun Narsingh KC and Chitra Lekha Yadav for the posts of general secretary and treasurer. Deuba will formally announce his team on Thursday. On Tuesday, KC, which had remained with the establishment faction for long, had announced his candidature for the position of general secretary from the Deuba camp. For the post of treasurer, Team Deuba is fielding Chitra Lekha again.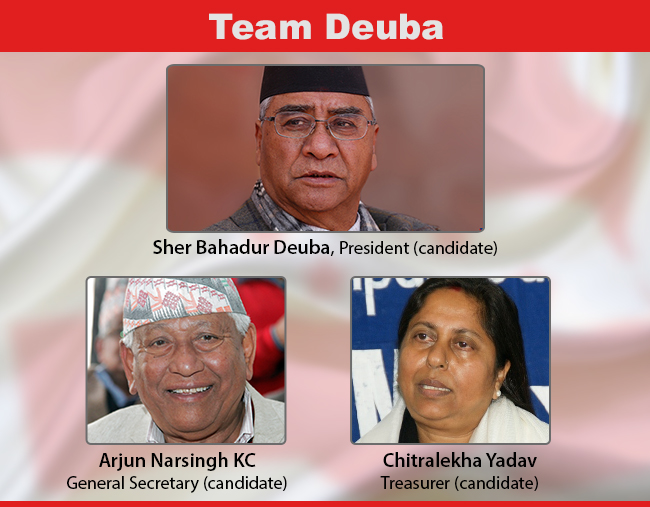 At the 12th general convention, Yadav won the post of treasurer even as Team Deuba's candidates for the posts of president and general secretary lost the polls. Names of Pushpa Bhusal and Bal Krishna Khand had come to the fore as alternative candidates on the basis of speculation that Yadav's popularity has eroded. But Deuba chose to keep Yadav in his team.
According to a source, Team Deuba has assured to nominate Khand as joint general secretary. Purna Bahadur Khadka, elected joint general secretary at the 12th GC, was aspiring for the post of general secretary this time.
But with KC already in the fray for the post, Khadka will have to vie for the position of his deputy. Khum Bahadur Khadka had proposed fielding Pushpa Bhusal for the post of treasurer. But he backtracked after failing to receive Deuba's support for the same.
Pledge to Khum Bahadur
Deuba has assured to nominate Khum Bahadur as Vice-president if he becomes party President.  Team Deuba has offered to nominate Bimalendra Nidhi as general secretary. In the 12th GC, Nidhi had contested the race for general secretary. Earlier, Nidhi had wanted to throw his hat in the ring for the post. But Nidhi's popularity is said to have eroded while he was a minister in the Sushil Koirala government. With KC brought from the establishment faction and fielded for the post of general secretary, Nidhi chose to go for the nominated position.
Only if Deuba wins presidency will he be able to nominate vice-president, general secretary and joint general secretary.