Vishnu Aryal has been quite busy for the past few months. Despite the lockdown, Aryal, who is a Hindu priest in Kathmandu, Nepal's capital, has been conducting weddings, pasnis (ritual to mark weaning) and shraddhas (annual rituals to pay tributes for deceased parents and grandparents) at various places. Even though he knows there are risks, for him, this is the only way to earn a living.
"I stayed at home doing nothing for six months, but I don't have the freedom to do that anymore. This is my dharma and I'm not long shying away from this," says the 44-year-old.
Many priests like Aryal have had a tough time due to Covid-19. While many tried to do the rituals online using applications like Skype and Zoom, they say that they can no longer continue to do that because it just is not rewarding enough for them, both financially and spiritually. One and a half years on with the pandemic, as many cases demonstrate, Nepali Hindu society's transition to the virtual seems a far cry from reality.
Major reasons: pay and faith
"A lot of my peer did the rituals online, but it did feel right to me," says Aryal. "They have also stopped doing it as they realised that remuneration was not good nor was it any fun."
Rishi Ram Subedi, 49, another priest, conducted roughly two dozen events online. But, he says while his loyal clients paid him, a lot told him that they would do so when things were back to normal.
"I am still waiting. That discouraged me a lot as I've been doing this for over 20 years," says Subedi.
He says that he did not like doing rituals digitally as a lot of things can be avoided by the person doing the ritual at home. He says that these rituals are age-old traditions, which if not performed correctly can result in something bad.
"It might sound a joke to many, but these rituals are based on Vedic science. It's our faith and our beliefs" he says. "I want to be there in front of the person, for whom I am chanting the mantra and conducting the ritual. The happiness and satisfaction on their face are what makes me happy even more than money."
Old men vs new technology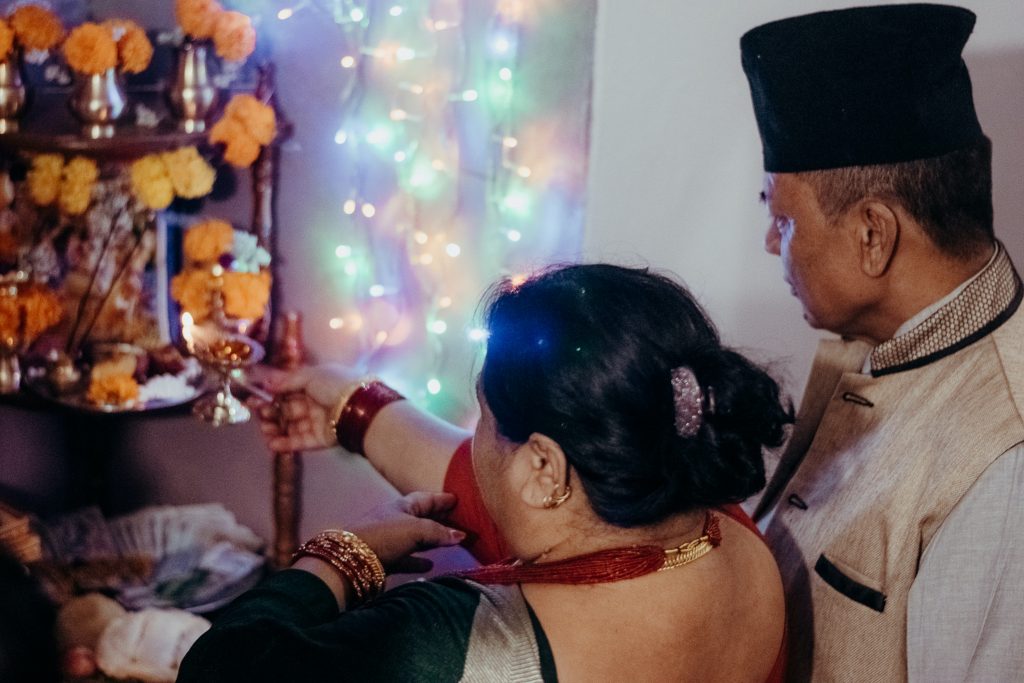 While Subedi has made a choice not to conduct these rituals online, many on the other hand do not have the technical know-how to do it online. Ghanashyam Acharya, who has been a priest for 40 years, says that even he tried, he could not do it online as he does not know how to use the internet. With his sons abroad, there is no one to help him. Hence, the 68-year-old has been sitting idle at home for the past year.
"I'm old now and my children don't want me to go conduct marriages and other events. They say the virus is dangerous and that I might be a carrier and contract it to my wife and grandchildren," he says, "I did conduct one wedding with a face shield on in front of fewer than 30 people. It was very odd," says Acharya.
Apparently, a significant section of Hindu priests in Nepal consists of old men as the profession has failed to give tractions to the young population who find religion not as important as it was for their parents. Neither did the traditional society allow women to read, effectively barring them from the practice.
Conducting rituals online has been an imaginable thing ever since video calling became a household phenomenon in Nepal. With most households having family members abroad, tech-savvy priests in Nepal have been using this as an opportunity and have been conducting events like shraddhas, house puja and pasnis abroad.
Shyam Thapaliya is one of them. Since 2012, he says he has conducted over 200 online rituals for his customers in the US, Australia, England and a few other countries in Europe. He says that it is easy, effortless and hassle-free.
"All I have to do is sit in front of my laptop and ask them to do things. I don't have to deal with getting there on time, sitting in front of the pyre in the hot summer sun or getting drenched to reach a house in the monsoon rain. I think more people should do it remotely especially at times like these," he says.
But, it is not as easy for all as most rituals involve sidha dan, offering the priests grains like rice, lentils and other items like oil, fruits and vegetables. The priests only receive these if they conduct the rituals physically as many households have refrained to send anything citing Covid-19.
"Things are difficult," says Shiva Dahal, a celibate priest who lives alone. "If I only conducted three rituals in a month, I'd have enough food for two months. But, now as work is hard to come by, I've had to take any job on offer."
Life at the cost of livelihood
Priests have also called it an end to their career as ones who have crossed 60 do not want to risk their lives to Covid-19.
Ghanashyam Acharya, 68, is also thinking about calling it quits as he believes that it is a risk not worth taking. And, with his children wanting him to step down, he feels it is the right thing to do.
"I have had my share of fun. I'll do it for a few families that I'm personally close to, but for others, I think, my services are closed."
Many are busy though as weddings have continued to take place in the country. Even during lockdowns, Vishnu Aryal conducted two weddings and is gearing up for a third.
"I put on a face shield, a mask and wear rubber gloves. I will try to have very little conversation with people and even distance myself from the family after coming back. Times have changed and I think we also have to change," says Aryal who has received both doses of his Covid-19 vaccine.
But, his old colleagues still find it difficult to get into.