With the start of the Covid-19 epidemic, most people's daily routines have been disrupted and many are suffering from mental stress. The stress is due to the infection itself, or because they have lost their loved ones to the infection. Some are under stress because they are struggling to make ends meet.
This lack of stress management is not only causing mental health problems but also physical ones.
Among them, the frontline workers including health workers are more vulnerable. For them, the risk of getting infected is high while working in direct contact with the infected.
Some health workers have even lost their lives due to infection while on the job. But, many of them are powering through and working under stress. A very few have felt the need for psychological counselling. Those health workers have complained of stress, anxiety, insomnia, and loss of appetite.
Living through troubling times
For Binita Luintel, a staff nurse at the Tribhuvan University Teaching Hospital, it is insomnia and anxiety that are troubling her. "The virus this time is deadlier. Many people are losing their lives due to the lack of oxygen, ICU beds and ventilators. It is a stressful scene."
Until a week ago, the health workers at the TUTH themselves were struggling to find oxygen, ICU and ventilator, when infected. The scenario has not changed yet. And this is making them more anxious and mentally weak.
Only about one and a half months ago, Luintel lost her brother after he had a heart attack. But, she had to keep the pain of her loss aside because of her work pressure. And, this increased her mental stress. But she is still managing positively, with daily exercise and music.
Luintel says that even though the hospital provided psychiatric services, the stress is still troubling her.
She stresses all active health workers are experiencing a similar level of mental stress. Therefore, she says concerned stakeholders must operate a programme to minimise their stress and encourage them.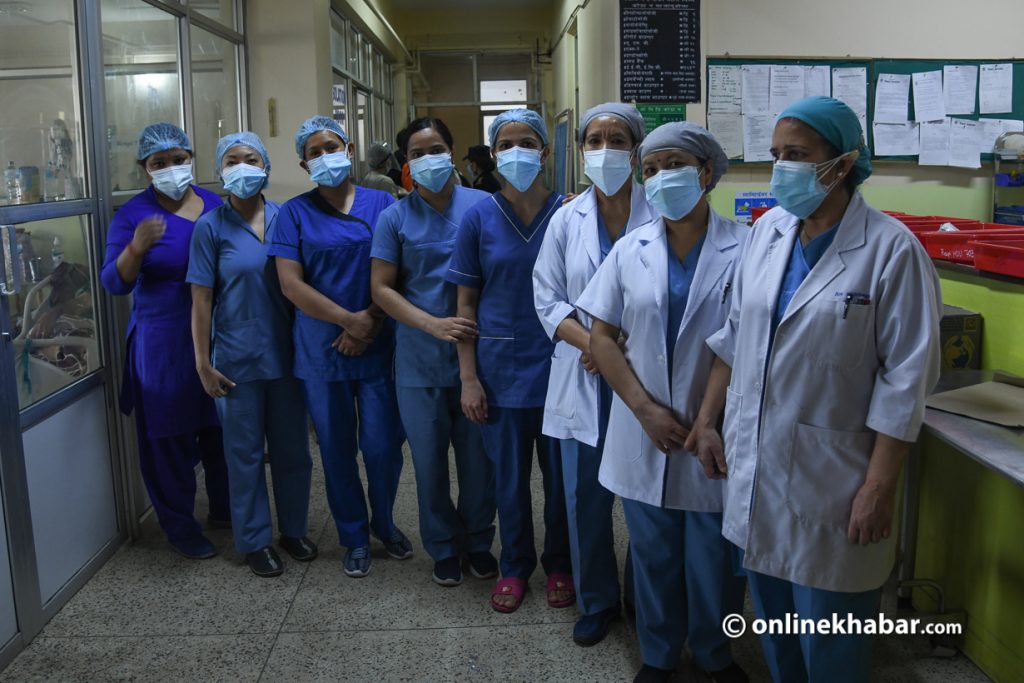 Another nurse of the TUTH, Barsha Khawas, has also been on the frontline, treating Covid-19 patients for the past five months. Since she has a baby girl at home, she was given the choice to work at the Covid-19 ward or maternity ward. Her choice to work at Covid-19 ward is making her stressed due to work pressure rather than fear of getting infected.
Though stressed, Khawas continues to work with her profession and responsibilities in mind. 
Need for help
Khawas shares how things have been better now that the patients have been decreasing.
Like the TUTH, Bir Hospital also suffered because of the lack of beds, oxygen, ICU beds and ventilators a few weeks ago and could not admit any patient. Unable to manage the shortage amid the influx of the patients, despite his efforts, Dr Achyut Karki was under a lot of stress. But, his responsibilities kept his mind busy.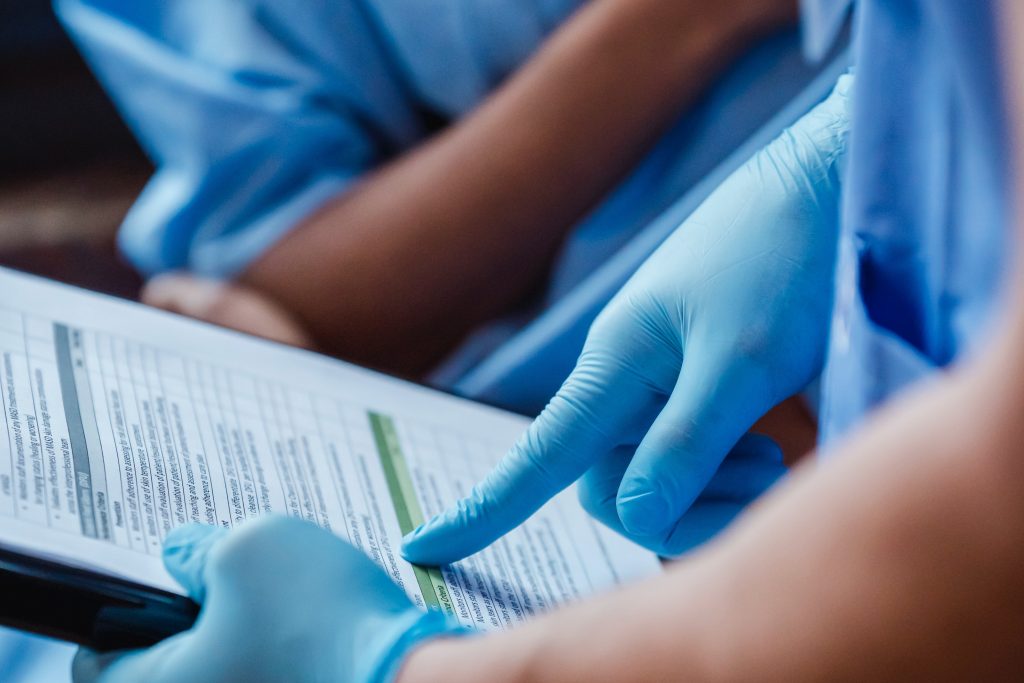 "I spent many days and nights, on the phone, busy trying to manage oxygen and beds. I couldn't sleep," he says, adding most of the people working in the hospital have experienced stress.
Laxmi Manandhar, a staff nurse in the ICU of Bir Hospital, says this time it has been more difficult. Also, the age group of the infected in the ICU has been concerning. "In the first wave, the population in the ICU was over 50 years of age. This time around, most of them are between the ages of 20 and 30. But, after treatment, when we fail, packing their corpses sends chills down your body," she says.
Furthermore, the Hospital has not even managed the quarantine. She says there is a risk of infecting her family when she goes back home, causing her further stress. "Sometimes it is very difficult. At times, we hope the hospital will arrange for our counselling."
Healthcare workers are committed to treating patients but are also hoping that they can send them back home sooner. Some of them have already recovered; these are the moments that motivate health workers. But, when some patients die in the hospital, it frustrates them. But if the health workers get support and help from their families, they can reduce their mental stress.
Nominal support available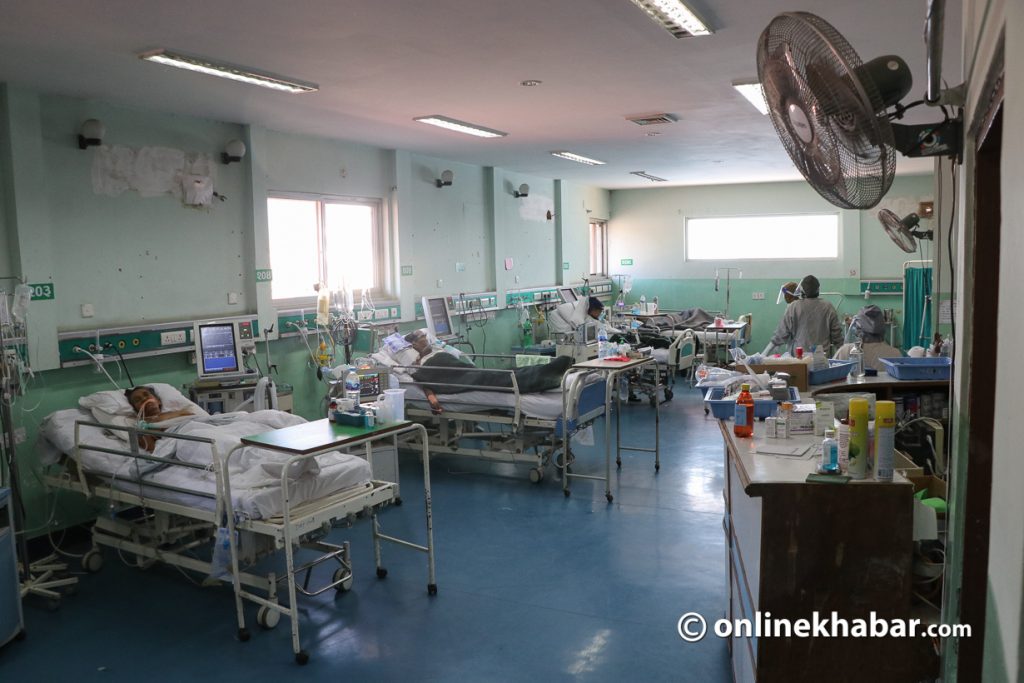 Dr Niraj Bam, an associate professor and pulmonologist at the TUTH, has been treating Covid-19 patients since last year. During the first wave and the second, health workers have been under a lot of stress. "The situation got very dire for a while. Seeing the patients, it scared us for our future that might be similar."
The second wave has claimed many lives. Although the infection rate is low, the number of critically ill patients is still the same. Dr Bam also seconds that the work pressure keeps them occupied, and though stressed, other mental health problems are less prominent.
There has been no study on the mental health status of health workers involved in the treatment of Covid-19 patients in Nepal. But, it is safe to say that most of the health workers are working positively and only a few health workers have reported anxiety problems, says Prof. Dr Saroj Prasad Ojha, the head of the Department of Psychiatry and Mental Health at the TUTH. "Everyone is stressed now. And, it is natural for the health workers who are at the frontlines to have more stress."
According to Ojha, the department has now set up a separate hotline to assist health workers with their mental stress.
The health workers can call in and talk about their stress, get suggestions or counselling as needed. The department has also made arrangements to provide in-person counselling as needed. But so far, there has been no need for the latter, he adds.
Like the TUTH, health institutions across Nepal have to understand the need and start similar services for their health workers. It will encourage and boost their confidence, Ojha suggests. "Now, it is up to the government to promote such service."