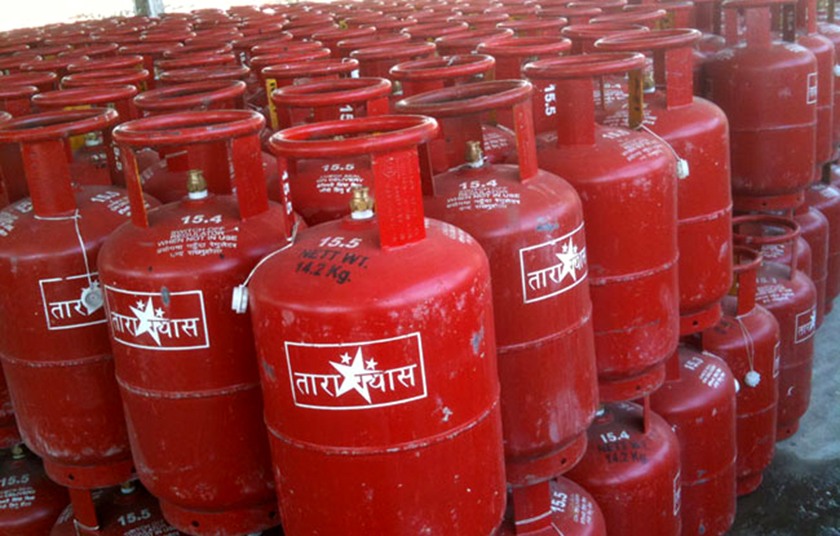 Kathmandu, April 4
The government has finally found the reason behind the cooking gas crisis that's been deepening even months after easing of the blockade. It has concluded that there's a shortage of cooking gas in the market because gas industries and dealers have been indulging in black marketing, selling gas to hotels, party palaces and commercial firms.
What's the government doing?
The Ministry of Home Affairs has made it clear it will take action against these black marketers by adopting a zero-tolerance policy. The ministry, Nepal Oil Corporation and local administration have concluded that gas industries and dealers have created the cooking gas crisis by indulging in black marketing.
An official from the Ministry of Supplies said: "There's a monthly demand for 29,000 MT of cooking gas in the market. Despite an increase in gas supply, customers are not getting gas. Gas industries and dealers are solely to blame for this situation." We kept quiet thinking the shortage was due to decrease in the supply of gas. But it has become clear now that black marketers are controlling the market, the official said.
Hoarding like there's no tomorrow
Mukunda Ghimire, spokesperson for the Nepal Oil Corporation, said 30,135 MT of cooking gas entered Nepal in the month of March alone. Monthly supply of 29,000 MT of cooking gas should be enough for Nepal. Interestingly, the gas crunch continues even when the supply has surpassed the demand.
"There's no other sector that consumes that much of cooking gas. Unavailability of cooking gas for customers clearly points that commercial entities are hoarding cooking gas from the black market," the supply official said.
Officials say consumers will not get cooking gas easily unless the government steps up market monitoring.
Meanwhile, Sunday's meeting of stakeholders decided to monitor the market in view of the shortage. Now, home and supplies ministries will step up monitoring of gas industries," Ghimire informed. "We have decided to increase the supply and pay special attention to monitoring."
Yadav Prasad Koirala, spokesperson for the home ministry, said the cooking gas crisis is continuing because some consumers are hoarding gas. The problem has arisen also because dealers and gas industry owners are not acting with a sense of professional responsibility, he said.
As per the law, they can supply gas to hotels and commercial firms, Koirala said, adding: But the gas shortage would have become a thing of the past if they had opted for judicious distribution of gas by giving due consideration to the customers' problems.
Hotline
For market monitoring, the home ministry has pressed local administration and police into service. As per the ministry's directive, district administration office has set up a hotline — 166001-60606. People can share information about black marketing of petroleum products through the hotline.