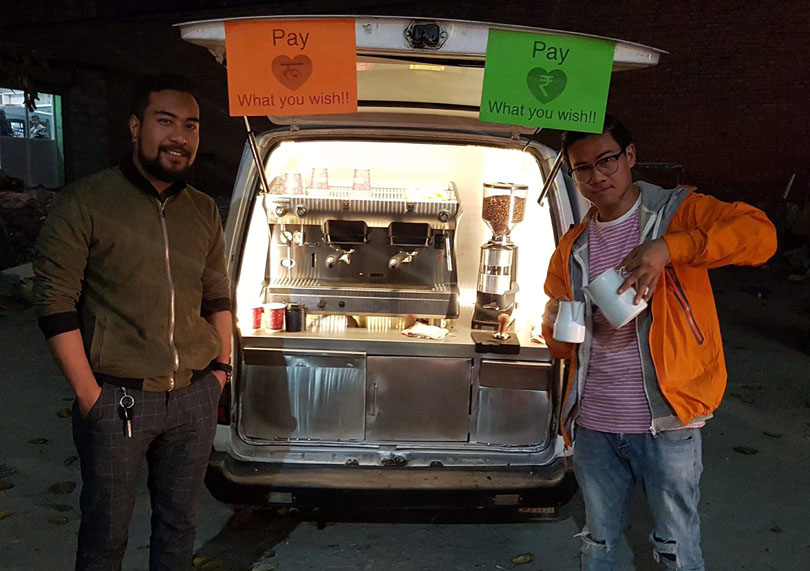 After working as a barista for leading coffee shops in Kathmandu, Kishan Gurung went to Lhasa to experiment with the Tibetan coffee market. Impressed with his coffee making skills, top coffee shops of the Tibetan capital offered him a job with lucrative pay.
But, Gurung did not accept the offer and came back to Nepal—because he had something bigger going on his mind. He wanted to pioneer a different style of coffee making in Nepal.
Coffee2GoNepal, a company Gurung established in partnership with his schoolmate Niran Shrestha, claims to be Nepal's first mobile coffee shop. Established in January this year, the company is planning to launch its full-fledged business within the next two months, with a mission to "bring a revolution in Nepal's coffee business."
Schoolmates' business partnership
Gurung, a resident of Kathmandu and Shrestha from Sindhupalchok first met as classmates around 13 years ago. They studied grades 11 and 12 at Pasang Lhamu Sherpa Memorial College in Gongabu. The friends did not have any big ambitions during their teenage days.
"We did our bachelor's from different institutions. Then, both of us could not continue our studies due to different reasons," Shrestha says, "Perhaps, it is something that brought us together again."
After completing his bachelor's, Gurung learned coffee-making skills and worked for a number of shops whereas Shrestha was already engaged in a marketing job at Civil Mall. "Gurung would come to me very often and tell me we need to do something. He motivated me not to leave the country in search of opportunities and start something here," Shrestha shares, "But, we were undecided until last year."
In the meantime, Gurung got an opportunity to visit Singapore, where he saw coffee being served on vehicles. As someone engaged in serving coffee to his customers for years, he thought of replicating the model in Nepal.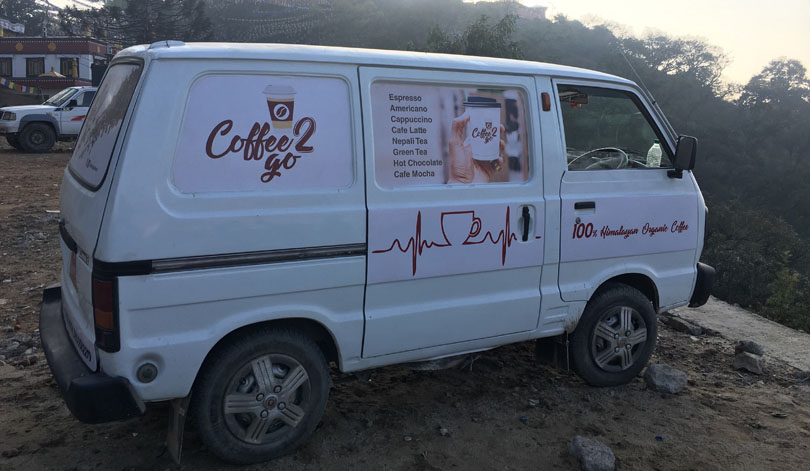 After coming back, he shared the idea with Shrestha, who also found it interesting.
Investment in instalments
After rigorous discussions for around three months, Gurung and Shrestha finalised the business model. They estimated that more than 1 million rupees would be needed to run the business.
"But, we did not have money. So we delayed the process and decided to purchase whatever we could whenever we had money."
First, the duo bought a secondhand van to use as a mobile shop. "It cost Rs 350,000, which was way cheaper than what we had expected. We spent Rs 50,000 to repair the van."
Further, it cost around 120,000 to add rods and metal plates onto the van so that it can firmly hold the machine. "Again we saved up and bought a double-head coffeemaker for Rs 600,000."
According to Shrestha, they have so far invested Rs 1.2 million. As the team is gearing up for expansion, they have planned an addition to the investment.
"We will serve fruit juice also in the near future," Gurung says, adding the coffee van currently serves six varieties of coffee: Americano, Cappuccino, Latte, Espresso, Iced Americano and Iced Latte.
'Coffee for everyone'
Gurung says he propounded the business idea in order to materialise his dream of 'coffee for everyone'. "In Nepal, coffee is still an elite beverage, apparently because it is expensive at shops. We want to destroy that perception."
Therefore, products from Coffee2GoNepal are surprisingly cheaper. "We sell a cup of coffee for Rs 40; for the same amount you have to pay Rs 140 at a shop," Shrestha says, "That is possible because making a cup of coffee is possible by investing just around Rs 25. Shops have to charge more to cover their operational costs."
In order to realise the dream of 'coffee for everyone', the duo also plans to open a stationary coffee shop that will offer coffee at cheap rates. The team has already started negotiations with leading shopping malls. The duo also plans to deliver coffee cups to customers' homes.
"But, we fear that our friends from other coffee shops will be angry at us for spoiling their market," Shrestha jokes.
Healthy turnover in first eight months
Shrestha informs that the first eight months of their business has been steady and it has encouraged them to expand.
"So far, we have been just experimenting with the market. We have been taking our van to places where people gather for different events like concerts, special markets and even religious fairs. We also served at some colleges upon their request," an excited Shrestha shares, "Even then, almost half of our investment has returned."
"At colleges, we found that the same students come to drink coffee every day. Therefore, we also introduced a discount card—once you drink nine cups of coffee, the tenth will be on us."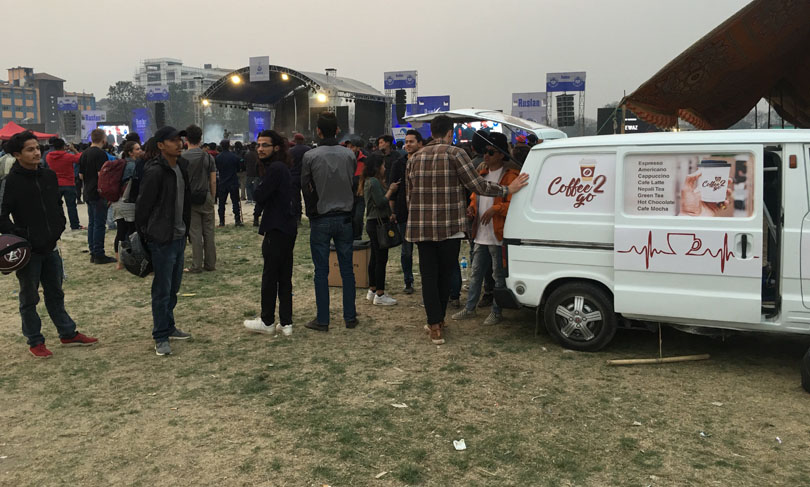 Till now, Coffee2GoNepal is a two-man team. "We looked for other drivers and baristas to join our team, but we have not found people who are both skilled and reliable," Gurung says, "But now, we cannot do it alone. We will soon hire at least two baristas and one driver because our business will go fulltime now."
Shrestha informs that the team will offer higher pays to its staff in order to attract quality human resources available in the market. "If you do a survey at coffee shops of Kathmandu, a barista works for Rs 8,000 to Rs 14,000 a month. Most of them are students who have been forced to work for low pay with a hope that it will help pay their college bills. But, we will pay them at least Rs 20,000."
The company's success in the initial months has been reflected on franchise demands sent by entrepreneurs of cities outside Kathmandu like Pokhara and Dharan.
"But, we are not in a position to sell our franchise now as we are yet to give a full shape to our business here in Kathmandu," Shrestha says.
He claims that his team's business idea is innovative and practical, therefore it will not fail.
"The barista career in the global market has attracted a lot of Nepali youth these days; and hence we want to cash in on that opportunity by stopping them here."