Tashi Gyatso Gurung from the village of Dhye in Upper Mustang is not home. Due to the negative effects of climate change, Gurung is 12 kilometres away from Dhye in a place called Thangchung. Having lived in Dhye for most of his life, Gurung and most of the locals in Dhye have had to relocate due to reasons out of their control.
"Water sources have dried up. There are no green pastures for animals to feed on and the land has also become barren. We have no other option but to move," says Gurung.
Due to this reason, many have left the village. Some have relocated to Jomson or around Lower Mustang, some have left the place altogether and moved to Beni, Pokhara and even Kathmandu looking for means to make a living for themselves and a better future for their children.
However, the past decade has shown them things can get better. While they understand that the effects of climate change will never let them live in Dhye, they have found a place to relocate and have also found a means to sustain themselves as they aim to become resilient for years to come.
Around 2008, the villagers came up with a plan to make a living. Having seen parts of Jomsom and Marpha do well through apple farming, villagers in Dhye formulated a plan to do the same. But, as they could not do that in Dhye due to obvious reasons, they decided that they would start doing it in Thangchung in Upper Mustang.
And, by now, they have done this.
Reviving hopes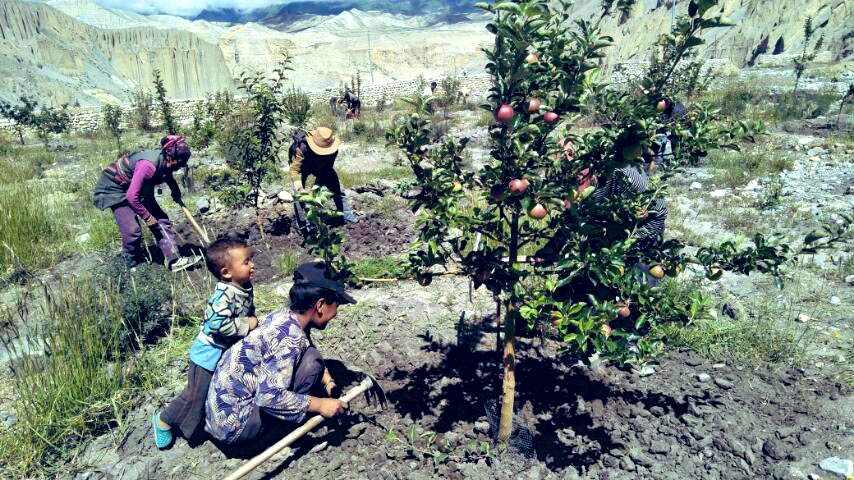 "There is hope that things will be better. This year's yield was a bit better and I hope that it will be the same in the near future," says Gurung.
This is not the first relocation the community faced due to climate change. Social anthropologist and filmmaker Fidel Devkota, who has been researching in the area for the past 10 years, says these people have had to relocate in the past too. Originally from a place called Ghayul, they had to move bellow to a place called Zong Phu due to lack of resources. Their time in Zong Phu was also cut short, says Devkota, as water sources there started to dry up and land there started to get barren.
"They had to relocate due to similar reasons. It's like the same problems followed them," says Devkota who has lived over 40 months in the village.
Life was better in Dhye a few decades ago. It was lower than both Ghayul and Zong Phu and the land was fertile and they did not have a water crisis. But, soon, that changed. The past decade has been very hard for the locals.
Gurung explains that problems started around 2008 when their land started to become infertile. Rain was seldom and even snow did not settle in the area enough for groundwater to recharge.
"When it rained, it rained so hard that it wiped the soil away. It was either drought or flash floods," says Gurung.
That meant that they no longer had the means to make a living. With only one crop cycle, sustaining through farming alone became harder and harder.
"We also traded jimbu (Allium hypsistum) and shaligram, a fossil stone. But, these had to be done illegally and if caught we would get in trouble," says Gurung, adding that they had not been able to harvest jimbu as much as they would like.
This resulted in many leaving the area. Dhye, which around 2007 had over 300 people, now has less than 100 and that number is sure to fall furtherdown. That is when they started thinking about relocating again. This time, they wanted to make sure that they were near water so that they would not have to face a similar problem again.
"The locals got together and decided that we could move to Tsewalhe and carry out farming at Thangchung," says Gurung.
Collective campaign
An apple farm is set up in Thangchung while a housing settlement is being planned in Tsewalhe. The apple farm that started out as an experiment now has over 10,000 plants that produce nearly 10 tons of apples every year.
"A French organisation brings in farmers from France to teach the people of Dhye how to grow and take care of the produce. They've also been producing plums, peach and walnuts also," says Devkota.
Yangchen Gurung, born in Dhye but now living in Kathmandu, says that they are hopeful that things will change. Having gone abroad thanks to a sponsor, Yangchen came back to Nepal primarily to help the people of her home village.
"I want to do whatever I can to make sure that they get a better life. They work very hard to make ends meet and hopefully, this relocation project can become a success in the long run," she says.
She says that Green Growth, an agrotech company, has been helping them sell some of what they produce for the past three years while the locals are also selling them on their own.
"This is a community project, and all trees are a part of the community. But, that said, every family from Dhye has their own plant and they get to keep the produce from it. The rest we have been giving to Green Growth to sell in Kathmandu and other places in Nepal," says Yangchen.
Saurav Dhakal from Green Growth says he heard about Dhye from Devkota in 2018 and since then has been helping them. The response from the market in Kathmandu has been quite great.
"We've been helping out communities like these for a few years now. Although logistics is a major problem, we like what they are producing and hope we can carry on helping them," says Dhakal.
The locals have also planted trees for timber around the area as they know that when they do start moving to Tsewalhe, they will need timber to build houses. A model house is also being built thanks to architect and author Wolfgang Korn as the locals hope that this will their final relocation.
"It's sad that we've had to relocate from Dhye. But, we hope that this will be our final relocation. But, given how climate change works, we can never say never," says Yangchung.
–
To buy these apples contact Green Growth or Dewa Apples.