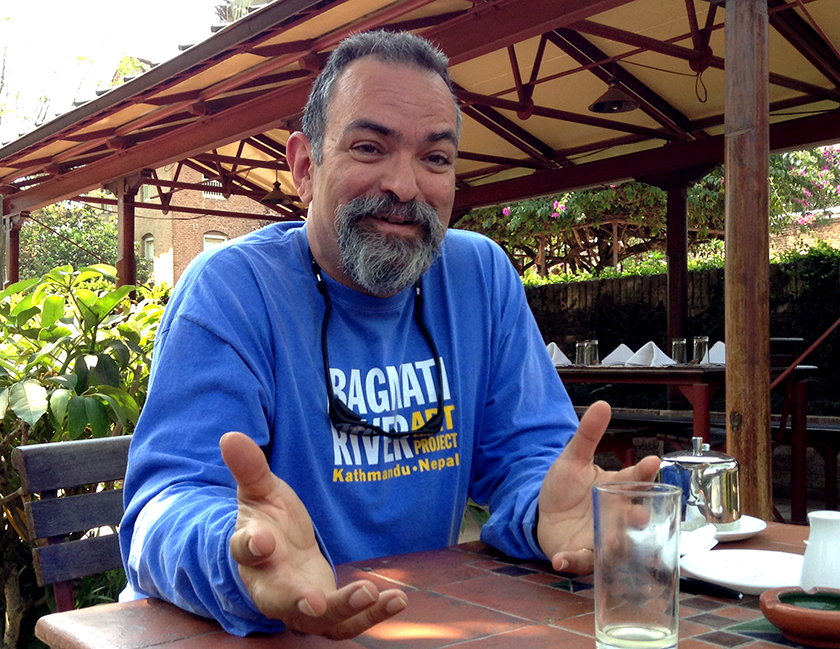 Alberto Rey Born was born in Havana in 1960. His paintings can be found in over 20 museum collections and have been in around 200 exhibitions.
He is currently working on his 'Biological Regionalism Series', under which he aims to use traditional and contemporary media such as video, sound, paintings, drawings, informational plaques, water samples, and water data to create thoughtful, aesthetically engaging installations. His next installation is going to be about the Bagmati. When he introduced himself, he told us he was also a 'fly fishing guide'.
So what does a 'fly fishing guide' actually do?
Well, he is very knowledgeable about streams that have fish. He guides clients on fishing trips, and spends a lot of time in the water. He also has a network of friends, who share the same interest. Working as a fly fishing guide has allowed me to become sensitive to water, and care about water bodies.
What is your relationship with water like?
I care about water. I see it as a spiritual body that can replenish things. It can be rich in a lot of wildlife and micro vertebrates. When I see bodies of water that do not have that (life), I feel it is important to bring it back so that there is a natural order to things.
So, is there any difference between saline water and fresh water?
I don't think so. I have talked to a lot of fishermen and other people, who spend time in water. I think there are a lot of similarities. The only difference that is there is between water and dead water, where there is little life activity. That is sad.
That is precisely the situation the Bagmati is in right now. Isn't it?
Yes, the Bagmati is in in terrible shape. But its story is not unique. There are other rivers around the world, including many in the US, that are also in a similar situation. There have been many success stories. It is only a matter of time when the government starts listening, and somehow a sense of momentum is created, and people become proactive.
But sometimes there are activities that happen that are disconnected with the community. There's a project that comes, and dies out soon. Many projects do not have longevity because they have a disconnect with the local people.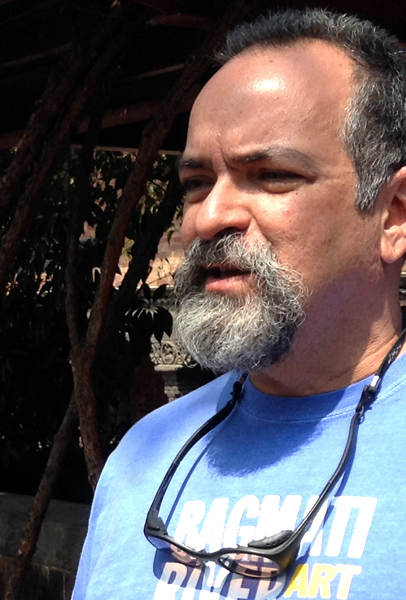 We hope that our work (the Bagmati River Arts project) has some longevity. To do that we are going to come up with a website, a book, and a video (about the Bagmati). We just started talking about this a week ago, we are also going to create posters that are accessible to people, who live on the banks of the river .
There was an excellent report on the Bagmati a few weeks ago. It showed that there is no part of the river that is not polluted. As soon as it leaves the national park (Shivapuri), the quality of river water drops dramatically. There's no point where it is safe for drinking, for human contact or for irrigation.
Why did you choose the Bagmati?
I recently did a similar project in New York, which took me around three years to piece together. By the time I am done withe the Bagmati project in November, I would have spent 2.5 years on it.
So, after the New York project, I met someone, who comes to Nepal regularly. He asked me if I'd be interested in including the Bagmati in my series. Sangeeta Thapa from Siddhartha Art Gallery said she was interested, and soon I was in Nepal.
What I did not want to do was become the ugly American, who's not welcomed by the community. I wanted something that people want to happen. I have done installations about a lot of rivers. The Bagmati is unique because it it is one of the most culturally important rivers in Nepal,  and also one of the most polluted at the same time.
You said a group of people and the community need to build a momentum to clean a river. Do you see that happening in the Bagmati? 
The programme that you have on Saturdays, it just completed 150 weeks. There is a sense of momentum with the community, and it has created hope. We were there after one of the cleanup programmes, we saw that the bank became clear after the event, but the water remained the same.
So, I think it's important to somehow get the government involved. It will not happen overnight, it's going to be a long process. There has to be physical infrastructure such as sewage treatment plants, and industrial waste needs to be monitored.
Now let's talk about the details of the project.
We want to make all information about the Bagmati, especially the results of the study mentioned, accessible to the public. We want to create a book, a website, and a documentary to do that. It will be scientific as well as aesthetic.
What are your plans for the project now?
We are going home this Friday, and earnestly working to get everything ready by November.
Is the installation being designed just for the local audience?
After it is exhibited here, it will probably go back to the US where there are galleries that are interested in hosting it. The purpose of this would be to show the people that the story of rivers around the world is similar and this will help people sympathise with others.
My installations always have different layers of accessibility. There's going to be something for everyone. There's going to be something for artists, who do not know science or scientists, who do not know the arts. But they will still find something in the  exhibition.