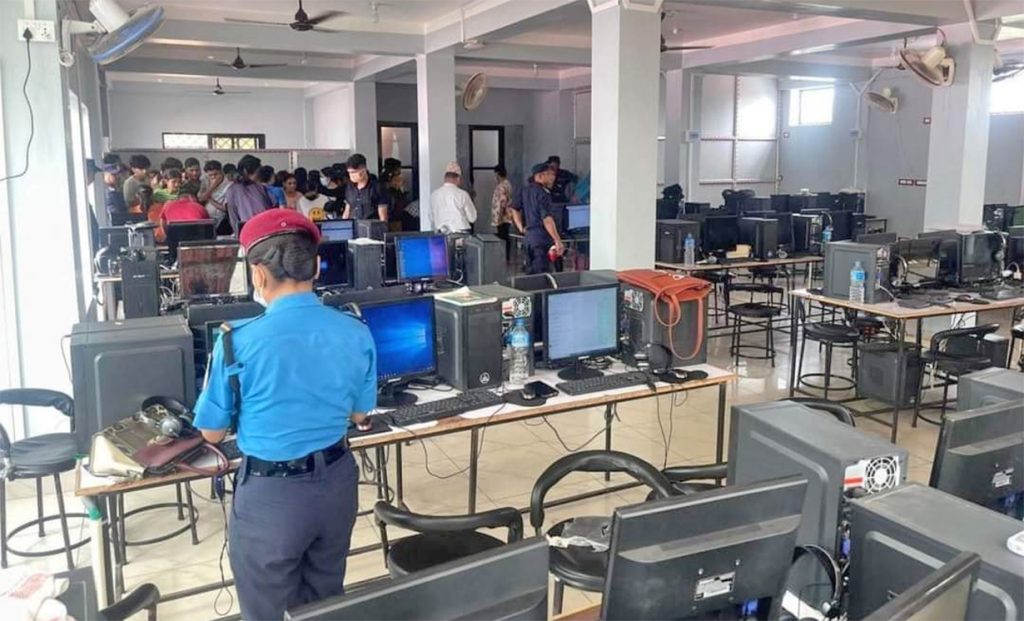 Recently, Nepal Police raided a 'call centre' run by some Chinese in Gaurigaun of Kathmandu and arrested 36 people. The call centre was operated with the name Sky World Service Centre and was located at former FNCCI president Suraj Vaidya's house.
According to Bharat Bohora, the chief of the District Police Range of Kathmandu, among those arrested are the managing head of the company, Chinese citizen Hu Enhua (43), Indian citizens Manoj Shaini, Neha Gupta and others. They also seized Rs 829,00 as well as 262 laptops and 748 desktops.
"They were running a digital wallet service and were issuing loans to people from different countries including India," informs Bohora, "For a loan of Rs 20,000, they would charge Rs 5,000 as interest and deduct the interest initially, and only give them Rs 15,000. If not returned on time, they would call people to threaten and blackmail them."
Bohora informs that while applying for a loan, people had to log in and submit significant documents, which later were used to threaten them. However, police are yet to find strong evidence of the fraud. It is not clear how many applications they were running and who were the targets. Nor is it clear how much money they extorted.
Of late, police have noticed similar other call centres in Kathmandu, but they have been helpless in taking action against them as they fail to collect reliable evidence.
Confirmations pending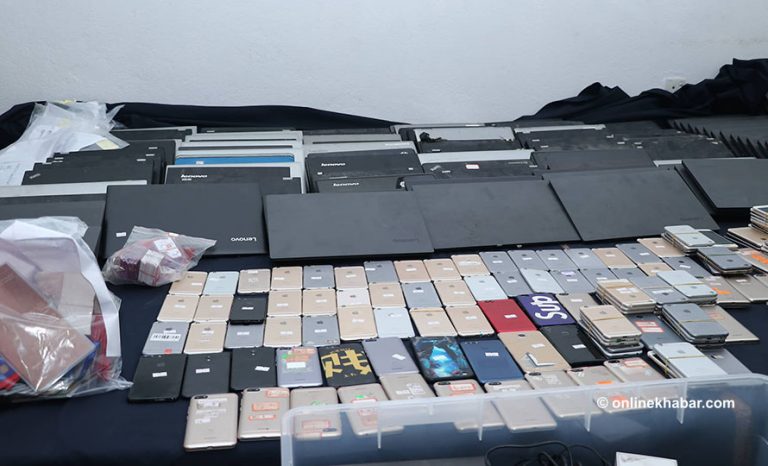 SSP Bohora is trying to figure out what the operators of the Gairigaun-based call centre were doing with nearly 1,000 people and computers. The investigators are now sending the computers and laptops to the digital forensic laboratory for further investigation.
However, there is no doubt that they were engaged in illegal activities while staying in Nepal. As of today, the police are confused about which law applies to them. In the past, such crimes were prosecuted for indecent behaviour and unlicensed banking transactions as per the Bank and Financial Institutions Act.
Two years ago, the Chinese Embassy in Nepal informed the Ministry of Home Affairs that nearly 3,000 Chinese citizens were living in Nepal and doing illegal activities. Based on that information, various units of the police were monitoring the Chinese citizens.
According to the information in Nepal Police Special Bureau, Central Investigation Bureau, and Kathmandu Valley Crime Investigation Office, it is reported that an even large number of Chinese citizens live in Kathmandu, Pokhara, Butwal and Chitwan who are involved in online-based crimes via call centres.
But, the Chinese citizens who have been arrested in most of the cases have been acquitted because the operations were hasty and shallow. Maharajgunj police team arrested 22 Chinese nationals for cybercrime and handed them over to the Department of Immigration, but it could not detain them even till the evening of the same day. According to the then director of the department, Anjan Neupane, 21 of those arrested were found to have business visas.
Lack of evidence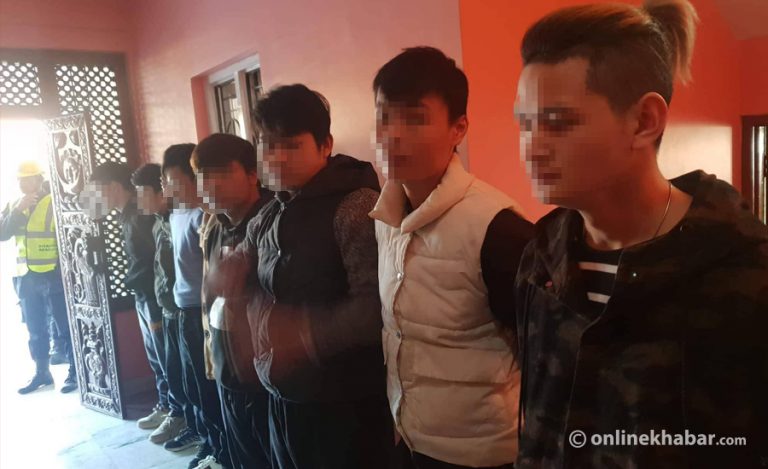 After a big operation in Kathmandu in 2019, it has been seen that Chinese nationals have changed their way to run call centres. Before that, Chinese nationals were employed in every call centre, but after Operation Charlie Foxter, they are operating in the shadows and working through Nepali nationals.
According to the Valley Crime Investigation Office, they have registered the company in the name of Nepali citizens and are operating the call centres. "They believe even if the police catch them, the Nepali people will be caught," says an officer. District Attorney Ganga Paudel says, "Most of those arrested were around 19 years old, all working for little money as they could not find employment anywhere."
Another operation held in February this year resulted in the arrest of 27 people including 26 Nepalis. The police claimed that the Lemon Group of Companies was registered in the name of a Nepali from Lalitpur and with other smaller companies like Easy Credit, Free Cash, Handy Loan, Go Loan, Rupi Star, etc with easy but illegal lending.
Minimum bail
In Operation Charlie Foxter conducted jointly with the Chinese police, the police arrested 122 people. The CIB and the Metropolitan Police Range jointly conducted the operation in Manmaiju, Maharajgunj and Budhanilakantha in Kathmandu and arrested them. It is considered to be one of the biggest operations conducted so far in coordination with foreign security agencies.
Based on the information given by the Chinese Embassy in Nepal, the police seized 747 mobiles, 331 laptops, 18 CPUs, 99 monitors, 22 pen drives, 327 sim cards and 67 passports. When sent to a digital forensic lab for testing, no important details were found.
Because of the language barrier and availability of only a few Chinese translators, the police could not take the statements of the arrested.
The arrested Chinese were said to be involved in various financial crimes like gambling, betting and other internet-related frauds facilitated via their call centres. However, Nepal Police did not find a strong basis to confirm such allegations. All of them were prosecuted for indecent behaviour and those caught with much fuss were released after bail of Rs 1,000 each.
Then, they were handed over to the Department of Immigration ; the department decided to deport them and ban them for four years. China sent two chartered planes to Kathmandu to pick them up.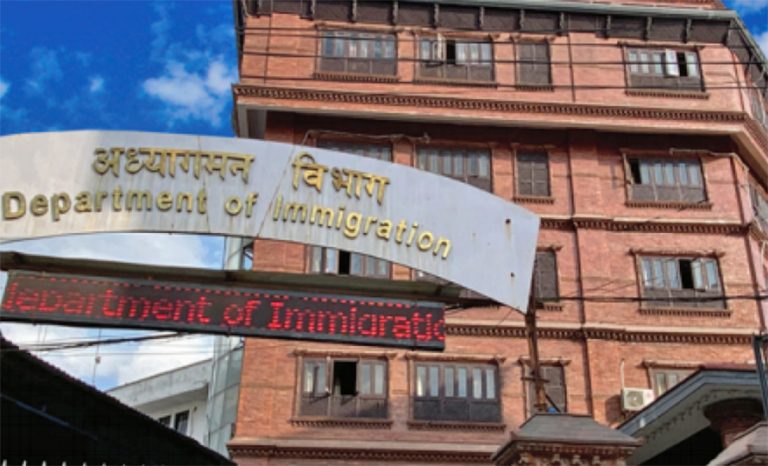 Increasing crimes
"When the first operation was launched, it was estimated that the illegal financial activities of the Chinese would run into billions, but it was difficult to prove because the financial transactions were done through WeChat, a Chinese social networking app, and others," former Nepal Police AIG Pushkar Karki briefs.
It was difficult to confirm the accusation because the police did not have good knowledge of the technical investigation. Chinese citizens in Nepal are involved in gold smuggling, human trafficking, theft, foreign currency smuggling, ATM hacking and other crimes via call centres.
"The Chinese use very high-tech devices so after an arrest, their online details would just get erased," says the officer adding, "As we cannot decode the details, the Ministry of Home Affairs and the government need to work on capacity building for the technical investigation to prevent the increasing cybercrime."
There is no ban on foreigners working in Nepal, but they must obtain a work permit. "Chinese citizens come on a visit visa and renew it every six months and live illegally," Karki informs. They may have come to Nepal when other countries began to tighten their rules related to foreign workers.
According to another police officer, there is a need for a separate legal system in Nepal to deal with such call centres and other financial and cyber crimes. Otherwise, the police will continue to conduct operations at call centres and make arrests while the arrestees will be released even before prosecution.
---
This story was translated from the original Nepali version and edited for clarity and length.