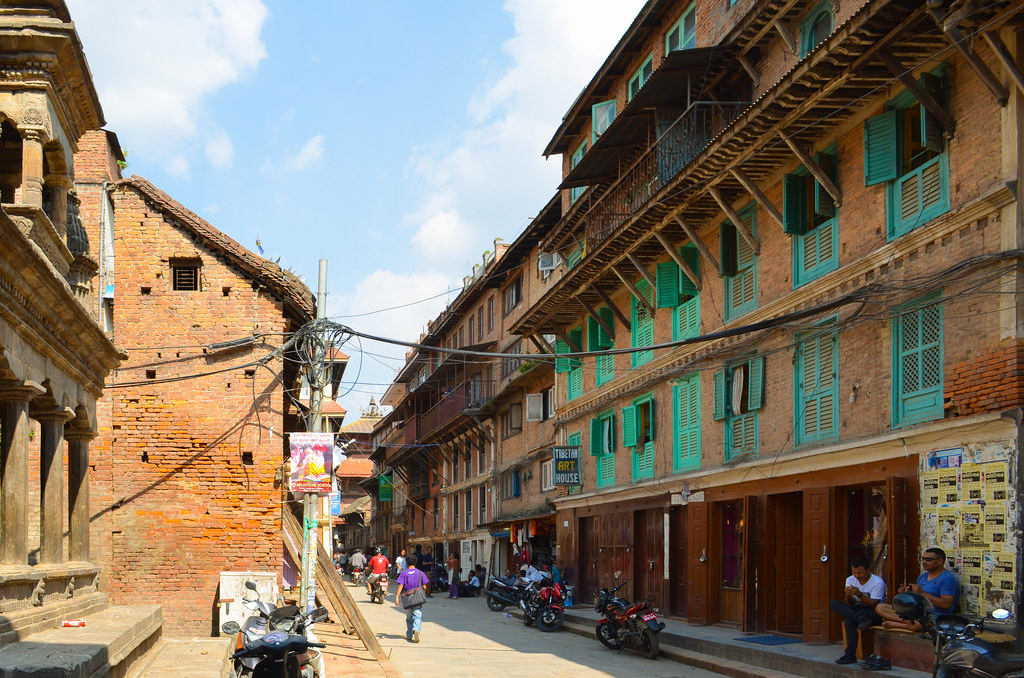 While setting out for Tunthinani from Sano Bharyang on my bike on March 27, I was already late. Stuck on a road full of vehicles near Thulo Bharyang at around 1.45 pm, Tunthinani seemed a world apart and reaching there at 2.30 pm simply impossible as there was no shortcut. So, it was pretty clear that no force on Earth could stop me from becoming a follower of a not-so-glorious practice of arriving at programmes when they are about to end.
When you have long lines of vehicles literally 'parked' ahead of you, behind you and by your side, what do you do? Pray to forces high above, asking them to do the magic and make the vehicles move? Wish you had your very own no-fuel Pushpak Biman that would take your wish as your command and fly accordingly without you having to do anything? Twiddle your thumbs?
Clean up your bike with a piece of cloth? Count the number of vehicles stuck on the road? Check their brands and models? Think of another blockade and another wave of nationalist fervour? Wish we too had a mass transit system, like in other metropolises around the world? Try hard to calculate the actual amount of time you have spent thus far in traffic jams, in your long/short journey of life? Try to calculate the amount of CO2, CO and other harmful gases you have breathed in? Try to calculate how many kilos of dust you have consumed? Try not to go mad? Thank god for a safe ride thus far?
Phew. I have tried all of the above and found that nothing works!
This time, some new questions also popped up on my mind as the jam lasted a bit longer: Is waiting for the traffic jam to end an art, science, some other discipline or just a waste of time? If it's a science, whether it's pure science or social science? Not so long ago, Nepal Police was talking about mobilising a drone to ease traffic jam on Kathmandu roads? Has the plan taken off? If not, what's stopping the implementation of such a great idea? Has the idea vanished into the thin air or it's actually the UAV that has vanished? Hello Sarkar, you have any idea?
There and then, I had to stop the train of thoughts, for there was some commotion on the road.
Much to the relief of motorists, pedestrians, cyclists, stray cattle and other animals on the loose, the jam ended and we all got moving. Pretty soon, I passed by giant statues of Padhmasambhava and other Buddhist figures on the way to Swayambhu, thanking them for a safe passage thus far.
There was no major incident up till Kalanki. After all, breathing in more dust and an additional amount of harmful gases coming from poorly-maintained vehicles is normal here like in mega cities of the world and can't be called a major happening, no?
Living, thriving art
At Kalanki, as usual, there was a serious congestion, meaning I had to find some way to kill time. And I found one. Looking around, I found vehicles like buses displaying beautiful art, buses proudly sporting expressions, including Sayari, coming from wounded hearts and some intelligent quotes like Lead me, follow me or get out of my way! Dust and smoke were just a veil preventing me from seeing the beauty of words and art.
Finally, the traffic jam eased and I gunned towards the destination via Balkhu. What's Balkhu, the vegetable capital of Kathmandu, without congestion? No Balkhu at all. There was congestion at Balkhu, meaning everything was ok!
Finding Tunthinani, where art thrives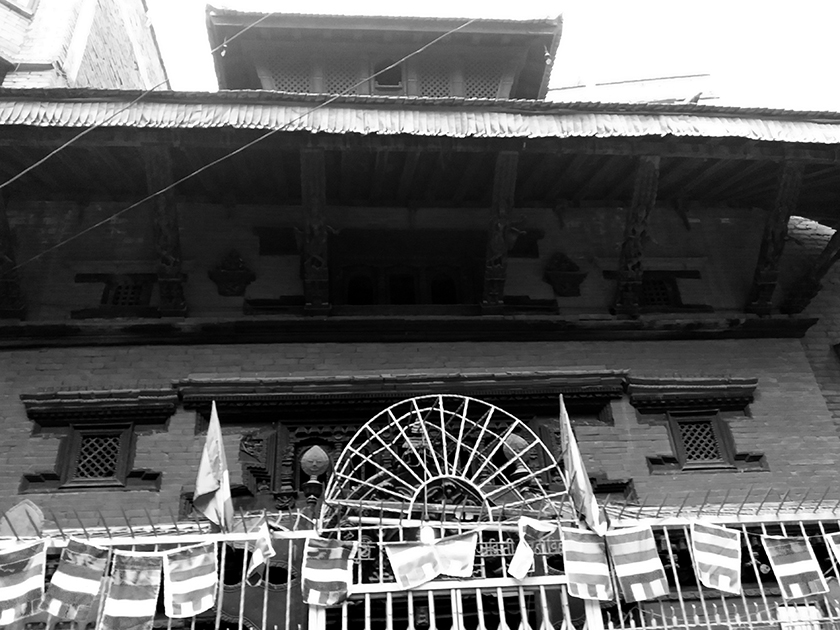 Without much of a struggle, I landed at Patan, the city of fine arts. After parking the two-wheeler on Chapat Ganesh Temple premises, my struggle began.
It's not that I had not been to Tunthinani before. Just a few days ago, I had visited the place with Polish artist Kris Lumoski, where Polish artists attending the Kathmandu Triennale 2017 were living. This time, I was pretty sure that finding Tunthinani, hidden beneath some intricately woven gully, was no big deal. I was acting as if I were some prodigal son, who was coming home, with his hometown imprinted on his heart and soul.
I thought: There's this stone spout below the road. From that point, you turn right, go straight, then comes a crossroads, then you turn left and there goes Tunthinani, where Polish artists were displaying their 'Art of Journey' using multimedia.
I tried it but Tunthinani was nowhere in sight. Then I took another turn and thought the art hub must be somewhere around. To my surprise, there was no trace of the art haven.
The desperate bid to somehow locate Tunthinani continued for about an hour. Asked local people to show me the way. While roaming around, I came across an aged carpenter dedicated to his profession, sawing off a piece of wood. When the vanguard of traditional arts wanted to know whether it was Tunthigully or Tunthinani, I replied it was Tunthinani. Then he pointed towards a square and said that was Tunthinani. I checked in, only to find a small stupa in a peaceful ambiance, with no one around! That surely was not Tunthinani.
I asked a middle-aged shopkeeper awaiting customers to show me the way to Tunthinani. To my surprise, he had no idea where it was! When I asked a group of old women where Tunthinani was, they, in turn, asked the same question to young women passing by. The young ones repeated the carpenter's question.
Tired and with a bit of hesitation, I called up Sujanji and asked him to show me the way. He gave me the number of fellow artists, who were at the exhibition and who could surely help me get there. But it was pretty late and I was too tired. So, I decided not to call up the artists. I chose to stop searching for Tunthinani and head home instead.
PS: I have read about Managriha and Kailashkut, the beautiful palaces that King Manadeva and King Amshubarma built. I have read the translated accounts of a famous Chinese traveler about the beauty of Kailashkut. These days, archaeologists have no idea where these palaces have vanished. I find Tunthinani vanishing from the minds of local people rather worrisome. Does it indicate that people known for their love towards arts are having a change of heart? Does it mean modernity is making inroads into these gullies, consigning traditional art hubs into history? To this day, though, I have not stopped thinking about Tunthinani located somewhere in Saugal, Patan, where art thrives.  
Confidently, I took a turn.