Kathmandu, July 4
The Beni-Jomsom road, which connects Mustang district with Nepal's national highway network, has reopened after three days.
The vital road, shut due to landslides amid rains at Ghoptebhir of Myagdi and flooding at Kholsa of Ghansa, Mustang, reopened after repair work, on Monday morning.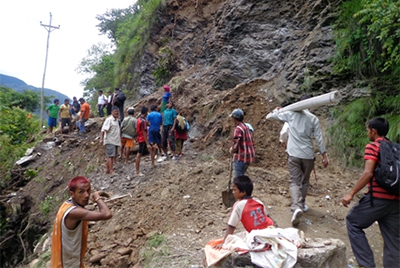 The police post at Dana informed that the 76-kilometre road reopened after road division office, police personnel, transporters and locals joined hands to clear landslide debris and repair the road using a dozer from the division office and another one from the private sector.
Indra Singh Sherchan, a hotelier at Dana, informed: With the road reopened, vehicles and travellers are heading towards their destinations.
The road closure had affected tourists bound for Muktinath and other parts of Mustang, local people and hoteliers. Soman Chhantyal, sub-inspector at Dana police post, said now there are no obstructions along the Beni-Jomsom road.