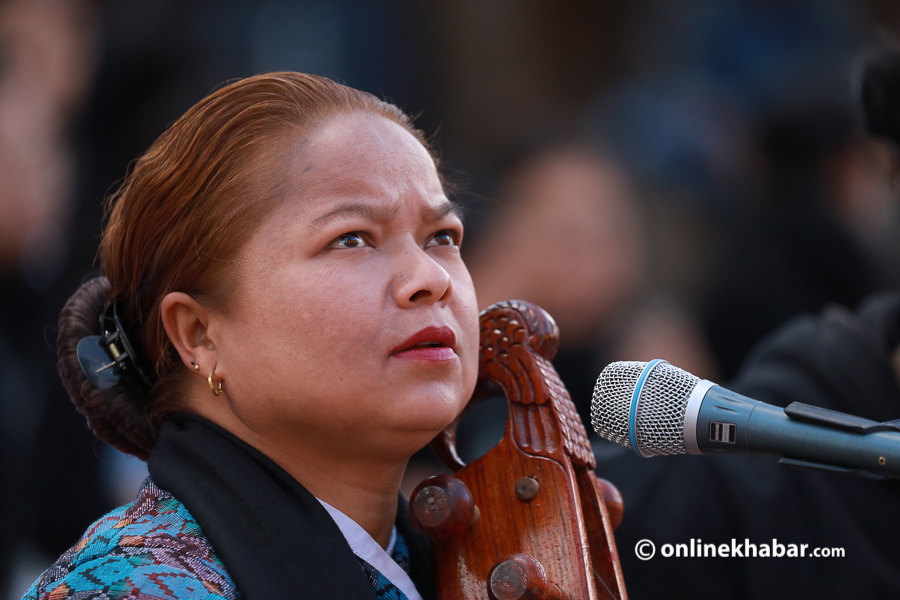 For many who followed the first season of The Voice of Nepal, Barta Gandharva has been a talented musician with exquisite sarangi-playing talent and a soothing voice. But perhaps most of them did not know that Gandharva was already in the music scene for many years before the competition. Her first album, Gurnas Phulyo, was recorded when she was only 10, and she has recorded more than 15 songs as singles. She got positive reviews on most of the songs such as Hey Meri Aama, Bhojpur Dabali, and Bhojpur Bazaar (a collaboration with FuzzScape).
However, recalling all those moments Gandharva feels that he journey so far has been full of thorns than roses, and the life, still, is a struggle perhaps due to the caste-based discrimination existing in the Nepali society.
A difficult journey
"I have been through a lot of hardship before this moment. I used to walk from door to door with my sarangi," she recalls. "Playing sarangi was not my hobby; rather carrying (not 'playing) sarangi was more compulsion for me."
Her father used to go door to door playing sarangi and singing melodies so as to earn the living. "But he went to Darjeeling for two years, leaving my family solely dependent upon my mother. To sustain our life, my mother decided to take me around, but I could not play the instrument," Gandharva narrates, "I gradually learnt to play a few songs."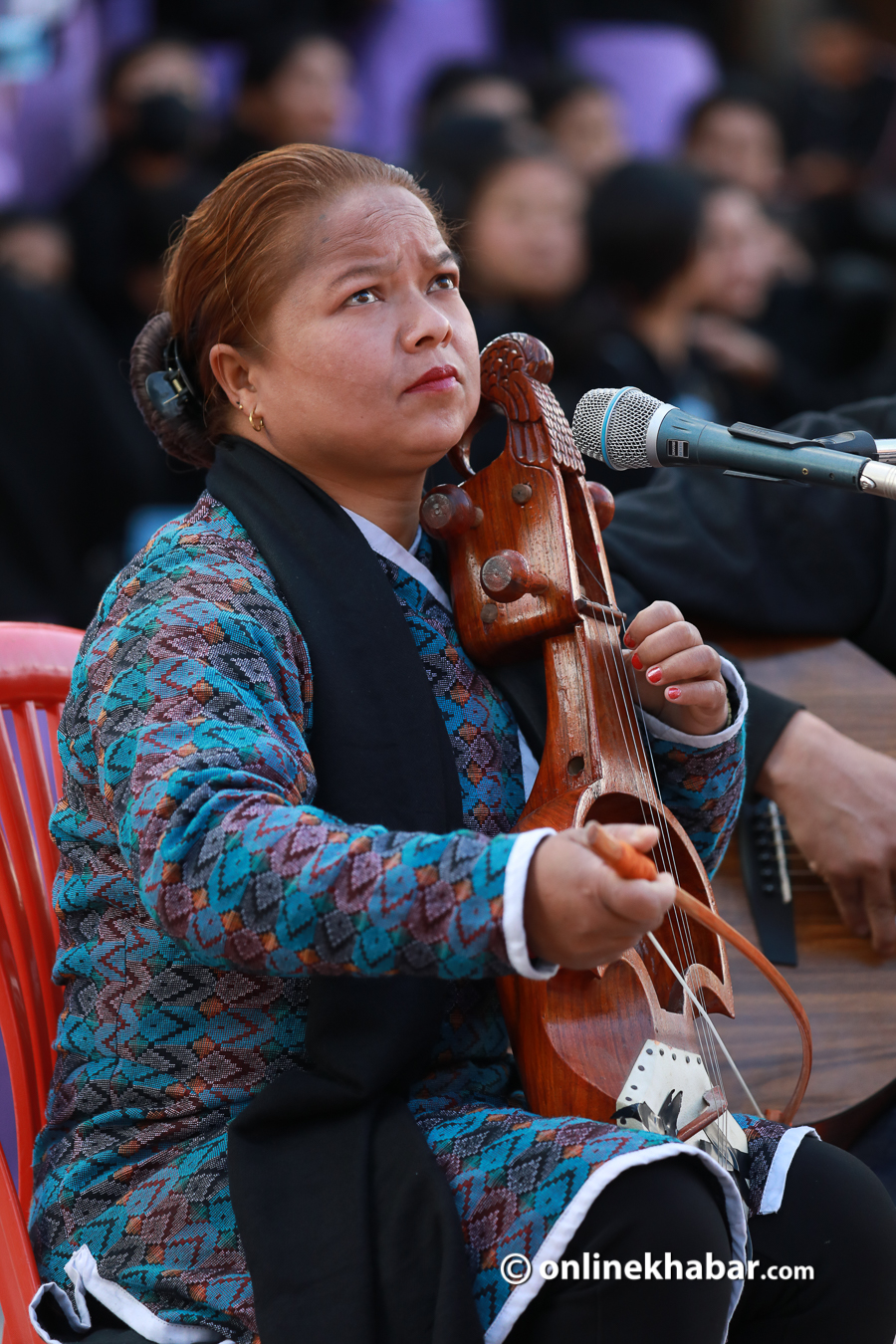 After singing for many years in such a manner, she was discovered by Gopal Shiwakoti 'Chintan', a human rights lawyer. "I was singing in Tumlingtar area of Sankhuwasabha before being brought to Kathmandu by Chintan Sir. With his immense support, I got an opportunity to come to Kathmandu and study."
After completing her grade-10 examination (SLC), Gandharva studied music during her high school (grades 11 and 12 and later got a scholarship at Nepal Music Centre to study music. "Opportunities gradually came knocking through small programmes. I also started teaching at the Nepal Music School. From there, I went to Norway for ten months in an exchange programme. A few songs were recorded in Norway. Then I entered the Voice of Nepal season 1 and reached top 24. I recorded many songs after that."
Continuing struggle
With the money she saved from her work in Norway, she managed to build her own home in Kirtipur. Gandharva, however, feels that she is not engaged in producing music as she wishes to be. "I am not having much work now after Dashain. I am looking for a job like I had at Nepal Music School. There have been a few programmes and I have composed new songs in my free time, but I have not recorded them."
She assumes multiple reasons for the lack of opportunities at hand. "Maybe the market is filled with musicians more talented than me. Or maybe people presume that I charge high for my music after being successful in the Voice of Nepal. Also, I sometimes wonder whether I am not getting opportunities because of being a Dalit woman."
Being a Dalit woman, as she said, there were indeed some deeper grooves in her mentality while growing up. "Going to school, I portrayed myself as someone who would beg for money and I expected people to treat me the same. I used to feel ashamed when the teachers used to ask me to sing during various functions. But, in contrast, I never felt dominated because of my social position during my school time."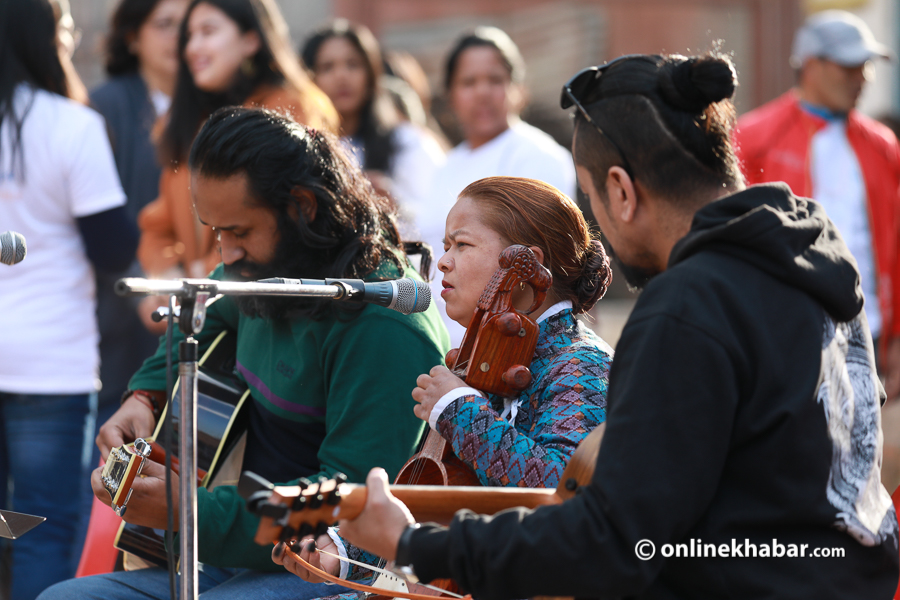 The discrimination, on the basis of caste or gender or whatever, is still high in Nepal. "I feel discrimination on the basis of caste is still a bigger issue at the institutional level, particularly in providing opportunities. This may not be seen from outside, but I feel it is still deep-rooted in the hearts of the people. I remember, when we were younger, my mother used to roam around with my younger sister, not even a month old, and me with a sarangi in my hand. And it was hard to get even a sukul to sleep in the communities that we went around."
Hoping against hope
According to her, many members of the Gandharva community have already quit their traditional occupation due to society's treatment of them based on their caste. Many have switched into other professions. Consequently, the 'organic Gandharva music' is on the decline.
"I think people who can teach playing sarangi should be funded and sent to the Gandharva neighbourhoods to teach the community people, particularly those who have already quit music. The Gandharvas should not be seen as the beggars, but their music must be promoted. There are projects which are focused on preserving Nepali sarangi and the Nepali music, but most are based in Kathmandu. Such projects need to reach out to the actual community to preserve and promote the Gandharva music and sarangi."
She has grudges against decision-makers of the country for not being able to minimise caste-based discrimination as they had promised. "The policies must deal with the existing caste discrimination; the government must listen to our music. Unfortunately, they have not done anything."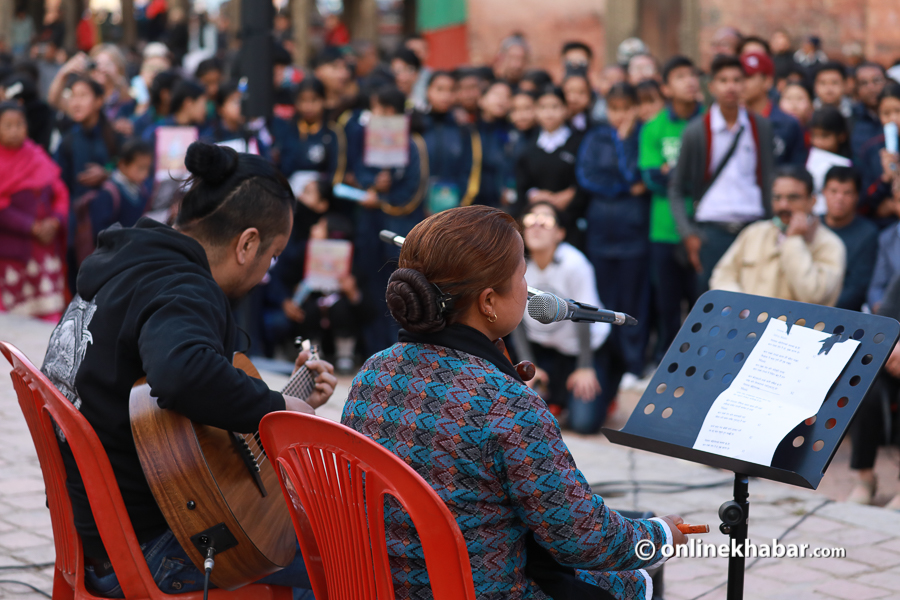 Yet, she is somehow hopeful. With many people interested in sarangi and folk music, she finds the music industry is on the rise these days. "Today's folk music is garnering attention. The popular songs in the market are folk-rooted. Sarangi players are on the rise, not just from the Gandharba community but from other castes as well."
Photos: Shankar Giri