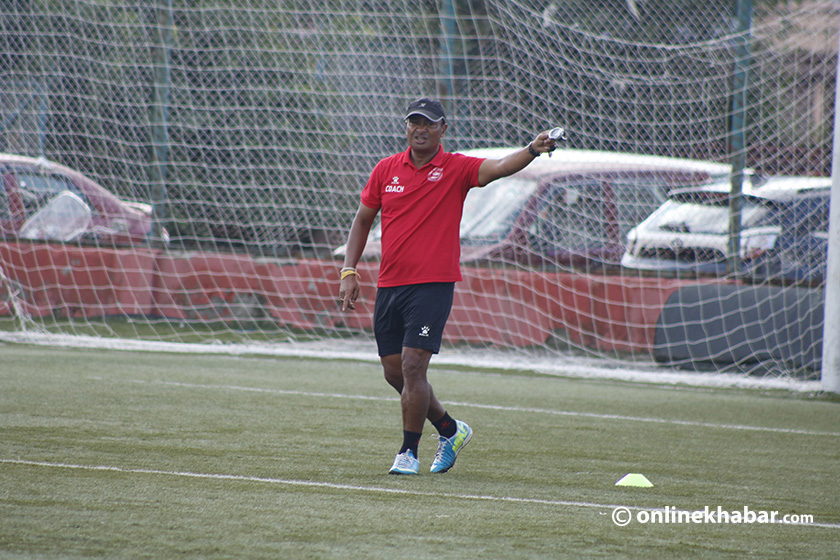 Dhaka, September 12
Nepal national football team are playing against the Maldives in the first semifinal of the SAFF Championship in Dhaka of Bangladesh on Wednesday afternoon. They want to reach the final stage of the regional tournament for the first time in 25 years.
The victory over the Maldives, however, is not easy. Whereas Nepal have never defeated them in any match of the SAFF Championship, they have made an impressive 4-1 win over the Maldives in the semifinal of Bangabandhu Gold Cup in Bangladeshi in 2016. Nepal want to repeat the history today.
In this context, Onlinekhabar's Saroj Tamang has talked to Nepali team's coach Bal Gopal Maharjan about his strategies for the team.
Excerpts:
What grounds do you have to make a win over the Maldives?
We played three games in the group stage, and we played all the games quite well. We have been improving our performance everyday. All players have given their 100 per cent dedication to the team. I will continue the same instructions and strategies today as well.
The semifinal game against the Maldives is quite different from the Bangabandhu Gold Cup and 12th SAG football. But this time, we have targeted defeating the Maldives for the third time in a row in the semifinal stage to reach the final.
I am confident that my players will be able to break the defence line of the Maldivian team. We will play an attacking game today.
So are you confident of making the win on the basis of offensive play?
We will change our strategy according to the situation. It may be offensive or defensive. In the match against Bangladesh, I had three alternative strategies in my hand. I will do the same today  as well.
But, don't you think your players are under pressure as Nepal have never defeated the Maldives in the SAFF?
Let's not talk about our performance eight or 10 years ago. Remember how we defeated them two years ago (during the semifinal of Bangabandhu Gold Cup). I and my players will invest their energy to defeat the Maldives so that we can gift happiness to all Nepalis. I am committed to making an unprecedented result from the game today.
This game will be historical for Nepal.
What is your message to fans of the team?
I want to express my gratitude to my team's supporters as well as media. Special thanks to those who have come to the stadium in Dhaka to encourage the team. I have expected the same support from upcoming days as well.