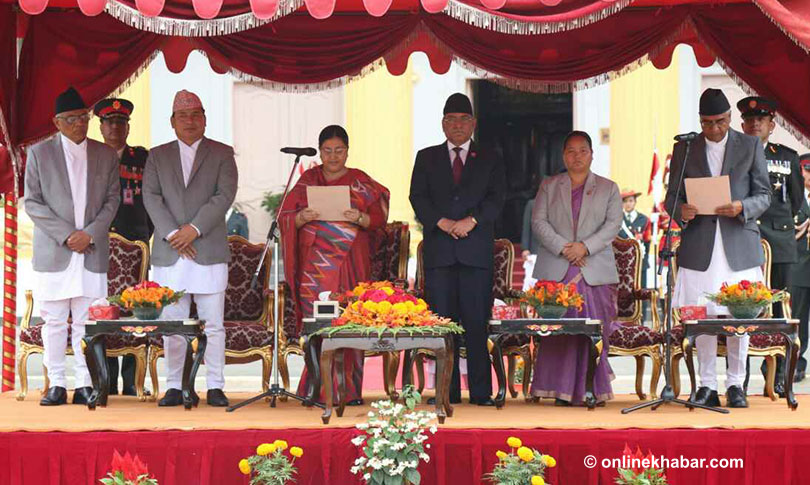 Kathmandu, June 8
Newly elected Prime Minister Sher Bahadur Deuba says he will expand the Cabinet after the second phase of local level elections scheduled for June 28 only.
Addressing his party's Central Executive Committee meeting in Lalitpur today, Deuba urged the Nepali Congress leaders to go to the districts which are holding the polls after three weeks.
He also directed the leaders to prepare for the party's victory in the districts.
Meanwhile, many lawmakers within the party have expressed their desire to become ministers in the government led by their party President.
Deuba is having a hard time to select few from many ministerial hopefuls with a factional balance within the party and perhaps that is why he wants to buy time for the expansion.
The party sources say Deuba is planning to give four ministries to his rival faction led by Ram Chandra Paudel in the party. His own camp will take six ministries.
The ruling coalition members have agreed that the Nepali Congress will get 10 ministries.
Deuba has inducted three ministers from the party in the eight-member Cabinet yesterday and all three belong to his faction.
Therefore, among new faces to be ministers from the party now, the three will be from Deuba camp whereas four will be from Paudel's.
Bal Bahadur KC, Narayan Khadka, Ram Krishna Yadav, Jeevan Pariyar, Badri Pandey, Sarita Prasain and Chandra Maharjan are some names from Paudel camp being discussed for ministerial berths.
Likewise, Deuba will pick three from among Madan Bahadur Amatya, Min Bishwakarma, Bhishma Angdembe, Dhyan Govinda Ranjit and Bir Bahadur Balayar from his side.
Party's influential leader Khum Bahadur Khadka has suggested that his loyal Mohan Bahadur Basnet be made a minister.