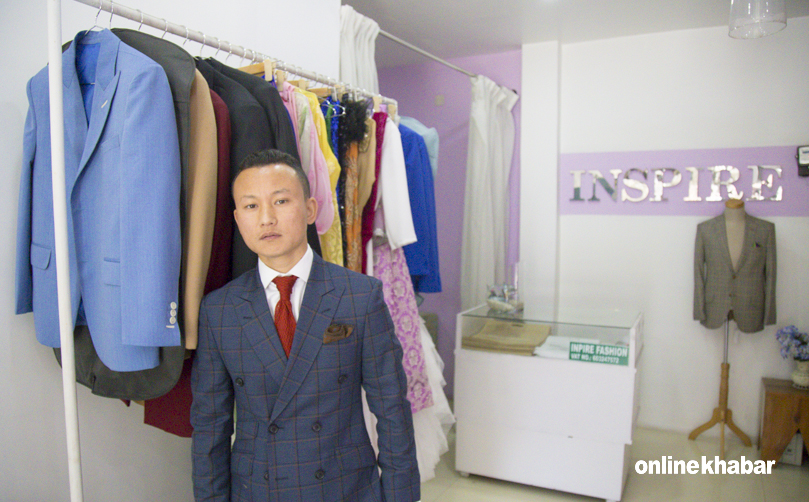 Kabin Adhikari/OnlineKhabar
Growing up, Ajay Gurung always wanted to become an artist. It was only a matter of time before Gurung, who would be scribbling and sketching whenever he could find a pen and paper realised what his form of art was.
He was awarded a grant to study Fine Arts at Lasalle College of Arts in Singapore, considered one of the best institutions in the business in Asia.
When Gurung returned to Nepal, he had the skills to do something big, but there was something that was holding hm back. He just did not know where to start. At times, he was even toying with the idea of going abroad to work for a reputed fashion line
"It was only after a friend pressed me to make his first suit for him. It was then that I seriously thought of launching my own label. And that was how 'Inspire' was born," he says. His sister and designer Antee Gurung, who has been in the business for some time mentored him on how to run a business.
"In the beginning, my Tom Ford-inspired business would not be viable. My clothes would cost up to Rs 150,000," he remembers.
But he was wrong. He sold over 350 suits within three months, which was beyond his imagination. "I got more confident about the men's fashion business here in Nepal."
***
During Inspire's initial days, Gurung remembers frequenting homes and offices of clients to take their measurements. Due to the lack of a proper studio, not only was the process of making suits physically demanding, it was also challenging for someone who had no prior experience of working with a local clientele.
"The clients came in every shape and size, and that made making a perfectly-tailored suit a painstaking process."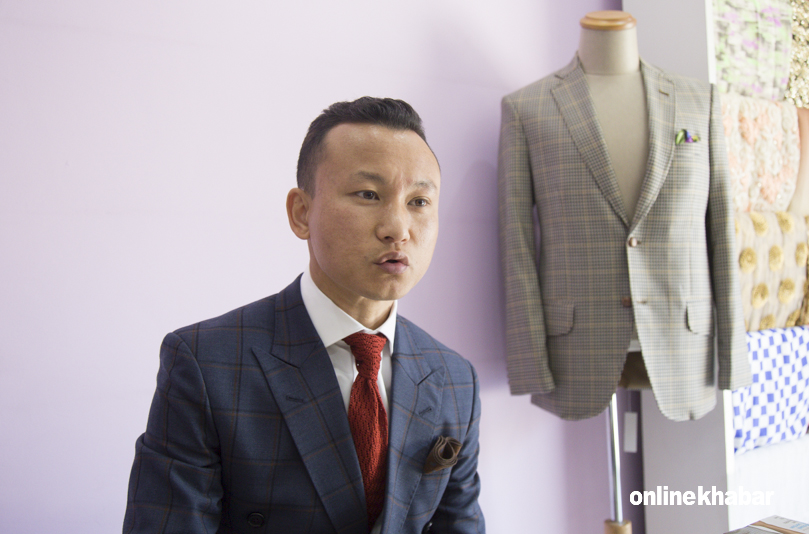 Kabin Adhikari/OnlineKhabar
"My suits are for anyone from the age of 16 and above," says Gurung who has tailored suits for students, corporate honchos as well as diplomats.
He, however, feels that he hasn't been able to diversify his products. "I want to establish my current line properly before heading in different directions."
His current line has suits and blazers and others like coat, trench coat, long coat and polo coat.
***
After the fabric has been chosen, Gurung uses his expertise to suggest the client designs based on their skin tone and body structure.
"When I started my business, all I knew was that to reach out to your customer and know them, you have to do a detailed study. You need to be ready for hands-on or face- to-face interaction. Sometimes a customer is sure what he wants to buy but more often, people are confused about what they want," he says adding that he devised his business plan accordingly.
He attributes his success to one thing: he puts his own satisfaction first. It is the kind of attention to detail that has led the brand to success. "This is the same reason that most fabric used in my clothing comes from Singapore."
"All the doubts I had before starting Inspire are gone."
Gurung, perhaps, has already chosen the 'fabric' of his brand, his challenge now is to tailor it to match not only the local, but also the global market, especially as he wants to get make his brand international in the next ten years.