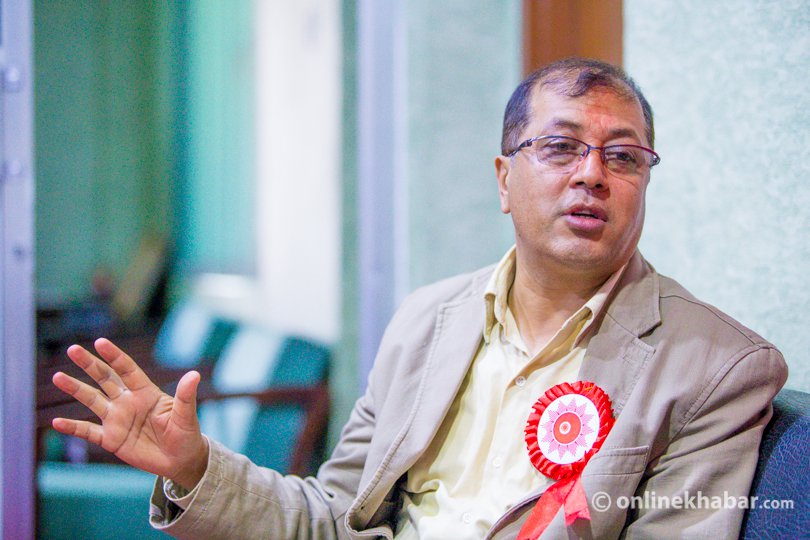 Nepal Communist Party's Central Member Rajan Bhattarai is also a de facto advisor of Prime Minister KP Sharma Oli on foreign affairs and security issues. A member of the Eminent Persons Groups on Nepal-India Relations, Bhattarai also worked as a foreign affairs advisor to NCP leader Madhav Kumar Nepal during his premiership. It is speculated that Oli is going to appoint Bhattarai as his National Security Advisor once his term at the EPG finishes next month.
Currently, Bhattarai is informally involved in Oli's team to prepare for the China trip that the Prime Minister will embark on, in the third week of June. In the meantime, he is flying to New Delhi this week to meet EPG members of the Indian side. In this context, Onlinekhabar has talked to him about multiple dimensions of Nepal's ties with the two neighbours.
Excerpts:
After becoming the chairperson of a powerful communist party, Prime Minister Oli is leaving for China next week. Can you please explain its significance?
Our internal political affairs are not connected to India or China in any way. This is reflected on our activities. We had decided the party unification on October 3, and the old decision has been implemented now.
The Prime Minister's China trip announcement was earlier than the unification. It was pending for months. In fact, we wanted China to pay a high-level visit to us at first. But, after confirming that it will take some time, the Prime Minister is going to China now.
We need international assistance to implement our agendas of economic development and prosperity. Immediate neighbours are more needed. China can offer us the greatest help in development of infrastructures including railway, roads and electricity. Their support is a global need and other countries in South Asia have been taking their support too.
We need to reap more benefits from the ties. Therefore, the Prime Minister's visit is very significant.
We need to implement the Transit and Transport Agreement after preparing its protocol. On the other hand, we need to increase the Chinese investment in infrastructures. Recently, we have created an environment to increase Indian investment, but some issues are yet to be settled about China. The PM's visit should have been held at the earliest.
But still, doesn't it make any difference as he visits China as the communist prime minister with a strong majority support?
Of course, the Nepal Communist Party becoming stronger has an impact on his China visit. Now, the country has got rid of unstable politics. We have a stable government that works for five years. With a belief that we will be reelected, we have brought forward plans and programmes for next 10 years. When our party is stronger and the government is stable, there will not be any confusion about assistance by neighbours as in the past.
When India imposed the blockade, Oli signed various agreements with China. Now, our ties with India have been improved and you are forgetting them…
The agreements were signed keeping in mind our national interests. We learned lessons from the blockade that we need to get out of dependence on one side only. But, the agreements could not be effectively implemented as our government toppled immediately. Now, the agreements will be implemented. This visit will make a progress towards that end.
Our priorities for Chinese assistance are railways, crossborder transmission line, and road connectivity.
But, there are doubts that Nepal is trying to run away from the Belt and Road Initiative…
We have already signed the BRI Framework and we are committed to that. The BRI will be helpful to us. There are some explanations that China brought forward the idea to expand its influence and its strategic world, but we do not agree on that. We have entered the BRI in order to take advantage from China. We will work on it considering our needs and interests.
The Prime Minister claims that he has balances ties with the neighbours. What are bases of his claim?
We have come out of the imbalance and bitterness we had with India. India tried to play its role in every important political event here since the Sugauli Treaty. It was same from 1950s to the peace process. But, we stopped India from playing its role during the constitution implementation. We made it clear that we cannot give this role to any international force because it is our internal affairs. Current Prime Minister KP Sharma Oli led this side. But, we faced the blockade for that stand, and Oli was removed from power. But, Nepali people have reelected him.
Now, we need to take that road ahead. This is a new dimension in our relationships with India. We do not have any political problem with China. China's policy is supporting Nepal notwithstanding who leads the government here.
Now, we are in the government and we will implement past decisions on the basis of same policy.
Apparently, China tried to unify communist parties of Nepal earlier…
They can wish for our unification. But, China's policy does not change just because here is the communist party's majority government. After 1978, China has deideolised its foreign policy. They gave up the policy of maintaining different kinds of ties when there are communist and non-communist governments.
They will cooperate with the parties which rule the government here. But, it is obvious that China is happy with the strong communist government here.
---
Published on May 23rd, Wednesday, 2018 12:23 PM
---
Download Onlinekhabar App. Android click here & IOS click here . Keep in touch with us on Facebook, Twitter & YouTube.