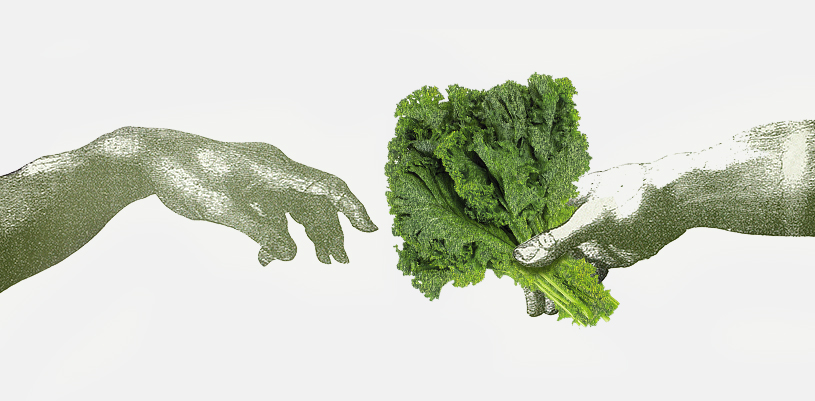 "Go vegetable heavy. Reverse the psychology of your plate by making meat the side dish and vegetables the main course."– Bobby Flay
We have an expression in Nepali: what are you, a "bhat bahadur" or a "sag bahadur"? Good-humoredly, it questions what type of a person are you: the one who prefers rice and cares little about vegetables or the other who loves greens more? More often than not, we fall under the high "bhat bahadur" bracket.
It's no secret that people have been eating green vegetables from prehistoric times. We eat them each day. They also happen to be an indispensable portion that makes our staple diet dal-bhat complete. The issue is: we are not eating enough.
Eat greens more
"A lot of times dal-bhat gets a bad reputation for being "too carb-heavy" but that has to do with portion size rather than the meal itself. A well-rounded plate should be filled half with vegetables, preferably sautéed and steamed, ¼ of the plate should include lean protein such as dal or chicken or goat curry, and the remaining ¼ should have carbohydrates like rice," remarked Dixya Bhattarai, a registered dietitian nutritionist, residing in the US, in an interview with this scribe in one of his earlier stories.
She further went on to say that our traditional Nepali staple dal-bhat is no less wholesome than any other food in the world–all we need to do is shift more to the nutrient-dense green vegetables and pulses while rice can be a side dish.
Nature's nutritious best
The green vegetables we commonly buy in the veg-mart include spinach (palungo), garden cress (chamsur), mustard greens (tori sag), bok choy, turnip greens (gante mula ko sag), Chinese cabbage, broccoli, kohlrabi (gyanth gobi), lamb's quarter (bethe ko sag), amaranth (latte sag), lettuce (jiri sag), fenugreek greens(methi ko sag), watercress (sim sag), and fiddle-head fern (ningro). Others relatively new include celery, kale, collard greens, Brussels sprout, arugula, and Swiss chard.
Rich in a host of essential nutrients such as lutein, zeaxanthin, magnesium, folic acids, natural fiber, and beta-carotene, green vegetables including the dark leafy ones are worth their weight in gold.
Apart from the above nutrient properties, the green vegetables also pack antioxidants, minerals, vitamins like A, C, K, calcium, and natural fiber. A relative newcomer in Nepal, the leafy greens called kale is considered "the queen of greens" in the West for its immense nutritional value. With zero-fat, one cup of kale packs 36 calories and 5 grams of fiber. Another green called Swiss chard is equally nutritious.
Let's dig into the matter with a little attention to detail about the goodness of eating nutrient-packed green vegetables. According to WHO (World Health Organization), among the deadliest diseases in the world, heart disease and diabetes mellitus happen to be the major causes. The WHO statistics put the annual deaths by cardiovascular diseases to 18 million, 31 percent of all global deaths.
In 2016 alone, the WHO factsheet on diabetes put the death figures at 1.6 million with a high number of cases involving blindness, kidney failure, heart attacks, stroke, and lower limb amputation. The figures of people with diabetes rose from 108 million in 1980 to a whopping 422 million in 2014.
Eating more greens not only keeps those two dreaded villains at bay but also helps maintain a healthy heart and delay the onset of type II diabetes.
Cuts back on cholesterol and improve cardiovascular health
Heart disease is regarded as the leading and the most dreaded killer globally. High cholesterol, especially LDL and triglyceride are linked to increased risk of coronary heart diseases leading to heart attacks.
A regular diet of green vegetables like okra, eggplants and leafy greens for their high density in lutein and carotenoids are instrumental in lowering the bad cholesterol or low-density lipoprotein (LDL) in your blood stream. It's widely claimed by nutritionists that dark leafy greens are very good for keeping your cholesterol in balance.
Take tori ko sag or mustard greens, for an instance. Its rich fiber content paired with the bile acids produced by our liver with help from our body-cholesterol, aids digestion, absorption of fats and fat-soluble vitamins in our small intestines. As a result, the cholesterol is lowered and a waste product like bilirubin is eliminated from our body.
Eating more green leafy vegetables including cruciferous variety like cabbage, broccoli, cauliflower, kale, etc. help significantly in reducing the incidence of cardiovascular disease.
Based upon a meta-analysis, the investigation carried out by NCBI (The National Center for Biotechnology Information I) arrived at this significant discovery. "The overall effect size (random effect model) was: RR = 0.842 (95% CI = 0.753 to 0.941), p = 0.002, which indicates a significant 15.8% reduced incidence of cardiovascular disease."
In the similar fashion, NHS, UK (UK's biggest health website) after studying peer-reviewed reports concluded that the statement made on Mail Online that "leafy vegetables contain chemical nitrate that improves heart health" held true.
Helps type II diabetes
Except for sugar and sugary stuff, no food item is forbidden for type II diabetics. In order to keep in check the erratic sugar spikes in the blood glucose level or "glucose imbalances", what is important is to eat in moderation and balance, also combining it with a regimen of regular exercise.
Largely, all vegetables including the leafy greens are low on the glycemic index scale, rich in fiber and high in nitrate, they are considered instrumental in lowering both sugar spikes and high BP (commonly related with diabetes). High in fiber, magnesium and vitamin A, leafy greens like spinach, lettuce, turnip greens, kale, and Swiss chard help to lower blood sugar level.
Strengthens bones
Osteoporosis is a chronic disease with highly debilitating results. It causes our bones to lose their density, become porous, fragile and prone to higher risks of fracture. Surprisingly, almost one out of every third woman aged 50 is susceptible to this nasty ailment and as it happens, more than breast cancer.
And this holds true for men too. Compared to women, one out of every five men over 50 years of age are prone to osteoporosis, more than prostate cancer so common with old age.
Dairy products like milk, cheese, and yogurt for being high in calcium help boost our bone health. But did you know a host of green vegetables, too, pack a lot of calcium?
Green vegetables including leafy greens such as bok choy, Chinese cabbage, turnip greens, broccoli, collard greens, mustard greens, Brussels sprouts, kale, and even okra not only contain calcium but are rich in vitamin K, which mitigate the risk of falling prey to osteoporosis, both men and women. Can you imagine one cup of gantemula ko sag or turnip greens carries 200mg of calcium? So, when next time you cook turnips, do not forget to toss in the green leaves into your curry!
Helps eye health
Ophthalmologists, optometrists, and nutritionists the world over suggest eating more vegetables with a good supply of leafy greens, both light and dark ones. The vegetables hold certain nutrients such as zinc, copper, vitamin, and beta-carotene. They are a good source of lutein, carotenoids and zeaxanthin, which not only improve weak eyesight, reduce the risk of age-related decline in eye-health like macular degeneration, strengthen eye tissues but also help ward off or delay the onset of cataracts so common with old age.
Ward off colon cancer
Among the most common cancers, colorectal cancer or commonly known as colon cancer is one of them. Generally, this type of cancer is associated with high consumption of red meat.
Based upon new studies and research work, scientists claim that a regular diet of leafy vegetables like mustard greens (tori ko sag) and cruciferous vegetables or belonging to the Brassica genus such as cabbage, broccoli, Brussels sprouts, cauliflower, and kale help maintain healthy guts and fight off inflammation of the guts, thus, warding off cancer of the colon.
A team of research scientists at the Imperial College, London and the Francis Crick Institute, Midland Road, London, revealed that chemicals produced by eating specific vegetables can prevent cancer and colon inflammation.
Apart from the above benefits, eating vegetables including the leafy greens have many other healthy rewards to offer, and the potential to fight off diseases. They:
Fuel your body to produce energy
Fight off the harmful free radicals in your body
Help prevent fatigue
Combat mental stress
Good health starts with the food on your plate. Now that you are well informed about the goodness of eating vegetables including the leafy greens, it's time you took a cue, tweaked in bigger portions of vegetables into your daily diet and let them do their marvelous job.
Next time you go shopping, let your grocery bag include more greens. Think green, eat green and stick to a regular exercise. Keep fit and healthy!
Disclaimer: The views expressed in the above text are solely research-based and the dietary information given does not constitute any medical advice. Cross-reference and reader discretion is solicited. Medical advice from an expert is advised, if needed.
[email protected]