The eighth week of fixtures had a few delectable matchups on display but none was more exciting than that blood red rivalry renewed at Anfield.
Start With the Champions: Chelsea Vs Leicester City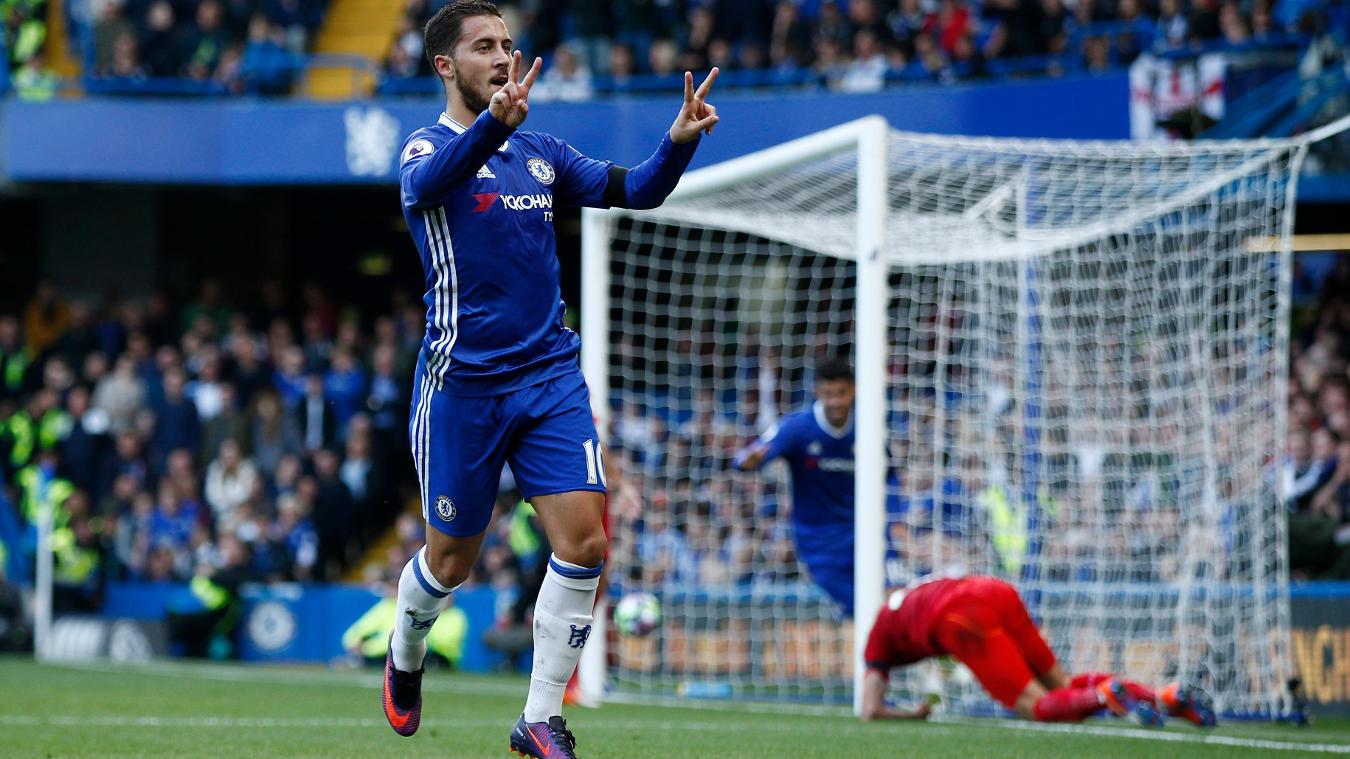 Eden Hazard celebrates after putting Chelsea 2-0 up against Leicester. Photo: premierleague.com
Chelsea produced what can be best described as a masterclass at Stamford Bridge as they brushed aside the Foxes 3-0. The Blues had a sublime first half as they racked up the first two with Costa pulling away from the crowd to tap in a real poacher's effort, and then Hazard pushing forward after a clever pass by Pedro on his back on the ground, drilling the ball away from Schmeichel. The second half did provide some Leicester attack but it was all in vain as Chalobah produced a ridiculous back heel for Moses to score the 3rd.
Victor Moses, is starting for Chelsea in 2016. Drink that in.
Highlight
Chelsea is getting there and the most important part here is Eden Hazard playing as that No. 10. It is the position Roberto Martinez has placed on him for the national squad as well; and he is flourishing. His drive to follow the ball and sneak into pockets plays perfectly off somebody like N'Golo Kante in midfield.
There's a ridiculous chip that Kante puts inside the Foxes' box only for Hazard to mistime his shot to. There is a lot of brilliant potential there.
Guns & Swansea: Arsenal Vs Swansea City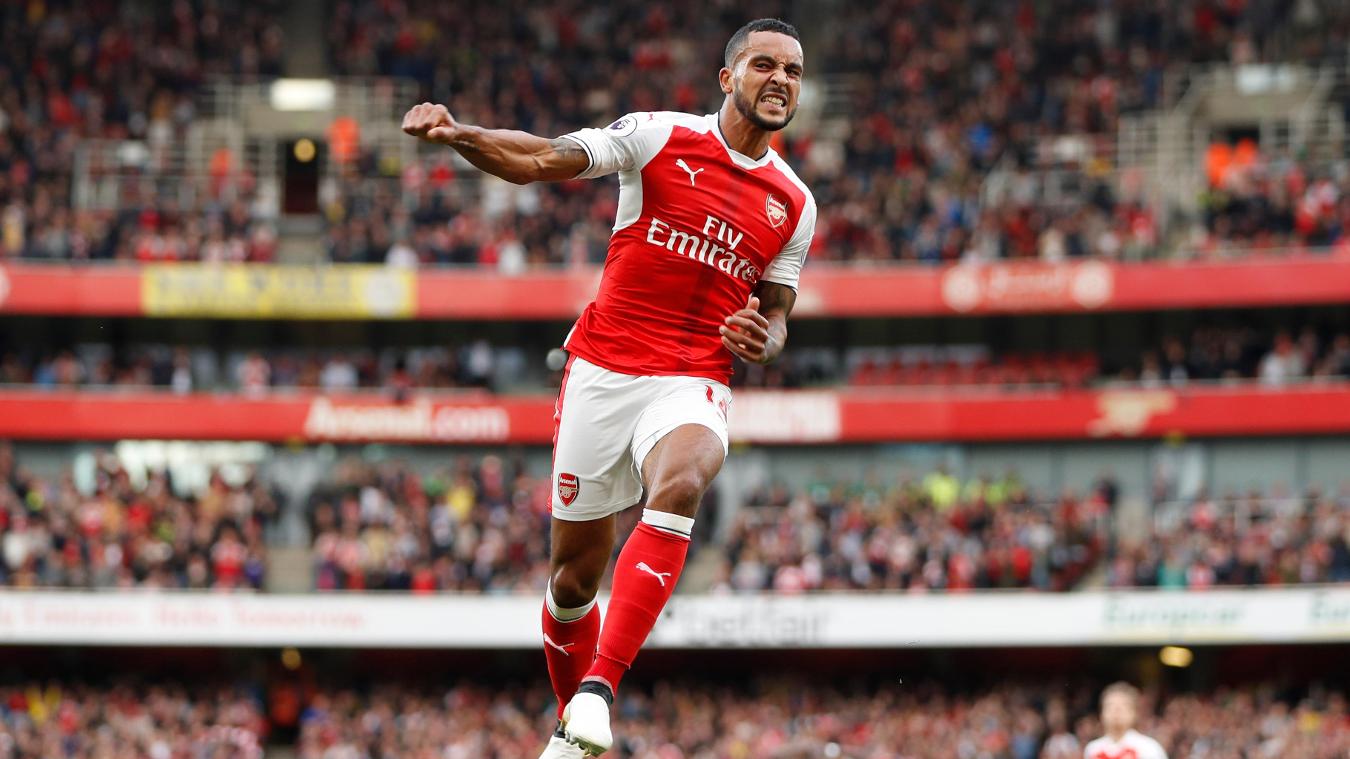 Theo Walcott celebrates scoring his second goal of the match. Photo: premierleague.com
Arsenal for all their huff and puff and their cute comments about how they 'haven't come Fourth' for years now is best answered when they look at their performance against Swansea City, which they won 3-2.
Arsene Wenger's team have been so frustrating to watch because they are always on this cusp of greatness only to take strides backwards to start that process all over again. The team not winning this match by at least a 3 goal margin is evident of that. Theo Walcott scored the first two making most of the Championship level defending by Swansea City off two corners.
Xhaka then produced a touch as beautiful as Paul Pogba's latest haircut when he dilly-dallied on the ball for Sigurdsson to steal the ball and slot home a handsome left finish. Xhaka then got himself sent off for another Pogba-ish display of judgment. Saying it was not his day, would be quite the light-hearted understatement of the weekend.
With Leroy Fer doing his best to beat Xhaka's abysmal performances, he missed chances to equalise on a few pivotal occasions as Mesut Ozil smacked home a splendid volley after Sanchez found him with a delightful pass.
Theo Walcott then proceeded to miss every chance in the book and eventually Baston made sure we had a tight finish when he made most of Mustafi basically losing his man. Swansea and Arsenal both missed a slew of chances and the score ended with Arsenal sneaking with the most unconvincing win.
Highlight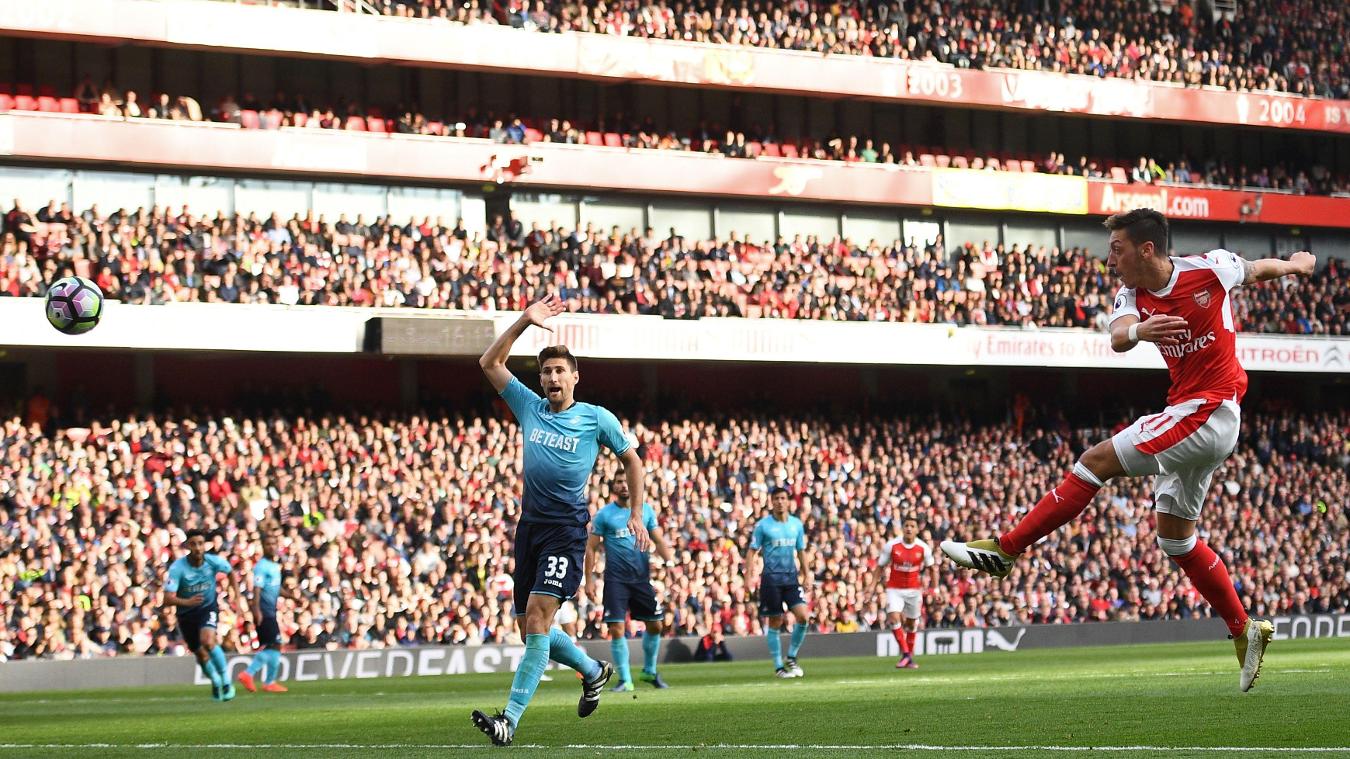 Mesut Ozil rifles home his third goal of the Premier League season. Photo: premierleague.com
It seems that Theo Walcott is the No.9 he's been assigned to. He just proved his case of how he has always come up short whenever thrust in needed in that role. One can try and train him to become one but it's clearly not his game.
That winger who once cut inside to destroy Barca is the man he never grew up to be. The Bale role would be perfect but the problem is, Wenger has never gotten a striker who would allow that sort of freedom by covering space and holding up play himself (ala Gunner Arch Nemesis Drogba).
The Fourth jokes come from here, that ability to do so much squandered so badly by the absent of intent. It's like this, paying top dollar doesn't just mean you get an overhyped overrated player, it's that confidence and buzz that it generates every time hard working fans come to watch you play, or head to the pubs to emotionally invest in a club they love. To adapt with the time is the hallmark for those who pen history.
Blood Red Bore: Manchester United Vs Liverpool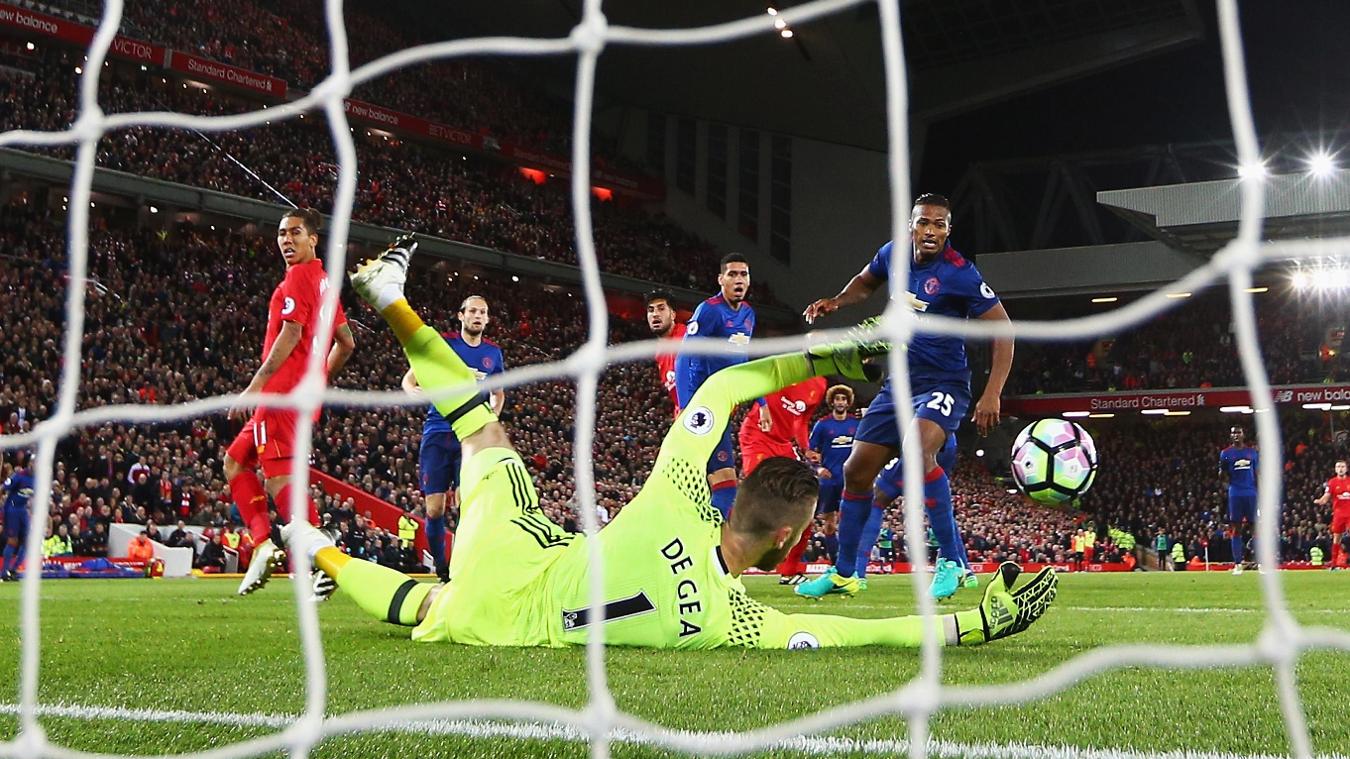 David De Gea reacts quickly to save from Emre Can at Anfield.  Photo: premierleague.com
I won't rant about the lack of quality shown by players who are supposed to superheroes on paper, it's the fact that Jose still doesn't know what tactic to play. This drab 0-0 draw shows if he is doing his best to adapt Pogba and Ibra in that team.
Putting two behind Pogba had Herrera excel in a role that he was always good at while Fellaini was just…there. The whole of first half had long range shots that amounted to nothing and it gradually got worse for MoUnited.
David De Gea must be wondering when the next flight to Madrid is. When someone like Emre Can can dance inside your half, beat 3 defenders and force you to produce an incredible save, he has all the right in the world to dream of a defense featuring talent the likes of Ramos and Varane. David De Gea would prove to be the difference here as he stopped a ridiculous long range effort by Coutinho. All the while, Ibra was heading balls to imaginary strike partners on the other half.
Highlight
Nothing.
***
Also read
This week on EPL: Manchester City are the title favourites