Kathmandu, January 8
Nepal's main opposition party CPN-UML, which has been disrupting parliamentary proceedings for more than four weeks, is still in a mood to continue with the protest.
The UML, which had earlier indicated it would consider changing the form of its protest, will not do so, at least on Sunday as the House prepares for a meeting after a week.
This comes after meeting of party bigwigs at former Home Minister Bamdev Gautam's residence in Kathmandu on Saturday. According to party sources, the UML has decided not to allow House proceedings to resume, as it wants to be absolutely certain that the government does not secure a two-third majority when MPs vote on the controversial constitution amendment bill
"The party has understood that India is doing all it can to help the government pass the bill," said a UML leader. The UML has been protesting the government-sponsored bill to amend the constitution to address the demands of the Madheshi Morcha. According to the UML, the bill's proposal to remove hill districts from Province 5 is against the national interest of Nepal.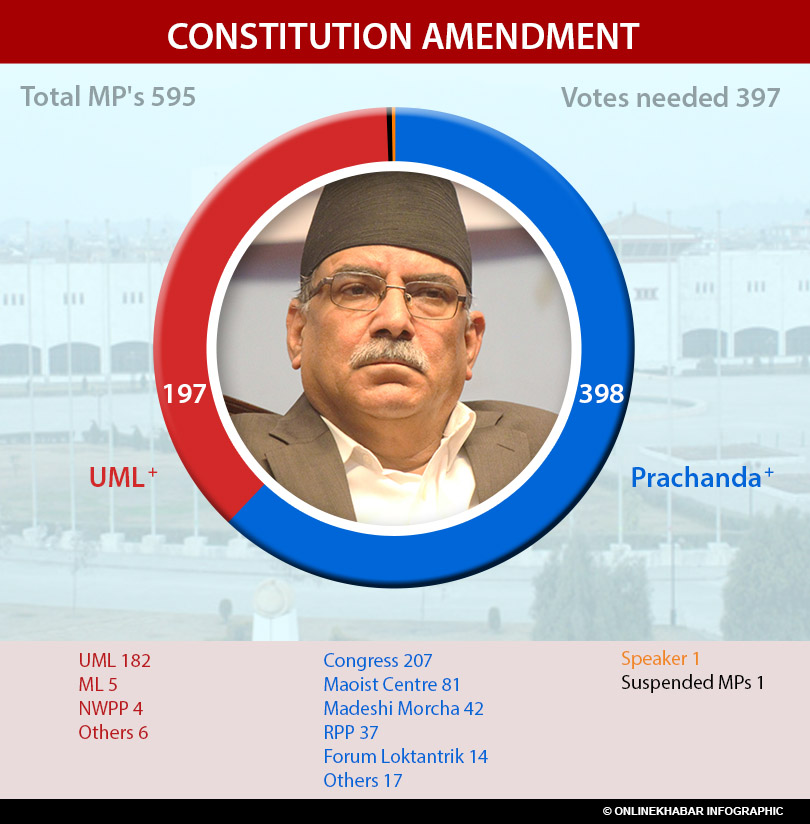 "Kamal Thapa and Bijay Gachchadar, both of who are part of the ruling coalition, will vote in favour of the bill after they get to become Deputy Prime Minister," said a UML leader. "We also want to be certain that member of the opposition (nine-party) coalition do not vote in favour of the bill."
The UML wants to keep Parliament paralysed until it is sure that the amendment bill will be defeated, and it will take time to be absolutely certain, party leaders say.