When Pradeep Man Shakya, the owner of Juju Wears, was in the sixth grade, he had read Tintin in Tibet. Patan's Bhimsensthan was in it.
But when a porter reprimanded Captain Haddock in Hindi for shouting at him, Shakya was hurt. 'How could the creator of Tintin have been so blatantly insensitive to Nepal? Didn't he know that Nepalis had their own language?' Shakya thought.
"That showed the creators had not done their research. They had undervalued Nepal. I felt Nepal deserved more," says Shakya. Nearly four decades later, Shakya had the chance to bring Tintin to the attention of Nepalis, without hurting their feelings. Shakya designed a T-shirt print that showed Tintin being carried in a doko. Was that Shakya's way of settling the score with Hergé?
"It's not revenge," says Shraman Shakya, Pradeep's son who looks after marketing at Juju Wears. "It's more like justice."
Shakya downplays his son's slightly serious tone with a hearty laugh. His reasons for making that T-shirt had nothing to do with revenge or justice. "I have a soft corner for Tintin. I wanted people who hadn't ever had the joy of reading Tintin to at least enjoy the hero on a T-shirt. In one way, I was trying to marry a developed society's creation with the Nepali society, which still clings to many of its old beliefs and practices. I wanted to put international icons in the Nepali context. It's fun to see Spiderman perched on a building with Swoyambhunath in the background."
***
The Tintin tee is one of many created by Juju. T-shirts are Shakya's canvas.
As a child, he drew scenes from Tarzan and Phantom comics to gift to friends. Though talented and passionate about art, Shakya knew that he wouldn't be able to pursue a career as an artist. He did get a bachelors degree in fine arts from Kathmandu's College of Fine Arts in 1984 but soon, his artistic interests slowly got pushed to the background. He belonged to a family of businessmen (his father owned the Gift Shop in New Road's Bishal Bazar), and he was expected to become one too. "I think I didn't have enough passion to devote myself to art," Shakya says.
Shakya started his first business in 1987. He partnered with some friends to acquire the distributorship for the then Surya Tobacco (now Surya Nepal). His family, however, was not happy. Buddhists, they objected to his son making a living by selling an addictive substance. Shakya pulled out of the business. By 1989 he was back at his father's shop.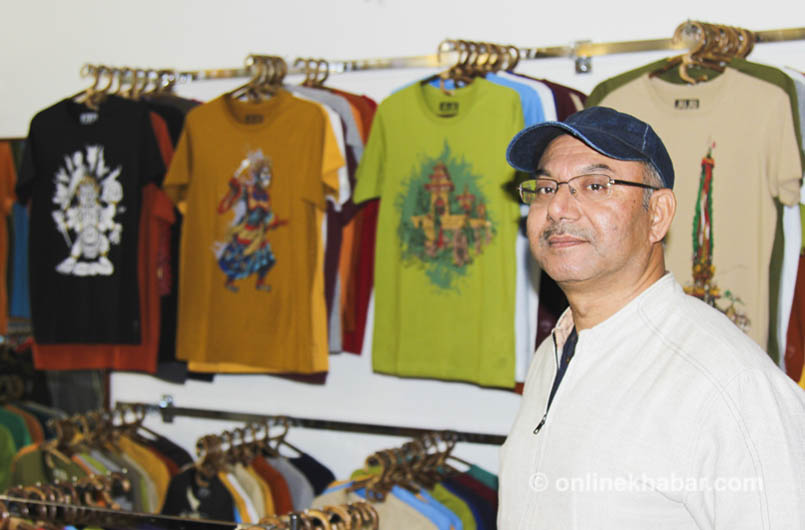 In 1990, a friend told Shakya that he was going into the garment business. Shakya jumped at the chance. He and his friend began importing cloth from India. They cut and packaged the cloth, then exported it to the U.S.
Even when the two friends were doing well, meeting orders from the States, Shakya did not forget that their business was entirely in their clients' hands. He wanted a business over which he had more control, one built on something stronger than a fickle market thousands of miles away. And he wanted to do something creative.
Shakya also knew that a business that imported everything, from needles to textiles, from India would not go far. He wanted to use Nepali textile. And while doing so, he wanted to create products that were closer to his roots.
***
One day in 1995, Shakya wandered into a garment factory in Bhaktapur. He liked their cloth so much that he soon cleared the storeroom on the first floor of his factory and turned it into a mini factory for making clothes from Nepali fabrics. Downstairs, his factory continued to manufacture clothes for American brands, one of which was Walmart.
The idea to make clothes from Nepali fabric first came when Shakya accompanied his uncle to Japan. Shakya's uncle had Japanese clients, so he went there often. On that trip, Shakya met a husband and wife duo who owned a factory in Osaka. They were highly impressed when they came to know that he owned a garment factory. They placed a small order for shirts and coats made from Nepali cloth.
Shakya came back and set up the small unit on the first floor of his factory. Soon orders came for hemp and bamboo clothes. The small unit grew steadily. In 1997, Shakya registered a new brand: Karuna Natural Wears. Shakya's workers were already adept at producing quality demanded by American markets. The quality of work and the new Nepali fabric became an instant hit in Japan. A neighbour who lived in France, and was in the clothing business, took samples of Shakya's clothes with him to France. Soon Karuna was exporting to France.
Then came the event that undid years of work, like a pull of the thread that unravels a ball of wool. In 2006, the Maoists came to power, and factories everywhere became labs for communism. Frightened by the labour crisis in Nepal, buyers from the U.S. began cancelling orders. That year Shakya's factory put out their last order for Walmart. A couple of months later, he had to close the factory.

Karuna Natural Wears factory produced quality garments that were exported to USA, France and Japan. Photos courtesy: Pradeep Man Shakya.
The factory's closing spawned a new idea: selling Nepal-made clothes in Nepal. Until then, Shakya had only exported Karuna products. In 2006, he opened the first Karuna store in the Sherpa Hotel (now Sherpa Mall) in Durbar Marg. Shakya was determined to change the Nepali buyers' notion that a made-in-Nepal tag was a mark of poor quality. He offered the same quality of clothes that he exported to Japan and Europe, using only azo-free dyes. (Azo is known to cause skin irritation and, in some cases, even skin cancer.)
In 2012, an acquaintance of Shakya's told him that she loved Karuna's products but that she couldn't afford them. The woman, who was in her mid-twenties, had said that in jest. She also suggested Shakya make T-shirts. The casual suggestion struck a chord with Shakya. He knew that if he made cotton T-shirts, he could sell them at much lower prices than Karuna products. Besides, Karuna was already making prints.
Since the T-shirts would be made from cotton, Shakya decided to form a new brand: Juju Wears. In printed tees, he re-discovered his long-lost love for art.
***
Shakya's love for art is inseparable from his deep affection for his roots. "I was born and raised in a bahal [traditional Newar courtyard]. My roots went deep into Newar culture, so it made sense to give the brand a Newari name." Nepal's king had recently been overthrown. Shakya chose the Newari word for king: juju. "Besides the allusion to the monarch, the word was also catchy, which made business sense."
Juju is known for its unique prints, most of which reflect Nepal's culture and history. Shakya had always liked clothes that were more than clothes, something that appealed to his inner-self and resonated with his identity.
The feeling was noble, but what was he to put on tees. "The answer was simple: our culture, our history, all things Nepali. I saw – still see – people wearing clothes that carry images of Thailand, China, India, Singapore. They have nothing to do with our country, our society. Why not use something from our incredibly rich culture?"
Juju's first print was of Prithvi Narayan Shah. Shakya never thought of the print as a political message. To him, it was an ode to the person who created Nepal as we know it today: a unified, sovereign country. "Our slogan always is: Jai Nepal! Every Nepali, whether a Newar, Brahmin or Tharu, should think about Nepal's welfare. Nepalis need to love Nepal."
Shakya and his team draw inspiration from around the world, from the present and the past. Witty, cheeky, uplifting or piercing juxtaposition of Western ideals in the Nepali context has been a hallmark of Juju's T-shirts.
Shakya decided to put Abraham Lincoln on a tee when after years of bickering Nepal's political parties failed to draft a new constitution. The result was President Lincoln wearing a dhaka topi, with his immortal words "…of the people, by the people, for the people"  beside it.
"Each and every Nepali citizen's rights needs to be respected equally. I felt that the new constitution needed to be based on the notion of equality championed by Lincoln." A former minister saw the Lincoln tee and remarked that Shakya had made something deeper than a piece of clothing.
A stickler for artistic genuineness, Shakya still uses screen printing, an archaic way of printing that uses a separate frame for each individual colour. Most T-shirt makers use the more advanced digital printing. "We could buy digital printers, but I am in no hurry. The reason for that is digital printers are very expensive. And we want art on our T-shirts—raw art. Digital printers give you something that is perfect. It's technology triumphing over art. Then there is no difference between our tees and ones from Thailand. I don't want that. Moreover, two people can easily operate a digital printer. Imagine how many workers we will have to layoff if use digital printers."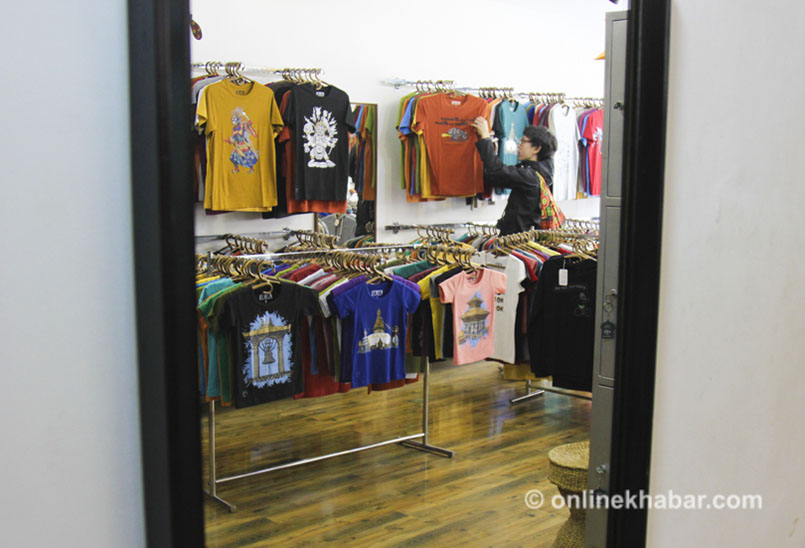 Nepalis and non-Nepalis alike would fall for the artistic renditions of Nepali culture that are Juju's prints. But Shakya is not interested in creating clothes that only sell well. He once made a print of Dor Bahadur Bista, the grand old man of Nepali anthropology who has been missing since 1995. Shakya knew it wouldn't sell.
"I made the T-shirt simply out of admiration for him. His book Fatalism and Development touched me deeply. Like him, I feel it is the fatalistic attitude of Nepalis that has prevented the country from developing. Not many people know him, but I think every young Nepali should read Fatalism and Development. I put him on a T-shirt so that, if not anything else, people would at least Google him, and see his book. I might be crazy for thinking like that. I know it was a mistake, business wise. But I got immense satisfaction from it."
That is Juju's philosophy in a nutshell: make clothes that touch some place deeper than the wearer's skin.