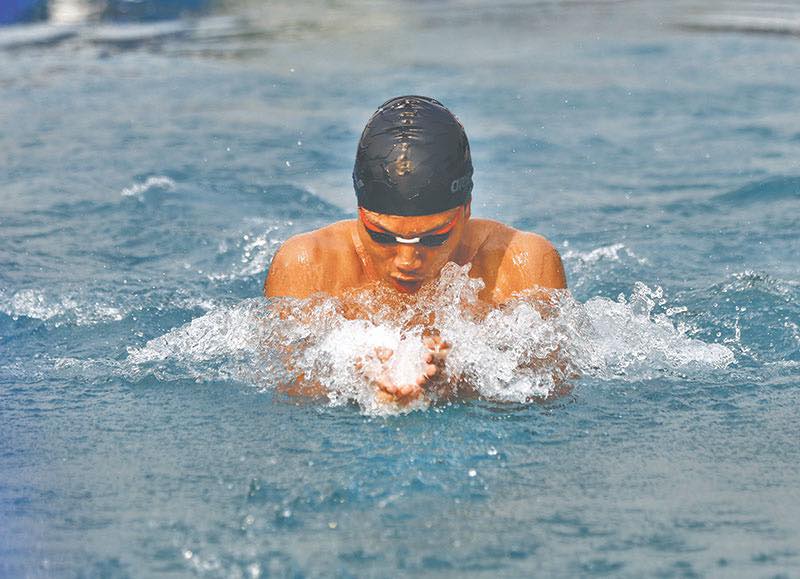 Shubham Shrestha picked up swimming when he was 10 years' old. When he started, he just swam to have fun. But past seven years have been a roller coaster for Shrestha, who has competed in South Asian Games, Asian Games and is the national record holder for 50, 100 and 200 metres breaststrokes.
He is now working hard to earn some international medals as soon as possible.
Into the national team
Shrestha shares that he only swam during the summer with his sisters at the swimming pool in Tripureshwar. Coincidentally, even the national team trained there and officials were keenly observing young Shrestha. As he got better, he started to get noticed.
"The swimming coaches felt that I had it in me and asked me to join the junior team. They saw me take part in a few interschool swimming tournaments and offered me a chance to compete at the highest level with the senior team," says Shrestha.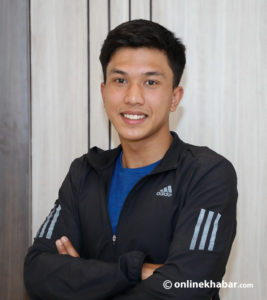 Shrestha's first event at the senior level was at the 2016 Asian Games in Guwahati.
"I remember it like yesterday. I was a nervous wreck. Was only 14 and didn't have proper training because Nepal didn't have a heated pool, which is why I went to Chandigarh to practice, so I could get accustomed to the Indian conditions."
Shrestha feels that senior teammates and trainers helped him out a lot during his first international tournament.
"It was my first time away from family. But the entire team motivated me and kept me focused. They told me to be myself and not worry about the results. However, I was in panic and did leave my swimsuit in the hotel one day," he says.
In the international arena
His first South Asian Games didn't go as planned but he didn't take it badly and continued to work hard. After Guwahati, Shrestha then took part in the short course 2016 FINA World Swimming Championship in Canada. That exposed him to international swimmers whom he says were miles better than him then.
"Their build was strong, and with proper infrastructure, I felt I could never beat them. Nevertheless, after competing in the tournament, I got the confidence and the motivation to work even harder."
Shrestha's hard work paid off during the 2017 National Championship where he won a gold and created national records in all three categories he took part in – 50 m, 100 m and 200 m breaststrokes.
"I was ecstatic as were my friends and family. All my hard work paid off, but I knew that I would have to work even harder to take the next step."
By the time he was in high school, he was already a national champion, but Shrestha craved for more. He wanted an international medal. In a search for that, he left for the 2018 Asian Games in Indonesia.
Even though he didn't win anything, he says the experience he got there was invaluable.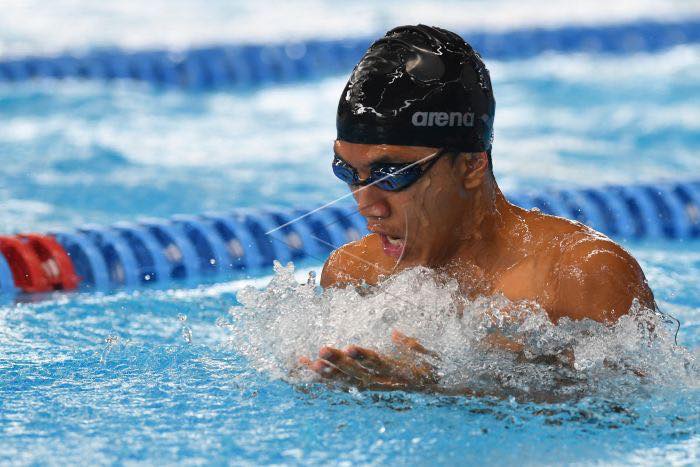 The thirst of international medal
He says he learnt from other swimmers about diet and fitness, which he thinks were keys. He took that experience to the 8th National Games held in Nepalgunj where he took part in 50 m, 100 m and 200 m breaststroke events along with the 4 x 100 relay. He secured gold medals in all individual categories creating a national record in all and got a silver medal in the 4 x 100 m relay.
"This year, I felt I was in a good shape the training paid off and I was able to create a record in all three categories," he adds.
Now, he is looking forward to the South Asian Games taking place in Nepal. He hopes that he will be able to get his first international medal during the event due to take place in December this year.
For that, he has been training every day for the past one year. He shares that his everyday training includes time on the pool, gym and outdoor exercises. He has just finished his high school and has dedicated his entire day to getting himself ready for the games.
"It is a must because South Asian athletes are quite good. We can't take it for granted. The US swimming team trains together for one whole year before taking part in the Olympics. We haven't been doing that, but the least we can do is try."
Shrestha adds that he and his teammates are desperately waiting for the swimming pool in Satdobato to be ready. The heating pool will mean that the athletes can train during the colder seasons and get a feel of what they will feel during the main event in December.
"We know it won't be giving us a massive advantage, but it'll be an advantage nonetheless."