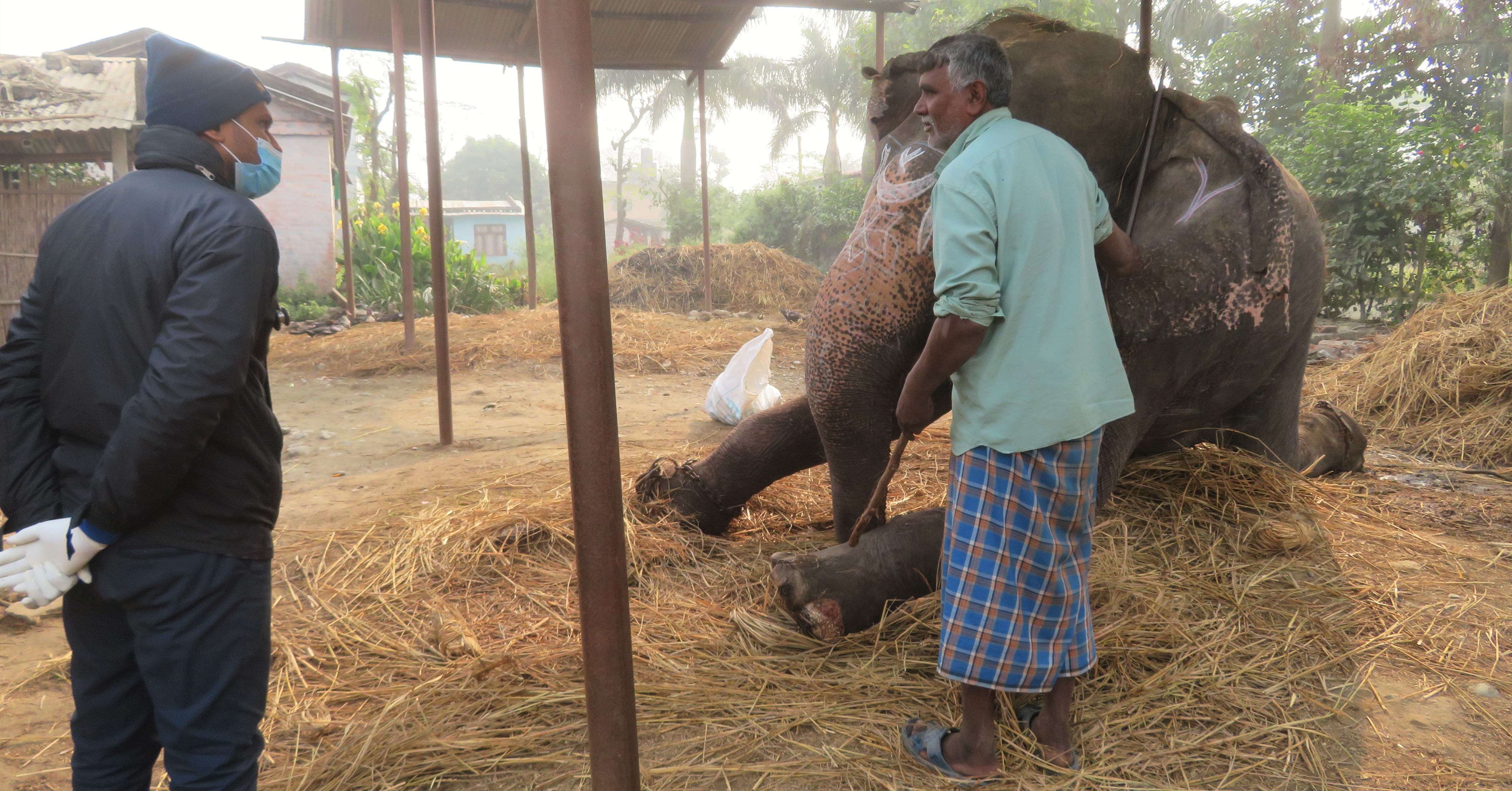 During her morning stroll in Sauraha of Chitwan around one week back, Lena Quenard found an injured elephant. The elephant had a problem in one of its feet and Quenard decided to take care of it.
Quenard, also the founder of Association Moey, an organisation working for captive Asian elephants, says she had initiated the treatment with an intention of providing the female elephant respite from pain. But, desperate efforts to take care of the animal has led this Swiss national to another form of suffering.
As the woman narrates her experience in past one week, she reveals that Nepal's local authorities and businesses do not care much about the health of animals they employ in tourism activities; rather they perceive welfare workers as threats.
Result of lack of care
When assessing the elephant, she found out that a toe on the elephant's front feet was showing osteomyelitis scarring. "The toes of her feet were infected and deteriorating. Her disease was in its advanced stage. This disease is seriously painful and I couldn't just watch her suffer," adds Quenard
Then, she asked the mahout if the elephant was getting any treatment, to which he said it had been two months since it last did. After talking to the mahout she went to the owner's place to ask if he knew about the elephant's condition. "The elephant couldn't walk in that condition and when I asked the mahout, he said that it hadn't been getting any care."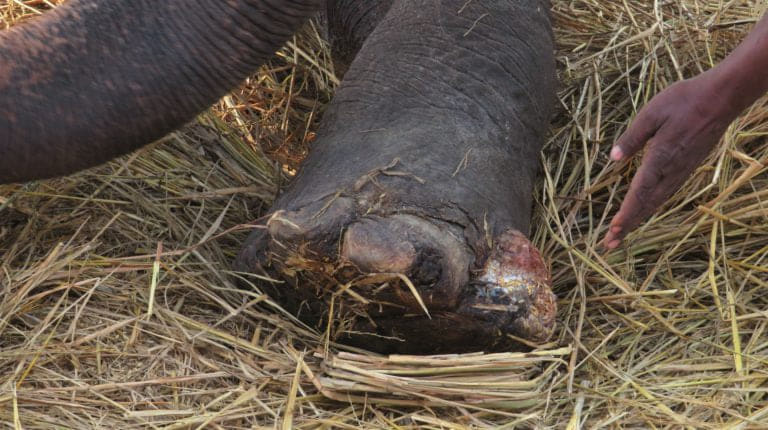 Quenard sat with the owner who told her that he understood her concern.
"He told me that a vet was in charge of the elephant's health. I went to meet that vet too, but he told me that the elephant was fine and needed foot trimming." She has been providing foot trimming service to the owners free of cost wherever she works.
Even though she had informed the owner about the elephant's health, Quenard saw no treatment being done and took matters into her own hand by calling a vet from Kathmandu to look after it.
"When I examined the elephant, it was clear that she had been sick for around three months. The mahout told us that she hadn't been getting any treatment and he too felt pain because the elephant was suffering," says veterinarian Sanjeev Pandit.
Pandit shares he dressed the elephant's wounds and Quenard gave the mahout cotton, betadine and antibiotic powders so that he could clean the elephant daily. "Lena even cleaned the shelter so that it would be easier for the elephant to walk around. We went to meet the owner, but we couldn't find him," adds Pandit.
The shocking call
But Quenard got quite shocked when she got a call from the police telling her that the Elephant Cooperative Owners filed a complaint against her at the tourist police.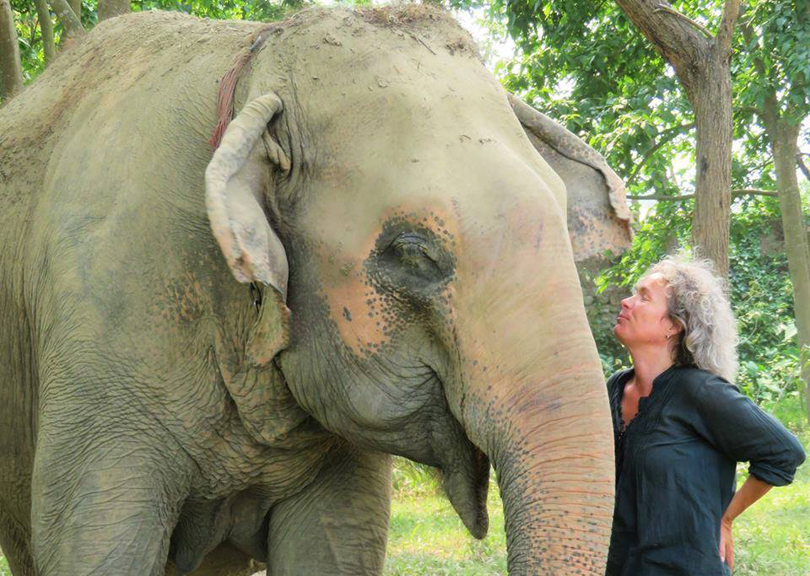 Then, Quenard met police officer Roshan Lamichhane, who asked her to remove the posts she had made on social media to avoid further disputes.
"I don't think the injury was a big issue," adds Lamichhane. "This matter didn't concern her. She cared for the elephant without the consent of its owner and that didn't go down well with him."
Lamichhane also adds that the main reason the owners got angry and filed a complaint was due to her posts on Facebook. "The owners said such posts could damage elephant tourism in the area and were unsure of what motives she had behind the donations she was asking for."
But, Quenard has her own defences.
"My organisation is a Swiss nonprofit organisation dedicated to elephant welfare in Asia, and our fundraising campaign is not local, it is on our website and Facebook page; and is supported by foreigners. The money I generate goes to the elephants and not to me."
The 'wrong' visa
The tourist police seem to be unaware of Quenard's organisation and add that Quenard who was here on a tourist visa didn't have much right to do so as well.
"The case would have been different if she was here as part of an organisation, but as a tourist you can't be doing this," Lamichhane adds.
However, Carol Buckley, an animal welfare expert based in the United States, shares that the volunteers have never been granted working visas in Nepal.
"All volunteers in Nepal are on the tourist visa. Nepal allows it because the country benefits as it generates foreign aid. Yes, there is a foreigner work visa, but Nepal has never issued even one. Instead, they put volunteers in a position that if their volunteerism exposes a problem in Nepal, the volunteer can be intimidated into silence and run out," adds Buckley.
Quenard, hence, shares she feels threatened. "Everyone including the tourist police here want me to stop reporting on elephant abuse and say that they will investigate this matter more if I don't," she adds.
All she wants to do is give the injured elephant a new home. For that she is willing to bear all the expenses to take care of the elephant. "This elephant is in the terminal stage of a disease. It would be great if the owner could donate the elephant to us. This way the owner will not lose any more money and the elephant will finally receive good care. A good solution for everyone and a good publicity for Sauraha," says Queanrd.
Buckley adds that the treatment of elephants for tourist safaris in Nepal is the worst she has ever experienced. "The elephants are beaten, starved, overworked, neglected and exploited on a daily bases until they die a painful death as a result of horrific conditions and abusive treatment. I find the government is receptive to improving but the private sector isn't."
Tourist police, however, refuse to comment on this matter. The Elephant Cooperative Owners did not take Onlinekhabar's call.