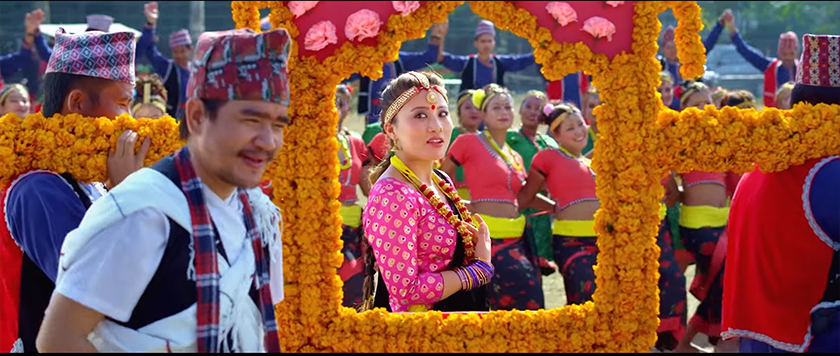 While Nepali movies mostly revolve around love and money, there are some filmmakers who break and trend and make movies related to social issues. This week's release of Sali Kasko Bhenako is proof of that. Based in a Magar village in the lap of the Himalayas, the movie gives the audience an insight into the village life.
But, the movie fails to maintain its uniqueness till the end and it too turns out to be a vague piece of work without any definitive message.
The movie tells us about the lives of three characters – Bhena (Wilson Bikram Rai), and his two 'sali's (sisters-in-law), namely: Kanchhi (Mariska Pokhrel) and Maili (Rajani Gurung). Bhena (an elder sister's husband), after the death of his wife, lives his life alone taking care of his two kids. He spends most of his time in a river catching fish and drinking liquor.
Pitying his state, his in-laws decide to marry off their younger daughter Kanchhi to Bhena, but Kanchhi doesn't approve of it as she is in love with another guy. On the other hand, Maili, whose husband has been away for 10 years, has feelings for Bhena and wants him to marry her. The movie then revolves around these three characters and makes the audience wonder which Sali will be getting the Bhena.
This suspense is interesting, but the screenplay has been developed in an odd manner. It tries to focus on being both a comedy and social drama, which is why the movie loses the audience at the halfway. The conflict created in the climax seems to have been done to stretch the movie which spoils a decent first half. The movie also fails to answer many questions at the end. The audience are baffled by the open-ended ending of the film.
However, the makers have done a good job in establishing the love triangle with a subtle situational humour which makes the first half quite watchable.
Another commendable thing about the movie is how it has shown the life and desires of women in the village, who have different priorities than those from the cities. Pokharel wants to run away with her boyfriend, Gurung wants someone to love her dearly, and Putali (Sushma Karki) wants to become a famous actress. All the desires contradict the other, which has been presented in a good manner.
Although the director has done well with the use of humour, there are parts where it is quite cheap and looked unnecessary, especially the scene where Bhena has to prove to his in-laws that he is still young.
The movie also doesn't have a backstory of many characters which creates more questions than answers. Another thing that is quite odd about the film is the accent of some characters. Pokharel, who plays the daughter of a Magar woman, hardly speaks in that tone which makes one question the director's selection of actors.
When it comes to acting, Pokharel is quite good, but her chemistry with her boyfriend in the film is off, especially in the first song of the film. Rai, who is normally seen in a comic role, does look good in a serious role; but there is room for improvement. Gurung also gives justice to her role as he emotes quite well. That said, her dialogue delivery is a bit off as she needs to work on that aspect.
The film, even though it sounds like a family drama, is anything but. It is stretched and is a movie that you should avoid if you want entertainment. One is sure to feel let down after spending two hours watching this film.
---
Director: Bhadra Bhujel
Runtime: 120 Minutes
Genre: Social drama
Cast: Wilson Bikram Rai, Rajani Gurung, Mariska Pokharel, Sushma Karki
1.5/5
---
Published on September 16th, Sunday, 2018 10:42 AM
---
Download Onlinekhabar App. Android click here & IOS click here . Keep in touch with us on Facebook, Twitter & YouTube.