Unboxing YouTube's silver play button, Saigrace is emotional. His voice is wobbly, a little thick too. It is evident he is overwhelmed by the love he has been getting on all platforms. But, he says this is special. From having little over 13,000 followers in April to over 113,000 in late December, Saigrace Pokharel, in a short span, has come a long way.
"This is just a start. I hope to do a lot more and share more insightful stories with you," he says in a video, addressing his followers.
Storytelling for an impact
A 'social impact storyteller', Pokharel, a native of Kathmandu, is currently based in Barcelona, Spain where he produces commercial photos and videos for various companies. He tells the story of a common man or woman in a simple yet captivating manner. His stories mostly focus on social issues and human values which have directly or indirectly impacted him. All of them carry a message. As a result, his videos have been watched by Nepali-speaking people of all ages from Rolpa in Nepal to Sikkim in India to Osaka in Japan.
Even though people might have just discovered Pokharel, his storytelling journey began years ago in Nepal. Growing up in the country's capital, he was a curious child who, from an early age, had a thing for stories. In school, he took part in all the extracurricular activities. He sang, wrote songs, stories and poems, took part in drama and even tried his hand at comedy.
"Taking part in all these activities just amplified my love for storytelling," says Pokharel.
Even though he worked in an administrative office under the Ministry of Health, he continued to learn the art of storytelling. He knew he could do it, but he realised that he was good at it, during a youth conference hosted by the Sri Sathya Sai International Organisation Nepal in Pokhara in 2012 when he shared stories in front of thousands like him.
"People were listening to me with profound concentration. That, I feel, is the biggest compliment anyone who is on stage can get," he says. "It was then I felt that I could be good at that."
Before he got to Pokhara, he had been part of some films. He had a passion for filmmaking, something he still does. He says working in these projects helped him understand the importance of storytelling.
"I had felt filmmaking was easy. But, when I got there, I realised how much effort it took to make one. And, it is also there that I learnt that unless your story is good, even if you shoot it with the world's most expensive camera, your movie won't be a success," he says.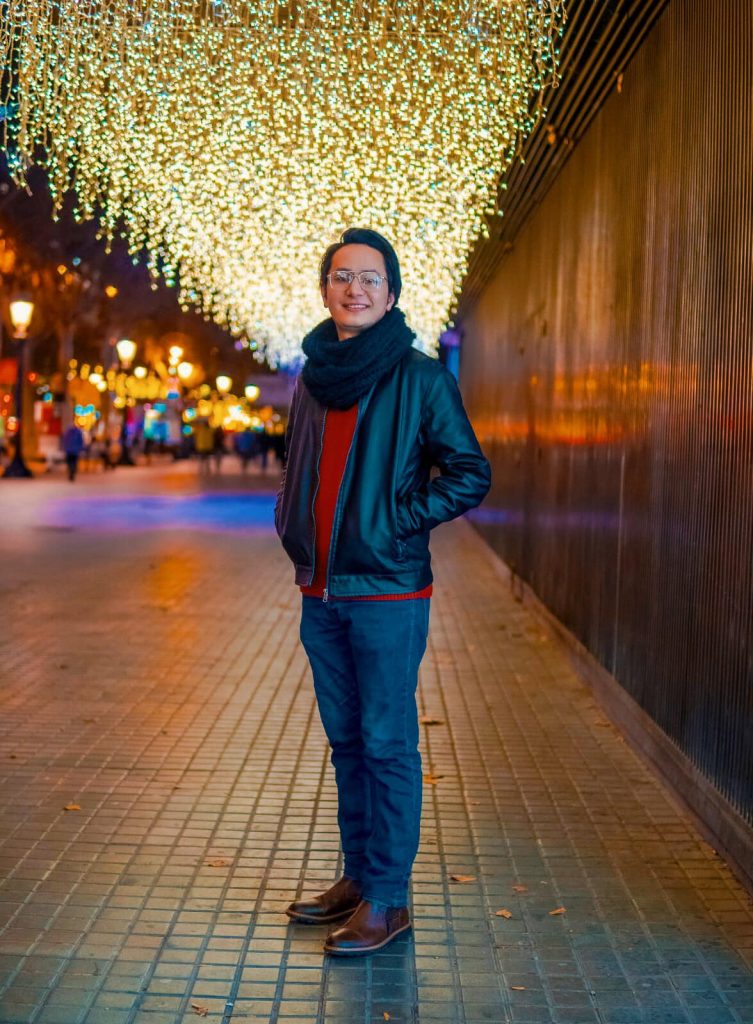 The Facebook fame
He then started to make music videos, commercial videos for organisations and gave his voice to numerous projects. Many videos were doing well on the internet, but none were put on his social media pages.
It was in April 2020, just when Spain (and the world) went into a lockdown, that he decided to make a video for his Facebook page. The video, titled 90s kid, described the life of a millennial. Within a few days, the video went viral amassing over a million views and Saigrace introduced himself to the world.
"People called me from Sikkim telling me how their 75-year-old mother tells them to put my videos as they like it. As a storyteller, these small things go a long way," he says.
He writes these stories himself as he has lived most of them, he says. If he has not lived them, he puts himself in the character's shoe because he knows how important it is to know the reality of a subject before presenting it to an audience. That is why his stories have an emotional pull. He says he spends a day writing the script and a day to shoot and edit it.
"I feel storytelling is not just an art, it's also science. You need to know how to modulate it and when to pause. When I write, I do not just say it as it is. I improvise. That's where emotions come in."
His videos on Facebook have done quite well. A few have hit the million mark while many have been viewed at least 50,000 times. His novel, Mero Adhuro Prem, which he released on YouTube, has over 1.3 million views.
Long road ahead
"The love I've been getting is humbling. I hope that I can continue to be impacting the lives of people through my stories."
He says he gets messages from young boys and girls who say he inspires them. He is asked to rate their efforts. He believes this can, in the long run, generate interest amongst the contemporary youth for literature.
"It feels good that people are being productive and are reading. It feels great to have been able to impact people in such a manner," he says.
But, he wants to make one thing clear. Reading a story to the general public does not make them a storyteller. He says a lot of people are confusing narration with storytelling.
"Storytelling is an art form. It has also got some science to it. I feel what separates it from narration is the ability to compellingly tell a story," he says. "But, if one continues to write and work hard, they can become a storyteller. It's just how much effort one puts in."
Since he started, it's not all praise that he has been getting. He has had his share of hate comments too. But he says he isn't affected by it.
"Getting hate comments is part of the job. Makes me want to work harder," he says.
Putting that aside, he is working on projects with the United Nations, Save the Children and Water Aid to spread awareness regarding health, sanitation and mental health.
"I have a lot to offer. Gradually, I hope I can continue to touch the lives of people," he says.