Sasan Devkota was happy, working at an entomology lab in Florida in the US. Life was good. He was earning a good salary and had all the facilities he ever craved for: education for his children, better healthcare and world-class transportation. However, he always missed Nepal and always thought about returning.
Having spent six years studying and producing strawberries, Devkota wanted to use the skills he had learnt in the US, apply it here in Nepal and start a strawberry revolution. One day, he left Florida and came back to Chitwan.
Today, he does not want to limit himself to the Nepali market. He has bigger dreams. Giving Egypt's example, Devkota, though research and development along with production, wants to export strawberries abroad and make it a major part of Nepal's GDP.
Strawberries spreading across Nepal
"I wanted to do what I was doing in Florida in Nepal. It wasn't a decision I made hastily, it was because I believed strawberry farming has a future in Nepal," says Devkota. "After tourism, strawberries are Egypt's most regular income source. If they can do it, why can't we?"
Coming back in 2018, he first started strawberry farming in Kathmandu and Biratnagar. After successfully running farms there, he has now started one in Chitwan as he believes that Nepali soil and weather is suited for growing strawberries. Spending around Rs 2 million, Devkota has leased over 1.5 acre land in Bharatpur-05.
"They grow strawberries in hot coastal areas. If that is possible, I believe we can grow strawberries through the year at various places in the country because our weather is perfect," he says.
He says that they have brought eight varieties of strawberries and are currently producing and researching them. Since 2018, Devkota along with a few of his friends have grown American strawberries in Biratnagar, Dharan, and Kathmandu earning over Rs 3.3 million just last year. Having seen the prospect of the project, Province 1's agriculture ministry has also been helping them.
He has recently planted strawberries imported from Spain in Chitwan and believes that in peak season, the farm can produce over 200 kilogrammes of strawberries a day.
"It's not just about the money," says Devkota. "If I wanted money I would still be in the US. I want to make a difference here."
For Devkota, this is not an overnight success. He has worked hard studying the prospects of strawberry farming in Nepal and is continuing to study the market. He says that he wants to be certain before he involves more people in the project.
He says they also have plans to grow seedless watermelon in Nepal. But, to make things smoother, he wants government support.
"We are researchers. We've seen the potential, which is why we are doing this," he says. "Now, we want the government to form policies to make research more convenient, which will motivate the younger generation to continue to do this."
Challenges
The first problem he has faced is trouble in importing plants. According to law, one is only allowed to bring plants from abroad if the importer promises to ensure the local flora and fauna is not affected by the 'alien plant.'
Likewise, the breeder, who is mostly abroad, will not give the plant unless they believe that the person they are selling will not be involved in immoral propagation that will lead to the extinction of local flora and fauna.
Having got strawberry plants from the University of Florida, Devota struggled to get blueberry plants as the breeder refused to give him that.
"These are small problems which can be solved if the government was more proactive."
Breeders normally send 'daughter plants' to people like Devkota. He said that up to 3 million daughter plants can be sprouted from just 100,000 'mother plants'. As policies do not support, he says bringing these pants is tough, but he adds talks are being held with the government to amend these policies.
The best time to plant strawberries is around August-September, says Devkota. By February, all these plants will bear fruits. But, after growing them in Chitwan and Biratnagar, he believes that these can grow even in warm areas although the size varies.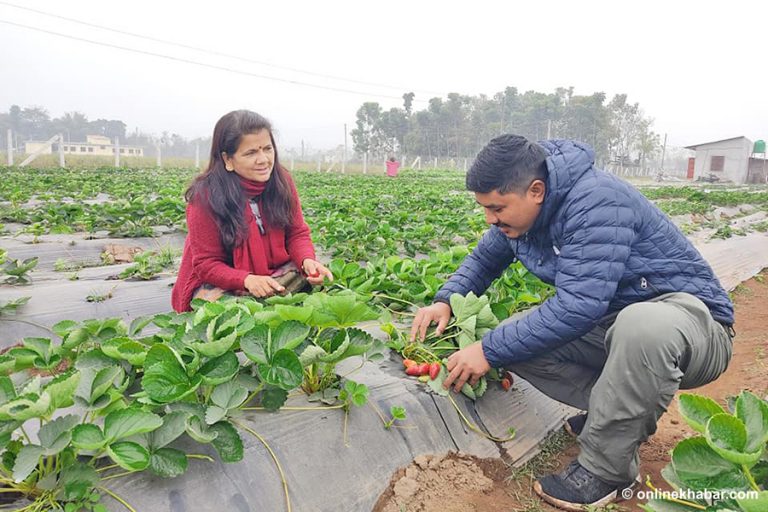 By size, he means a strawberry plant in Kathmandu gives the fruits of up to a kilogram whereas the same plant in the Terai region will only give out fruits up to 500 grams.
The plant is also susceptible to pests like moths and butterflies which is why the plant needs proper care.
For the plant to yield maximum fruit, Devokota says that old ones must be destroyed and new saplings planted. That said, one can use old plants, but it takes extra care to get the same yield from old plants.
"It's more expensive as you have to take care of it a bit more. It's practical to use new ones if you're into mass production," he says.
An A-grade strawberry costs anything between Rs 700 to Rs 800 per kilogram. There are risks, however. Strawberries need to be sold within 24 hours of plucking. So, the risk of it going bad is quite high.
A way it cannot be negated is by setting up a cold chain station and cooling chambers so that it stays fresh for a longer duration. Without these, mass-producing this fruit is risky, says Devkota.
"The estimated time a consumer can keep a strawberry at home is a week at a maximum. So, we have to ensure these remain fresh for at least 10 days," he says.
Devkota is also looking at the frozen strawberry market to export it abroad. He argues that the fruit is rich in vitamin C and has great flavours, which is why he feels it can be exported.
"Here, in Nepal, we don't have a culture of trying different fruits. We're still limited to oranges, apples and bananas. We are yet to understand fruits like strawberries," he says.
That is why he wants to mobilise the younger generation, teach them modern techniques and teach them how to market the product. Currently, he is selling strawberries through Bhatbhateni Super Market but adds even vegetable markets are demanding the product.
"As production increases, the price will decrease. That way it will be accessible to everyone."