Rashila Maharjan, a native of Lalitpur, is just 17. But, she has a plethora of experiences and achievements in badminton. Maharjan, who participated in Asian Sports at the age of 13, representing Nepal, is a national champion currently.
In May 2019, during the 8th National Games organised in the Lumbini province, Maharjan bagged the gold medal in the senior category. Since then, there has not been another national game, making herself the national champion for a longer period.
While people could envy this, Maharjan herself is not satisfied with the national champion title for she has a bigger dream. The dream to earn an Olympic medal looks like a castle in the air as no Nepali player had made it so far, yet Rashila Maharjan says she is committed to it. 
Nothing but badminton
Prior to the rise of Rashila Maharjan, the siblings of Sara Devi Tamang and Nangsal Devi Tamang ruled the Nepali women's badminton for a decade. Maharjan, who got an opportunity to get trained at the Tribhuvan Army Club (TAC) at the age of 9 is currently being trained by Sara Tamang.
In the urban culture, badminton is a popular game. As it requires small space and provides worthy exercise, there are many amateur players. Rashila Maharjan's father Rajesh Maharjan of Ombahal was one of them. He did not think of making his daughter play badminton. However, he could not do stop her from pursuing her passion.
"Besides studies, I also wanted her to be good in music and dance and even send her to join their classes," father Maharjan says, "Whatever, she could not detach herself from badminton."
"Now, I feel proud to be known by my daughter's name."
Back then, Birendra Shrestha, a friend of Rajesh Maharjan, was a member of the Nepal Badminton Association. With his help, the nine-year-old girl entered the TAC for training and started her badminton journey. Currently, she is ranked 19th in singles and seventh in doubles in the Badminton Junior World Rankings. With that, she also holds the fourth rank in Nepal's senior category and first in the junior category.
Rashila Maharjan started participating in international matches in 2016, and within two years, she got an opportunity to play important games. At the age of 13, in 2018, she participated in Asian Games, held in Indonesia. In the team games, she played with the Maldives whereas, in doubles, she played with Amita Giri against South Korea.
She won a bronze medal in the team events during the 13th SAF Games organised in Nepal.
The big dream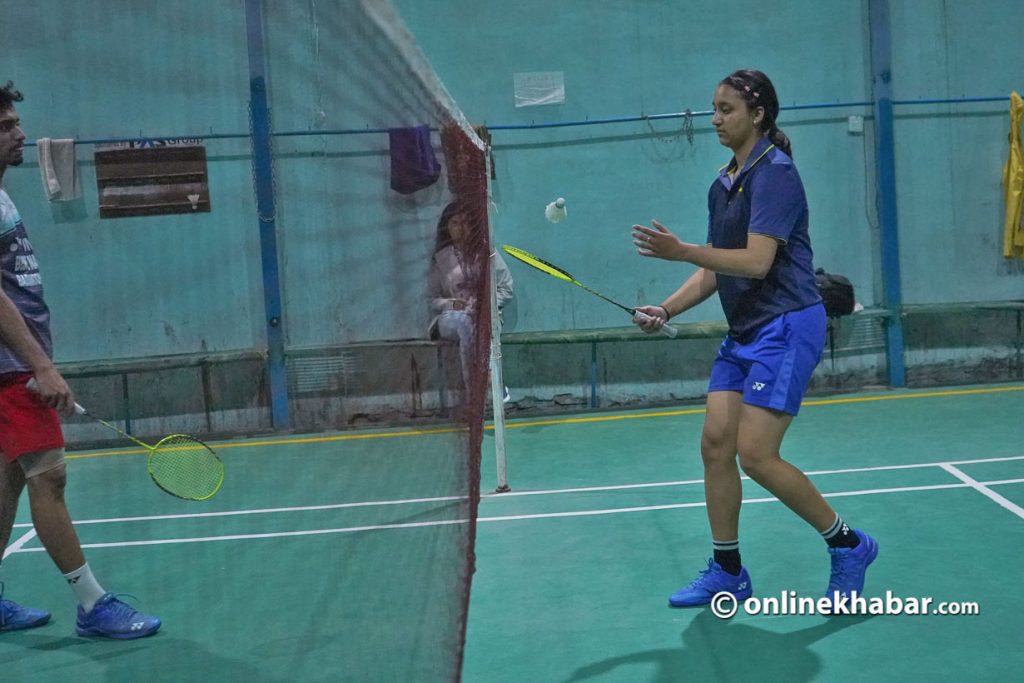 Alongside Prince Dahal, who recently topped the World Badminton Federation's list of men's juniors, Rashila Maharjan also received an Olympic scholarship through Badminton Asia, the governing body of the badminton sport in Asia.
"This would help me garner international exposure, " says Maharjan.
She believes she can grow more if she continues playing and winning the international games and doing hard work.
The scholarship that is provided targeting the 2024 Olympics will prioritise the two Nepali players to acquire international training and play competition. Rashila Maharjan wants to make it to the Olympics, utilising this scholarship.
Besides participating, five-and-a-half-foot tall Maharjan aims to bag a medal in Olympics–for the first time in the country's history–if she gets productive support from everyone.
For that, now, Rashila Maharjan has a plan to mainly focus on the senior single category. Although she is very new to the senior category, she has recently won a gold medal in the nationwide badminton competition held in Bhaktapur.
Previously, Maharjan used to play in the different events of the junior category including single, double and team.
"Playing in a different category has been hard for me, but now, I am planning to put all my efforts into the senior single category only," she says. "Focusing on one event can help in playing well."
It is Rashila Maharjan's eighth year with the departmental team. She is completely a product of TAC. She was brought up under the mentorship of senior players Amita Giri, Anu Maya Rai and coach Sara Devi Tamang, who is also a former champion.
"The seniors teach me. Their experiences have helped me a lot, as they are also players, they understand me well," says Maharjan.
The ugly side of Nepali sports
But, Rashila Maharjan complains Nepali players are still helpless financially. Once they stop playing, they need to look for alternatives. Those players are compelled to buy kits and gear from the money earned by playing the game.
Earlier, the association used to give shuttles during the training of the national team. But, after the Covid outbreak, they curtailed the facility. The national players are required to train at their personal expense.
"Clothes, shoes and rackets last for a year. Whenever I have money, I buy many shuttles," says Rashila Maharjan.
"There is no future in badminton, but I don't want to leave it," says Maharjan. She believes that no games are given importance in Nepal.
"In a foreign land, one can get a degree just by playing. But in Nepal, we must study. It is hard to study and play parallelly," the 12th-grader says.
Yet, she says she will continue playing as she wants to earn an Olympic medal for the country.
---
This story was translated from the original Nepali version and edited for clarity and length.