On a cold damp afternoon in April 2023 in London, Ram Krishna Maharjan, 66, was running the most notable race of his long career. Having already finished five Major Marathons in the world after he turned 50, the London Marathon was the only one remaining from the Six Star World Marathon Majors. 
Prior to running it, he had issues with his leg and was not 100 per cent fit. His training was not complete, but in his mind, he was ready. So on a damp afternoon, he ran the race and in 3 hours and 32 minutes, completed it and became the only Nepali citizen to complete the Six Star World Marathon Majors.
"This had been a challenge I set to myself after I turned 50 and having achieved it gives me a lot of pride," says Maharjan.
Ram Krishna Maharjan's road to finishing the London Marathon has been a long one. After turning 50, he has run nearly 50 races finishing each one. He has endured a lot in those years, including self-doubt, but the veteran runner continued to push boundaries and run for the sheer love of it.
Now, with the Six Star World Marathon Majors over, he aims to continue to run and become the only Nepali to run a marathon on all six continents and in doing so inspire a young breed of runners in the country.
The early-bird runner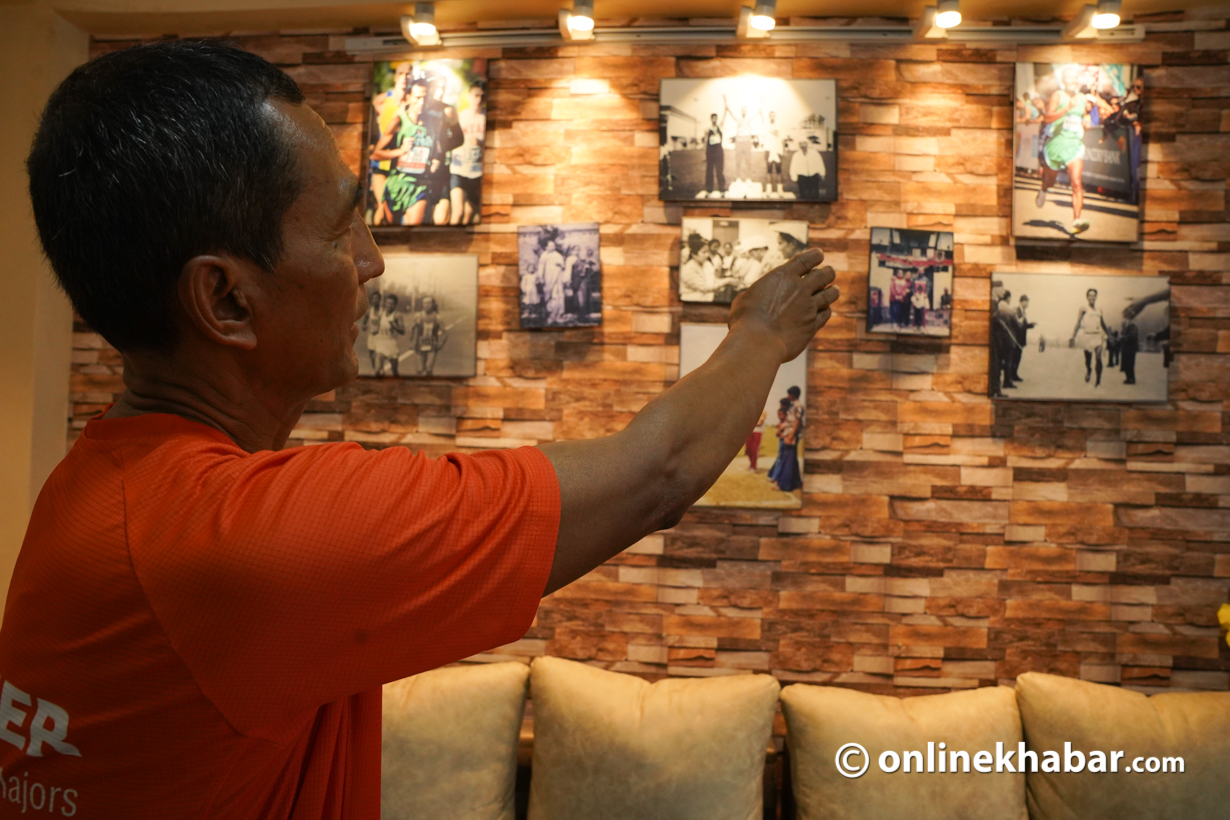 Ram Krishna Maharjan started running around 1969 when he saw a bunch of foreigners running around Thamel. Curious, he started to run with them and after that, there was no looking back. He was only 13 at the time and after running with a group of officials from the US Embassy, he started to get a feel for running and asking his cousins to join him.
After running for fun, Maharjan started taking part in races in school. He loved running long distances and started to take part in 800 and 1,500-metre races.
"I found it comfortable in these races. I won man of these races too, which gave me the confidence to push on."
By the time Ram Krishna Maharjan was in his late teens, he started to take part in every event out there. When he was 20, he even took part in his first half-marathon in Kathmandu and came in second. That gave him the belief that he could continue and the podium finish caught the eyes of athletics coaches in the Kathmandu valley like Laxman Bikram Shah and Madhu Samsher Rana. There he also met long-distance runner Baikuntha Manandhar.
"Training with them was important for me. I learnt a lot about training and conserving energy and when to push hard."
With races in Nepal being a rarity back then, joining Manandhar and others in training exposed Ram Krishna Maharjan to international races. In 1979, he got his first chance at one when he went to India to take part in the Darjeeling District Marathon. Finishing second in the race gave him added confidence and two years later, he was in Moscow taking part in a 1,500-metre race.
Overcoming brakes and barriers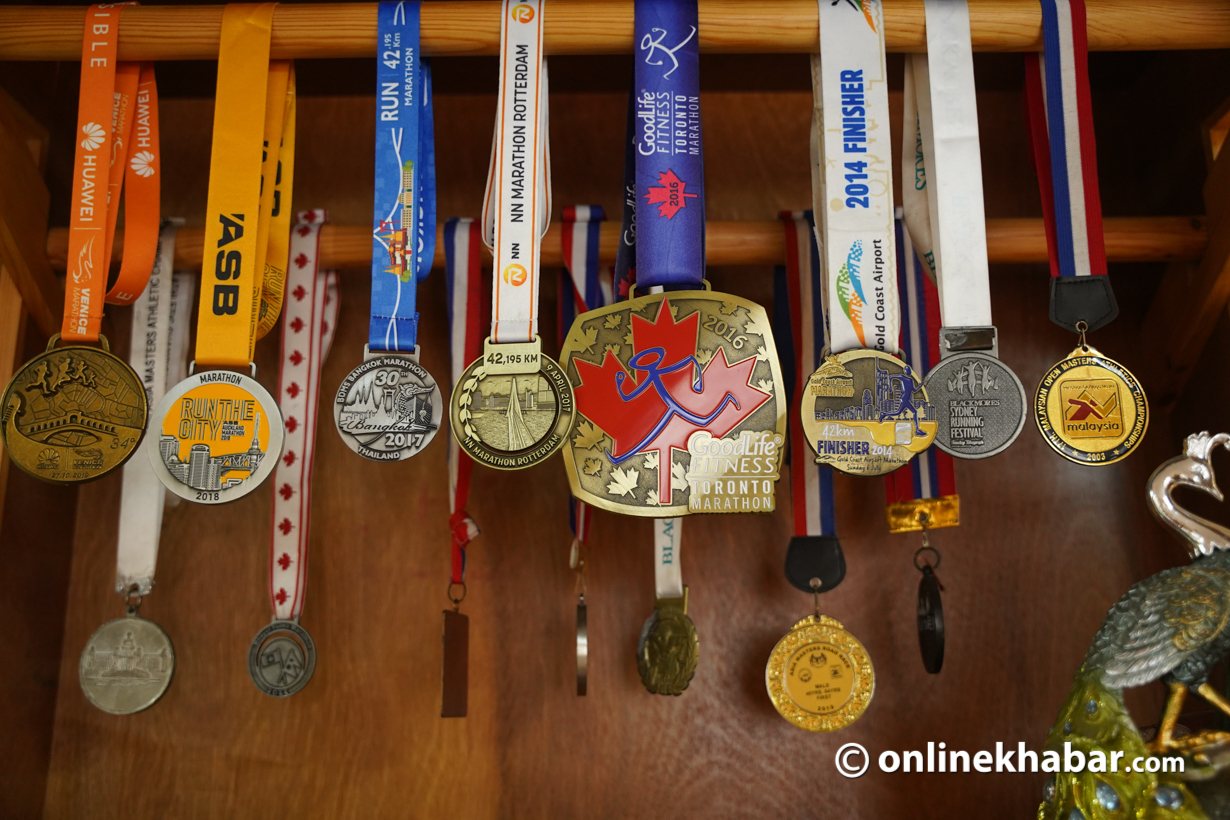 After that, he had to look after his family and running full-time was not going to be feasible. He continued to run races and marathons when he could, but his priorities changed.
| | |
| --- | --- |
| Marathons | Year completed |
| Boston Marathon | 2008 |
| Tokyo Marathon | 2009 |
| New York Marathon | 2011 |
| Chicago Marathon | 2013 |
| Berlin Marathon | 2022 |
| London Marathon | 2023 |
Six Star World Marathon Major races Maharjan has completed.
He had joined the Nepal Army, but left after two years. He worked different jobs in Nepal and went to Japan. In Japan, he learnt a lot from runners there. He started to learn about the importance of diet and rest and decided to work differently to run marathons in his 40s.
In 2002, Ram Krishna Maharjan ran his first half marathon in Japan. The following year, he ran the Malaysia Open Championship, in which he won the gold. He still recalls how challenging it was.
Unlike Nepal, there were over a thousand runners and that shook him, but that did not deter him as he gave his best. His most active years were in the 2000s when he took part in races across Asia. Those races were just the beginning of what he really wanted to do – run the Six Star World Marathon Majors.
Major races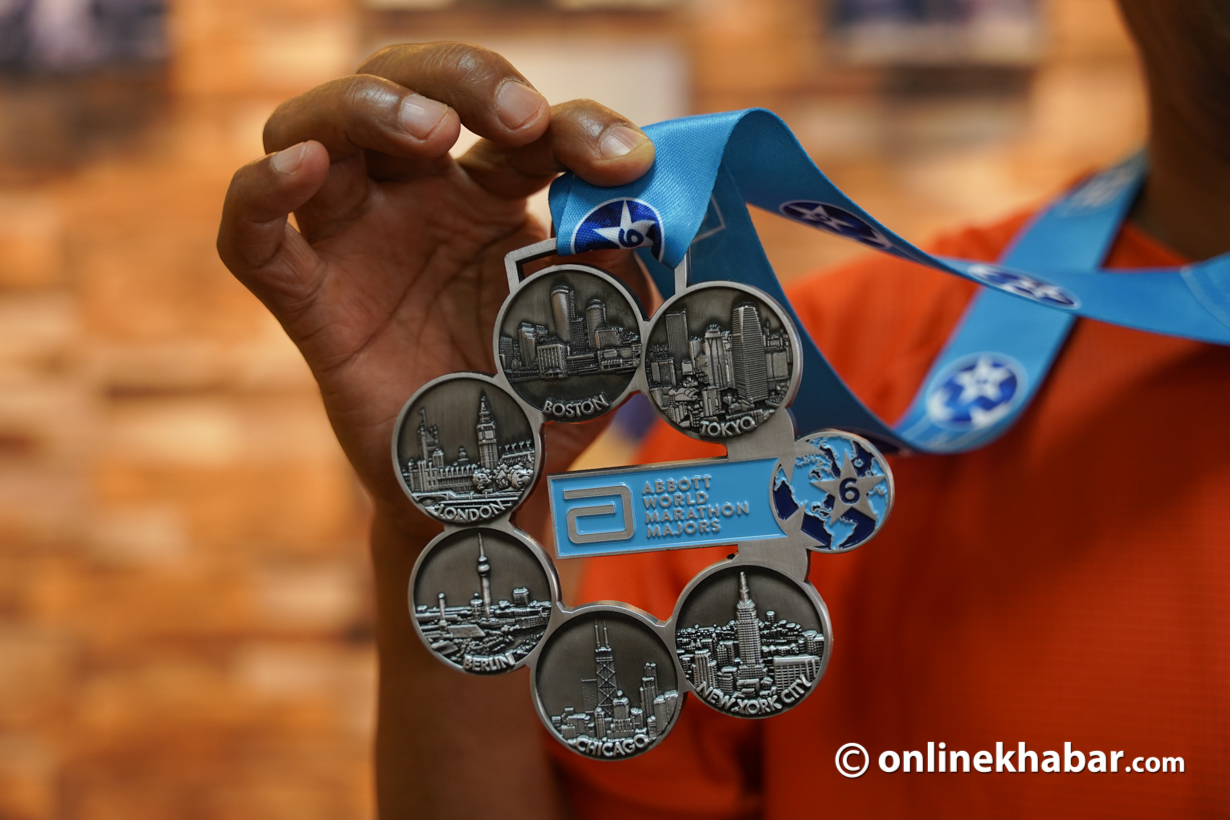 The first came in the form of the Boston Marathon in 2008. Ram Krishna Maharjan was 51 by then, and he knew it was not going to be easy. But he had trained a lot for it. Prior to the marathon, he ran around 140 kilometres every week. This included two days of intense running to develop muscle memory when he ran the marathon.
"The training was important. I still do that today to train for marathons because it prepares me for what is to come."
He finished the marathon in under three hours and started to think about his next challenge, the Tokyo Marathon. He ran it in 2009 and finished in 628th position.
"I started to believe I could do all the major marathons."
In 2011, Ram Krishna Maharjan was back in the US as he ran the New York Marathon. This was of the best runs of his career as he finished the race in 2 hours 51 minutes, finishing in 16th place in his category. He followed that with an even better performance at the Chicago Marathon in 2013 as he finished in 11th position in his category.
"These finishes were a result of my hard work and determination. These two races in the US were very important to me."
Only two races from the Six Star World Marathon Major remained, but he decided to run other races to test himself and in doing so travel the world. He went to Canada and Australia to run marathons there.
"Covid did not help either as most races stopped taking place."
In 2022, Ram Krishna Maharjan went to Germany to run the Berlin Marathon. That was, he says, his hardest run. Prior to leaving for Germany, he had contracted dengue and was sick. But he had planned everything and wanted to run the race desperately.
"Breathing was hard, but I pushed hard to complete it."
Running to inspire
He feels he running these six marathons in the world along with various others is a measure to test himself at the biggest stage. It also gives him a chance to travel the world and meet people from different walks of life.
"If my running will inspire people, I will continue to do this. A lot of people have helped me in my journey by giving me a place in their homes and I will be forever thankful to them."
And Ram Krishna Maharjan has inspired many people. He says he tells people to run for the love of it and not to win medals. He feels currently many people chose not to run marathons in Nepal as they believe a handful of people from the Nepal Army or the Nepal Police will win. But he says that is a wrong mindset.
"When I ran, Baikuntha won almost all races. I never gave up and trained, but he still won. But that did not mean I stopped running. I continued to train and beat him twice. I did not train just to win medals, I trained because I wanted to get better as a runner," he said.
Ram Krishna Maharjan feels it is important to lose as adversities are important to build mental strength, which is as important as physical strength in sports.
But now, he runs just to have fun. As he has achieved his goal of running Major Marathons, he now wants to run marathons on each continent.
"I want to go to South America and Africa. I do not know how I will get there, but hopefully, the universe conspires for me to get there."