It was not long ago that Raju Adhikari spent his days on the streets of Hetaunda, picking up litter, inhaling dendrite and getting into spats. Having fled home at an early age, his life revolved around the streets, which he called his home. He had no idea what he was getting himself into. He did not know how old he was. He had no aim and nothing to look forward to.
Fast forward to now and Adhikari's life has turned the corner. The kid who spent his early childhood doing cheap drugs has become an inspiration to kids like him. Having left that life behind, Adhikari was the captain of Nepal's hockey team that won the Indo-Nepal Championship by beating India 4-3 in the final last year.
The typical street kid
"I have come a long way if you look at it that way," says Adhikari.
But, his journey from a street kid to representing Nepal has not been a straightforward one.
Adhikari took to the streets from an early age. As a child, he saw his father abuse his mother under the influence. Unwilling to see that, he used to spend time on the streets of Hetaunda with kids his age. Soon, his mother left him, his father and his brother and fled. He did not want to live with an abusing father, hence fled and started living on the streets.
"I don't remember much about that time. All I recall is missing my little brother," says Adhikari.
As he did not have a roof over his head, he would often move between cities. Sometimes he would be in Hetaunda while on another day, he could be seen in Chitwan.
He was not alone. He was joined by his gang – fellow street kids his age.
"We would also go to Pokhara and Kathmandu too. We had friends in many places," says Adhikari.
For food, he worked as a labourer. He spent a part of his days picking up sacks and delivering them to a designated place. During the night, he used to go through litter near the riverside to see if he could find anything useful or sellable. Going through the rags, he would often be chuffed when he found clothes.
"If we found metal, bottles and electronic items, we would sell them. If we were lucky, we would find food also," he says.
The money that he got from selling the waste was seldom spent on food. Most of the time, the money was used to buy cigarettes, marijuana and dendrite.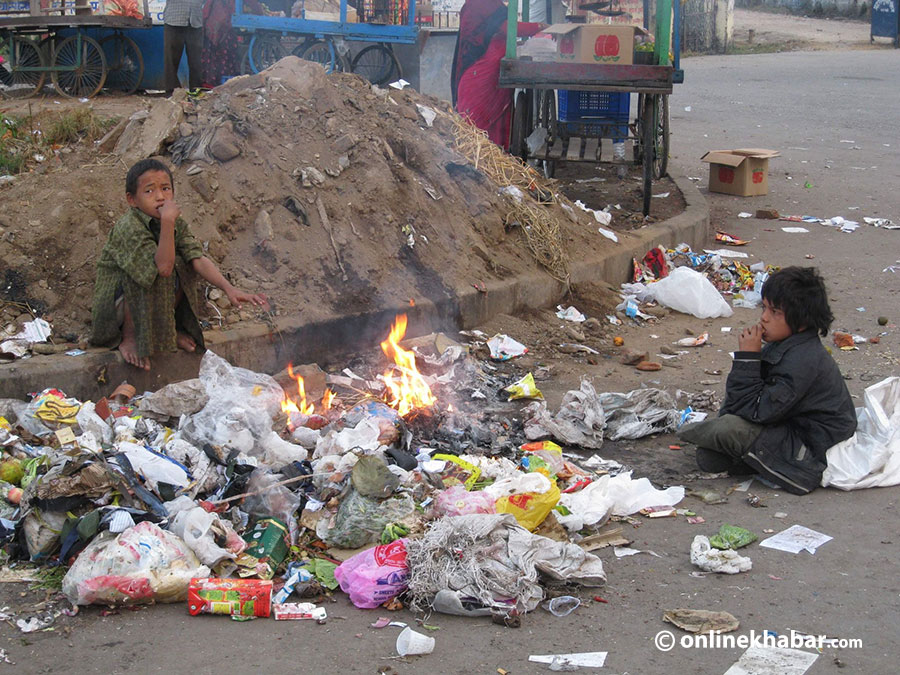 "A bottle of dendrite would last us an entire day," he says. "After consuming that, we wouldn't feel the cold, nor would we be hungry. That and marijuana became a part of our lives."
When he needed to sleep, he would crawl into a sack as if it were a sleeping bag and sleep on the pavement surrounded by fellow kids and street dogs.
He was on the street when he found out that his father had died. But, he was in no hurry to go see him or was he interested to perform the final rites. All he wanted to know was the whereabouts of his brother. Lost in his own world, he soon forgot about it.
In less than four years, Adhikari was a leader of his own gang. That meant he no longer had to carry waste. He had people doing that for him. There were days, he says, he would sit inhaling dendrite all day doing nothing.
"When we didn't have dendrite or the money to buy it, we used to fight with other groups," he says. "If we won, we used to take theirs."
A student changes everything
But, he says life was not easy in the streets. They would often be accused of stealing. Police would arrest them, make them do community service, and then release back on the streets.
"People would treat dogs better than they treated us. They looked at us with disgust," he says. "Some would pelt stones at us while sleeping while some used to splash water."
Soon, his life started to change when he met Arpan Parajuli, who was studying street kids for his dissertation.
"I saw him and his friends licking empty momo plates at a bus stop," says Parajuli.
Watching that hurt Parajuli who then bought them a plate of momo. That made him close to the kids who then started to refer to him as mama (uncle).
He spent a lot of time with the kids. Every day he bought them a plate of momo. He even bought them clothes. Sometimes, he would spend the night with them on the streets.
"They were always inhaling dendrite. Their body had a lot of lice. They were very dirty," says Parajulu.
He wanted to help Adhikari and others. Disregarding his study, he rented a house and took Adhikari and 13 other street kids there.
"They agreed to live there. That is when I decided to form Mamaghar, a non-profit organisation," he says.
When they first heard that they were being given a home, they were shocked. They were sceptical and did not want to go.
"We decided that we go there, eat food, and then go out," says Adhikari, adding they felt very odd to have a roof over their head.
They used to make excuses and leave the house during the day and return in the night. They were still addicted to dendrite and cigarettes. Parajuli had to face a lot of criticism and wrath from society for taking them in. But, he did not lose hope and continuously tried to show them the way.
He enrolled them in a school. But, none of them was interested. Adhikari says the reason he did not want to be in school was that other kids used to make fun of him.
"They used to call us khate (Nepali word for street kids)," he says. "Plus, we weren't used to going to school."
But, slowly Parajuli's effort started to show fruit. Adhikari and the boys gradually stopped inhaling dendrite and started to take life seriously.
Stranger's strange gift
To ensure they were fit both mentally and physically, Parajuli used to make the kids run in the morning. One day, a foreigner saw that and was curious about what they were doing. Wanted to learn more, he approached Parajuli and went to Mamaghar. There, he found out about Parajuli's cause. He had nothing to offer Parajuli but good luck. However, he left his hockey stick and ball for the kids to play with.
"The kids had no idea what hockey was," says Parajuli. "They used to spend their days hitting the ball with the stick."
Watching the kids one day was Hetaunda's hockey coach Manoj Sharma. He was shocked to see the kids playing with such a nice stick and asked them to join him for training.
Adhikari was happy when he was asked to play. He loved sports and loved being a part of the team.
"I wanted to be part of a team since I was a kid. I didn't like to study. I wanted to play. When I got the chance to learn from the coach, I took that opportunity and started training every day," says Adhikari.
The teenager, who felt suffocated in the walls of Mamaghar, found a new escape – hockey. He trained all day with his new friends. He had finally found a purpose in life.
Getting into sports also changed Adhikari and others way of life, says Parajuli. "They became more disciplined."
With hard work, Adhikari started to find success. Soon he found himself playing for Bagmati province's hockey team. He even played a provincial level tournament in Jhapa. Impressing there, he went on to take part in the seventh and eighth national games.
The big win
All that hard work paved his way into the national team, in which he along with his teammates created history little over a year ago.
Nepal were playing India in the final of the Indo-Nepal Championship. The Indians were clear favourites, but Adhikari, who was the captain, did not let that faze him or his teammates.
"They were clearly better than us. Most of them were over 25 and had far more experience than we did," he says. "They were taunting us even before the match began. We knew that this was our biggest challenge yet."
Adhikari's team had beaten two Indian and one Nepali teams to reach the final. Their confidence was at an all time high. But, they also knew the challenge ahead.
Having encouraged his team all night, Adhikari scored the first goal of the match. When he did, the crowd erupted.
"It was like we'd already won," he says.
But, he quickly realised that the game had just begun. India came roaring back in the game with three goals. That did not worry him or his team who came back from two goals down to score three and win the game.
"It is my proudest moment. The photo that's making the rounds on social media is from that day," he says.
With that, he shot to fame. People who called him a khate started to invite him for meals.
"People encourage me now to keep doing what I'm doing. A little bit of hard work can go a long way, can't it," says Adhikari.
He now even thinks about starting a family.
"I'm learning a few things to earn a living. Maybe after I start earning, I will think of a family," he says.
He is learning new things because he knows that hockey will not give him the financial freedom he needs.
He says he has come a long way since his dendrite inhaling days. He often goes to the footpath where he wasted his time to reflect on how far he has come.
"Life is a mysterious journey. Sometimes, all this feels like a dream."