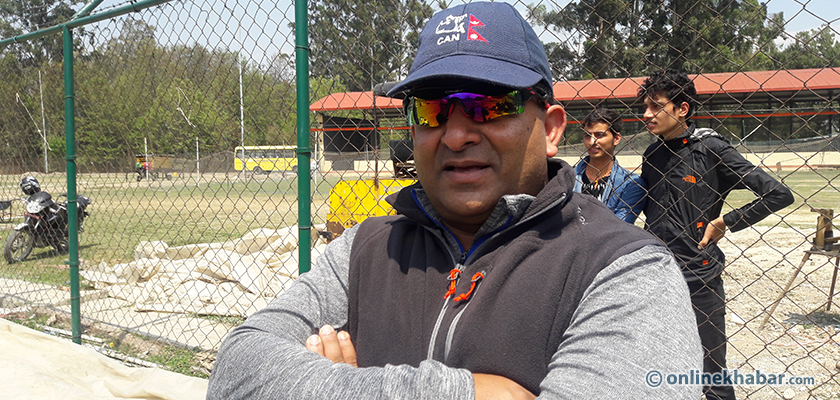 Coach Pubudu Dassanayake has been credited with recent successes of the Nepali cricket team in the international arena. The Sri Lankan-Canadian also led Nepal to their maiden T20 World Cup in 2014. Dassnayke's last assignment as coach was in November 2015 was when Nepal played Papua New Guinea in the ICC World Cricket League Division I. The former Sri Lankan international's contract was not renewed following a dispute in Nepal' cricket association.
He's back in Kathmandu, this time at the request of the cricket world governing body ICC, and he will be the team's consultant coach during the series against Namibia. Onlinekhabar caught up with him to talk to him about his days after the Nepal stint and his assessment of the team's position in the World Cricket League Division I.
How does it feel to be back in Nepal?
It's a good feeling to be back. When I land it Kathmandu, I feel like I am coming home.
So how did this happen? Could you tell us how you were appointed consultant coach for the matches?
After I left last year, I was not in contact with the association here. The ICC contacted me and asked me if I was free to come to Nepal for a short period to help the team during the matches against Namibia. I told them I was free, and I am here.
Did you receive offers from other countries to coach their national side after you returned home?
Yes, I did receive a few offers from other Asian sides. But I told them I was not going out of North America, where I live with my family. I have been saying that if I have to go outside North America, Nepal would be the only place I would come to.
So Nepal is a special country for you?
My heart is here. The players have put in a lot of effort, and I believe that Nepal can become the top associate country. I want to see that happen regardless the level of y association with the team. I am here for a few weeks; I don't know what difference I can make, but only time will tell.
Until a few weeks ago, Nepal's hosting the matches against Namibia was still uncertain. The ICC had hinted that it was thinking of hosting the matches in India. Why do you think the ICC changed its mind?
It's the environment that we have here. Whenever there's a match here more than 20,000 people show up. The ICC sees this as a great marketing opportunity for the game. There are some ICC officials who are coming to Nepal just to watch the game. I think in terms of the support the game gets from the spectators, Nepal is right up there with the test-playing sides.
How is the team's situation in the league so far?
We have just played two rounds. We are not far behind. Everyone knows that if we could play against PNG at home, we could have won both the matches. But unfortunately that could not happen. We were also close to winning a match against Scotland in the first round, if had won it, things would have been different. But past is past.
Will this series be a turning point for Nepal in the league?
We have to win these two games for us to be in a good position. If we win these two matches and pull of a win against Hong Kong, we 'd be in a satisfactory situation.
You said that all the games we've lost so far, the margin of loss has been very small. Why do you think this happened?
Well, I have been saying this for the last two years. When we were in Division III, talent was enough to take us to the top. But just raw talent is not enough when you are playing in Division I or Division II. It boils down the level of pressure players can handle, and the experience they have in playing big matches.
Unfortunately, the national side in Nepal is not getting enough cricket. They haven't played for the last 2-3 months. In international cricket, if someone is out of the game for even a month, it becomes difficult for them to play catch up. Imagine not playing for 2-3 months.
The structures that we need here to make sure that players get enough cricket, can be built easily in a country like Nepal. I came here not because I needed a job, but because I have a soft corner for Nepal. I believe that the team can get a higher ranking in world cricket.
During the last T20 World Cup, your team Nepal was one of the team playing the tournament. Watching the T20 World Cup in India did you miss those days?
Yes I missed those days. I was watching the World Cup at home. I couldn't watch the final because I was travelling. But when I watched the West Indies' player hit sixes, I remembered Sharad's (Veshawkar's) sixes during qualifying.
Your message for the fans?
Please come watch the matches. The players need your support. Regardless of who wins the two matches, continue supporting your team.