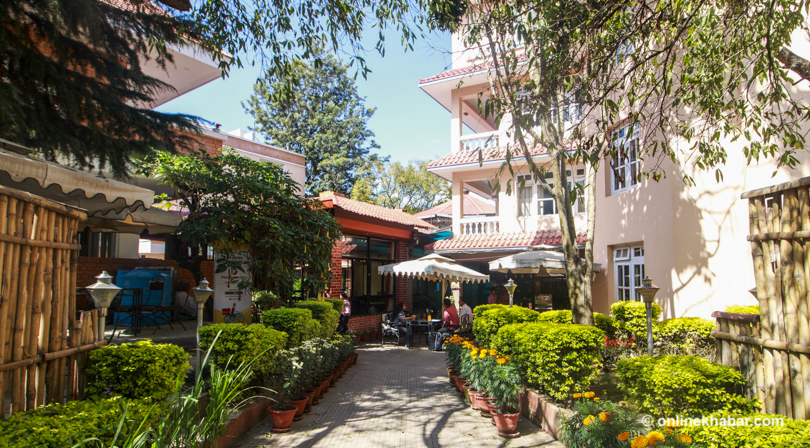 Now that Dashain's over you're probably famished for something healthy after having your fair share of buttery dishes, sweets and greasy meat. Now it's time to look for some healthy alternatives to your appetite. We explore the streets of Patan to find some must-eat dishes that neither has the grease nor the calories. Scouring the small city, we came across three restaurants that specialise in various cuisines.
1.
Som Tam Pak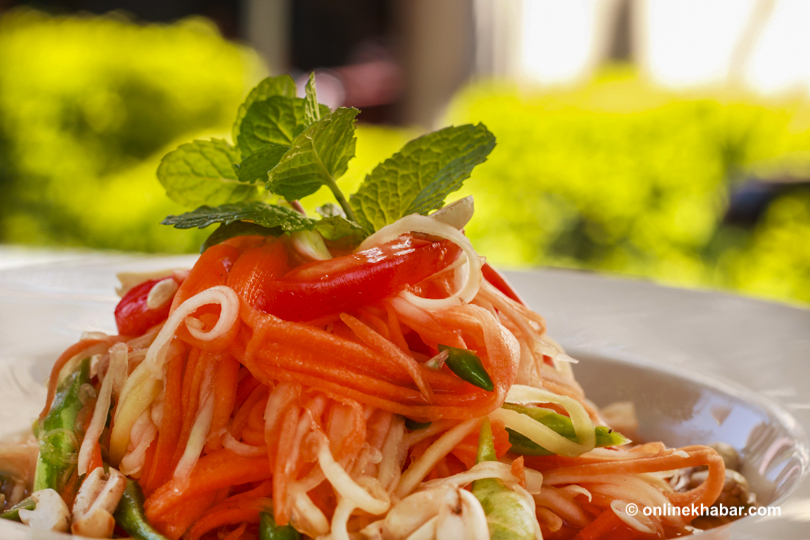 A Thai cuisine fan favourite  Som Tam Pak is a raw papaya salad seasoned with salt, sugar and lime juice–for that blend of sweet, spicy and sour tastes. The popular healthy delicacy uses fresh vegetables like green beans, cherry tomatoes and shredded carrots to give it a crispy, crunchy and chewy texture that hides behind the lovely dressing of the salad. Som Tam Pak is a salad full of fibre and vitamins and is low on calories and the dreaded carbs.
Papayas, the base of this famous Thai dish, are great for your digestive health.  They also contain high amounts of potassium and antioxidants, which help prevent stroke, high blood pressure, anxiety and stress. They also contain papain— an important digestive enzyme which contains plenty of Vitamin A: something that's good for better vision, healthier skin and bone growth. Chilies are also known to be great metabolism boosters and possess anticancer properties.
2.
Phat Thai Kai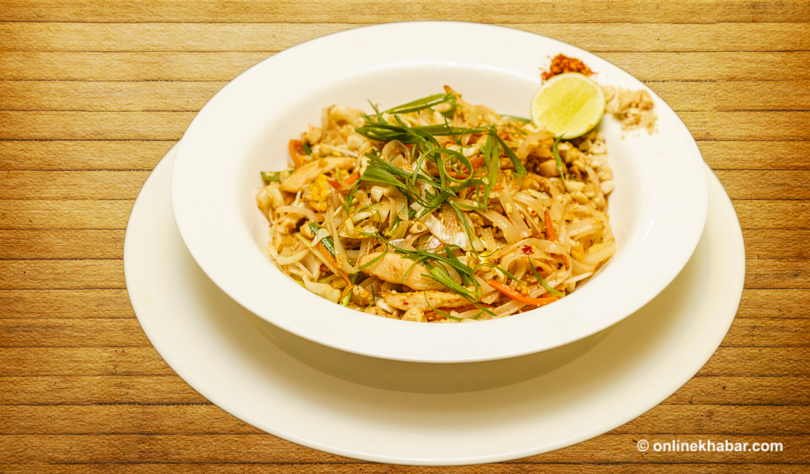 As you scour the menu, your eyes rest on this staple oriental cuisine. "It's the dish that is sure to make you sniff, cry and drool, all at the same time," says Chef Vicks, the executive chef at Manny's when describing Phat Thai Kai or more commonly known as Pad Thai. A delicious stir-fried rice noodle delicacy made from a thin flour paste, the famous Thai entree is light, delicate and full of proteins. Drizzled with a bit of piquant fish sauce, the Phat Thai Kai is the perfect meal high in vitamins and minerals.
The bean sprouts, an essential part of Pad Thai, drastically increases the amount of protein, B vitamins and vitamin C. Eggs and chicken also help keep the light meal high on protein, which your body is almost always in need of to perform ordinary bodily functions like digestion, the creation of enzymes and more. Fish sauce is also a healthier alternative to salt as it contains a lesser amount of sodium.
 Where:
Manny's Eatery & Tapas Bar (Shaligram Hotel)
Jawalakhel, Lalitpur
Opening hours: 8 am to 11 pm
Contact: 01-5536919
 3.
Buckwheat Spinach Pancake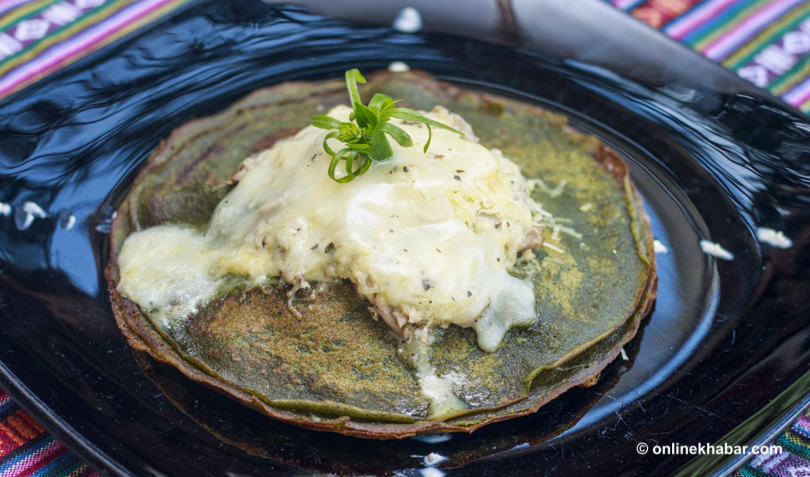 If you are fond of having fluffy pancakes with maple syrup for breakfast then this healthy alternative will certainly not let you down. The spinach (saag) and buckwheat (phapar) pancake is an excellent blend of sweet and salty. Stuffed with honey, flambeed mushroom and zesty mozzarella sauce, the dish is made extra creamy with more mushroom and cheese on top.  It's cheesy, yet earthy taste melting in your mouth will definitely make you want to come back for more.
It may be creamy, but there is definitely no guilt in having this dish. Buckwheat (phapar) is getting popular among the Nepalis as a staple choice of flour instead of the regular refined (maida and aata) due to its many health benefits. Rich in protein and fibre, and completely free of cholesterol and saturated fat, buckwheat immensely helps lose weight. Spinach (saag), another important component of this dish, is a healthy green full of vitamins, antioxidants and minerals, known for increasing your metabolism and improving eyesight.
4.
Timmur Chicken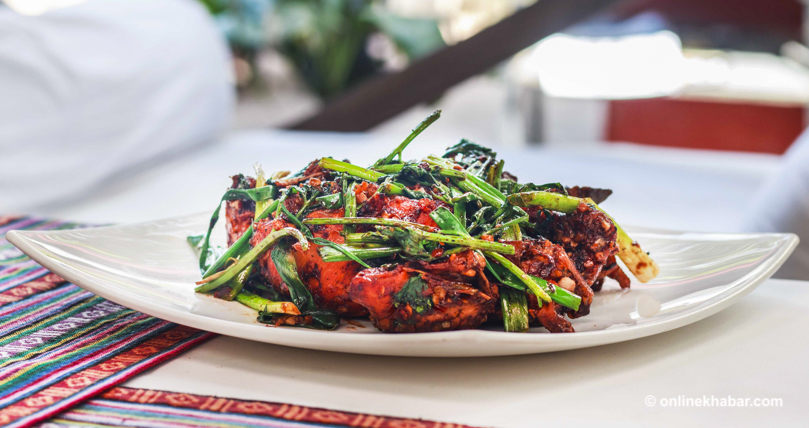 The Timmur Chicken is a roasted chicken delicacy with a variety of savoury sauces, pungent spices and green vegetables like celery and spring onion. Timmur (Sichuan pepper) is said to improve blood circulation and aid your appetite by boosting metabolism.
5.
Sisnu ko Bread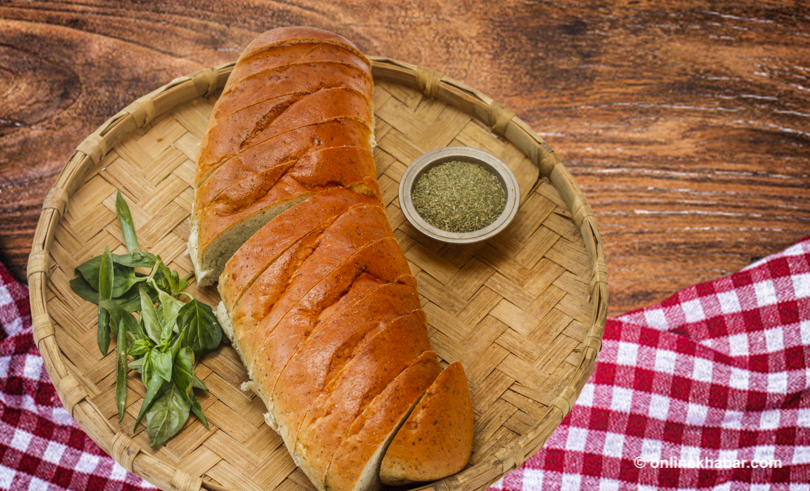 A rare variety of bread in Nepal, the Managing Director of Bu Keba, Rekha Khetan introduces us to the wonders of nettle or sisnu. Its health benefits stretch from stimulating hair growth to lactation to controlling blood sugar levels and preventing diarrhoea. If having it dry does suit your taste buds, then you can ask them to make garlic bread out of it. It's delicious.
Where:
Bu Keba: The Organic Village Cafe
Bakhundole, Lalitpur
Opening hours: 11 am to 10 pm
Contact: 01-5524368
6.
Village Goat Cheese Organic Salad
For those on a strict diet, this organic salad could prove to be your next go-to meal. With a mix of lettuce, goat cheese, walnuts and raisins this classic green appetizer is drizzled with a bit of olive oil. To add a flavoursome twist to it, mixed herbs are laced onto leaves of the salad. Try to have a bit of everything on the plate at once rather than individually picking out your favourite components.
Goat cheese has enough antioxidants to help your body fight those free radicals and also helps you maintain that glowing skin of yours. Walnuts, on the other hand, are good for your heart and are known to have cancer-fighting properties. The green veggies are no less—  they contain insoluble fibres, which keeps your digestive tract healthy.
7.
Steamed Fish with Lemon Butter Sauce
 This particular dish comprises steamed basa fish, accompanied by a paste of English mustard and jalapeno puree. On the sides, you'll also find some scrumptious baby potatoes and some boiled seasonal vegetables.
Potatoes, because of its low cholesterol levels, are known to be beneficial to your heart and basa fish contains sufficient amounts of Omega-3 fatty acids that help to reduce your risk of heart disease and stroke.
Where:
Utopia Restaurant
Ekantakuna, Lalitpur
Opening hours: 9 am to 10 pm
Contact: 01-5000584
---
Published on October 11th, Wednesday, 2017 12:46 PM
---
Download Onlinekhabar App. Android click here & IOS click here . Keep in touch with us on Facebook, Twitter & YouTube.