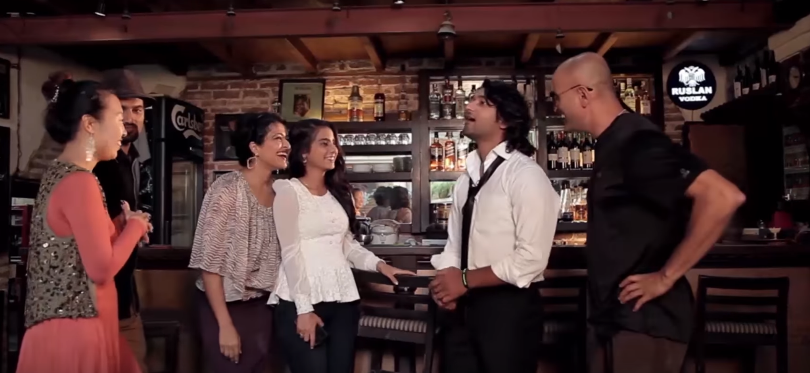 Musumusu Tv
Nepal's first web series P.S. Zindagi has found a home on YouTube, away from the commercial trappings of traditional broadcast media. By doing so, the series has bypassed the deterring limitations of network television.
But it also comes with its own set of expectations.
The liberalisation of publishing, after all, brings with it myriad possibilities. But whether the series, which is in its first season, fully explores these possibilities or not may be secondary now. After all, the act of experiencing a first is in itself poignant, especially for those creating the experience.
Such is the beauty of living in a fledgling country like Nepal. There are still plenty of firsts to be explored. The first web series of Nepal, about a diverse group of friends living in post-quake Kathmandu, comes from a definite love for the medium. It is tame but entertaining and has all the elements for it to be a popular culture mainstay even though the genre of sitcom, which it has itself assigned to, may not entirely cover its scope.
Maybe it is the dimly-lit quarters of its characters with its naked brick walls or the suicidal Krishna (Raj Kumar Pudasaini) looking for every opportunity to end his life, there is an undertone of brood throughout the series which has a strong and definite presence, especially in the first few episodes.
This, mixed with the typical sitcom scenario of an oddball group of people coming in together, initially made for an baffling but, nonetheless, engaging viewing experience.
The (dark) humour of the first few episodes gives way to a more tame drama towards the end. Over the course of seven episodes, the series' tone shifts from situational humour to mawkish drama which then comes back to embrace the brood again, although this tonal shift may be characteristic of the format the series has adapted to.
The episodic nature of the series, with its need of a fresh storyline for each new episode, makes it important for these newly-established characters to diversify their situations. To combine a new storyline while also establishing character arc is a major exercise in writing and the series executes it messily. This can be seen in the forced expositional dialogues in the first few episodes.
This had me wishing (although it is not the series' job to fulfill my expectation) that the major two characters of the series, Kokab (Sujata Koirala) and June (Kavita Srinivasan) shared a repartee like that between the mother-daughter duo of Gilmore Girls. Aren't their lives uncannily similar?
The comedic timing of the characters has definitely improved as the series has progressed and there are lesser awkward silences and nervous presence in ensemble scenes. The second season, which should definitely exist in lieu of the catchphrase comedies rampant in Nepali media, will hopefully humanise the characters more, explore the medium further and finally decide on the tone of the series.
***
You may also like
Nepali tv is dead. But it still may not be totally out
Think 'roast' won't come to Nepal? It's here already, thanks to you know who