Fourteen years ago, Pawisara Rajali, now in her thirties, joined a dhaka factory in Palpa.
She had little knowledge about dhaka, a traditional Nepali weave, let alone the know-how of running electric looms.
"I was looking for a job, and I was told that even if I did not have any knowledge, they would teach me the trade," she recounts.
After several years of working at the factory, Pawisara became somewhat of an expert in dhaka. She even took a course on Purweli dhaka, a hand loom variant, offered by the Department of Small and Cottage Industries, Palpa.
Her love for weaving and clothes grew every day.
***
During those initial years, Pawisara earned just enough to get by. "It was not much," she recounts.
She remembers those years fondly as it was at the factory that she met her future husband. After years of working at the factory, the Rajali couple decided that it was now time for them to try their hand at business and open their own enterprise.
"We decided that instead of working for someone else, maybe it was time that we became employers ourselves by utilising our skills. This way we could not only earn more but also provide employment opportunity to others too," she explains.
Read also: 'Uneducated' Nepali woman entrepreneur whose earning doubled every year!
The Rajali couple managed to buy a plot of land in Palpa with their earnings from the factory. They registered their company "Sangharsha Dhaka Udhyog", perhaps a symbol of the struggles the couple had to go through. In order to start their business they took a loan of Rs. 300,000. With that they were able to purchase three-four Jacquard machines.
The company, however, didn't start production until three years ago.
"We had this constant fear," Pawisara says. "We would talk to each other if we could even manage to buy the machines, and even if we could, if anyone would come work for us, or whether we could find a market for our production."
The initial phase of their business was challenging since the couple had to get the machines from India. The next was finding workers.
"Some of the women in our community wanted to come work for us. However, they didn't have the skills or knowledge. We had to teach them from scratch," says Pawisara.
The Rajali couple then took turn operating and managing the business. If one worked on the machines, the other would look after the threads or maintain and fix the machines and train the workers.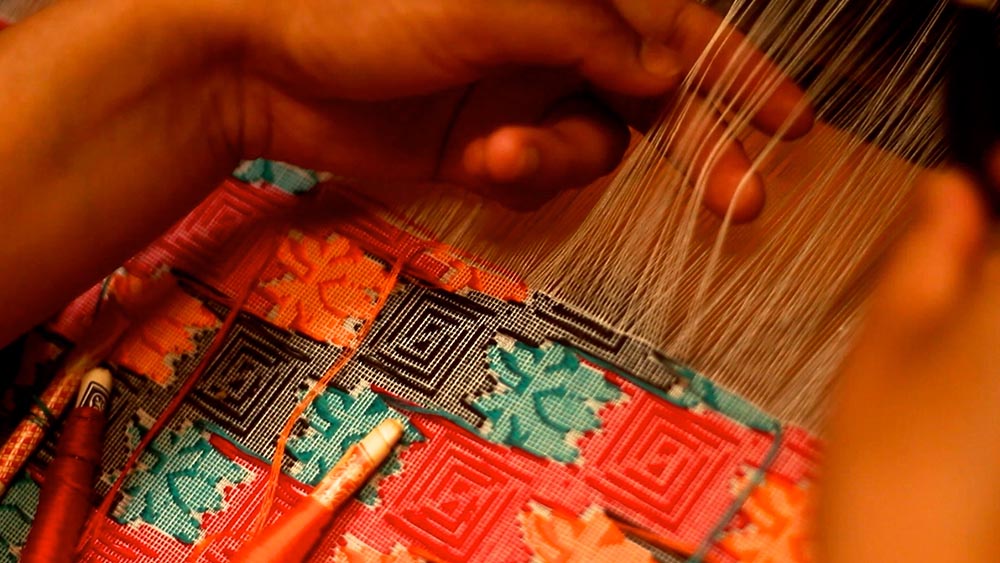 Finding a market for their cloth was the next challenge. "Even if the quality of our cloth was good, the buyers would keep bargaining with us, trying to give us a lower sum than what our clothes were worth," she says.
The couple then decided not to produce the more expensive hand loom variant. Even though its quality was significantly higher when compared to the machine-produced variant, its sales were limited by the price-sensitive market of Palpa. Creating the land loom variant was a lengthy process too and not many workers seemed keen to work on hand looms, opting for jacquard looms instead.
Read also: Meet the man who started multi-million rupee cardamom revolution in Ramechhap village
Eventually, as more and more customers started to identify the quality of the fabric and started trusting their products, the Rajali couple finally found their market.
***
Pawisara now earns Rs. 70,000 to 80,000 per month. Her dhaka enterprise sells fabric which costs Rs. 250 to 350 per meter. In the coming days, Pawisara wants to increase the number of Jacquard looms at her factory to seven. She also has plans of opening her own showroom which, due to lack of investment, is still a distant dream.
Since the Rajalis  don't own a vehicle, delivering the final products to the nearest Tansen bazaar is done on foot with a doko. For someone not used to uphill roads like the ones in Palpa, a 15 minutes walk for a local might be translated to a strenuous hour.
But Pawisara begs to differ.
"The bazaar is only 15-20 minutes away," she says, self-effacingly. "I have been working from a young age. I'm used to it."
The author is associated with Daayitwa.