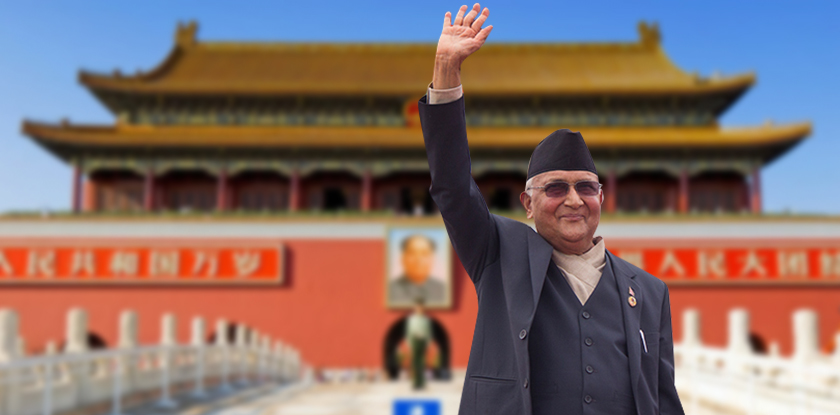 From the outside, it appears China is more serious about our development than our government and political parties
China wants political stability in Nepal. What do we want?
Playing China and India against each other will not benefit us
Our neighbours want to make huge investment in Nepal. We are seeking assistance for construction of schools
We should let India and China build fast-track roads in the south and the north, respectively. That way, we will have a north-south fast-track. We can draw immense benefits from this corridor, for both the neighbours would want to engage in bilateral trade through the shortest route
Our mind is India-locked. Look beyond the Himalayas, there are supply lines there too. Our economy will get a huge boost if the train that has come to Tibet comes to Nepal too
---
Kathmandu, March 17
There's a sense of overwhelming optimism surrounding Prime Minister KP Sharma Oli's visit to China, the world's second largest economy, a belief that his visit will be fruitful.
For the PM, visits to India and India are different matters altogether.  His India visit was a must to improve relations with India in a context when the two countries seemed to be drifting apart. As PM Oli's India visit was focused more on political issues than on economic agendas, Nepal could not put economic agendas on the table at that time.
We need to observe the PM's China visit in a different way. The visit should focus on expanding political as well as economic ties with the northern neighbour.
The Indian economy relies heavily on foreign investment, whereas the situation is just the opposite in China. Flush with cash, the Chinese government and the private sector are exploring the possibility of investing their capital in different countries. Currently, China has 30 per cent of its total investment in Africa. Our northern neighbour is also increasing investment in countries like Myanmar, Bangladesh and Sri Lanka, whereas its investment in Nepal is almost negligible.
But Nepal has a huge potential for investment. For attracting Chinese investment, the (Nepal) government should take the lead. Before the Prime Minister's China visit, there's a need to discuss ways to bring in Chinese investment.
Most of the big companies in China are government-owned. The Chinese government itself strives to invest abroad. A number of projects are under construction in Nepal with assistance or concessional loan from Chinese government. In this context, Nepal and Chinese governments should hold direct talks and Prime Minister should appeal for Chinese investment.
Lack of preps
First of all, we should be clear on projects in which we want Chinese investment. After identifying such projects, Nepal can appeal for Chinese investment. But we have not been able to identify projects, we are visiting China just to ask for assistance. This is not the way to win Chinese confidence. China is trying to invest in Nepal and we should offer it a package consisting of projects where we want their investment and facilities that we will provide them.
China is ready to invest in Nepal. China can make a huge investment in Nepal if we can create a conducive environment for the same.
Currently, Nepal is reeling under a deepening energy crisis. So, we need investment in hydropower projects. We should encourage Chinese investors, including the government, to invest in mega projects like Budhi Gandaki. But we have not been able to focus attention on the matter. We can reap maximum benefits by attracting investment in mega projects.
In the past, China channeled its investment in Africa. If we can create a conducive environment, China may make huge investment in Nepal. For this, the government's role is crucial.
At times, I feel Nepal's leaders have failed to understand China and India. Relations between the two countries have improved significantly. In the past, the two countries were far apart because politics used to drive them. These days, their political ties are on the mend because they are coming closer economically. But we are taking India and China as each other's enemies. We will not achieve anything by playing one neighbour against the other. On the contrary, we should try to reap benefits from both.
We are busy talking about fast-track road projects these days. Let's allow India to construct such roads in the south and China to build the arteries in the north. This way, we will have north-south fast-tracks ready. And they will become Nepal's economic corridor. If there's a border shutdown, this corridor can be our lifeline.
These days, China-India annual trade is worth $200 billion. If the north-south fast-track materialises, bilateral trade will happen via Nepal because Nepal offers the shortest route linking China and India. Nepal can benefit immensely from bilateral trade. We have not thought about this. Thanks to a narrow mindset, we have not been able to reap benefits from the two economic giants.
As Nepal is poorer compared to India and China, both the countries want to invest big in Nepal. But we are seeking assistance for the construction of schools!
We should not forget that instability in Nepal affects both our neighbours as well.
Nepal is losing Chinese confidence because we failed to protect projects built with Chinese assistance. There may arise a situation in which China will stop trusting Nepal.
China plans to bring train to Nepal, but we have not taken any initiative towards the same. From the outside, China seems more worried than the Nepal government and political parties when it comes to our development.
China wants stability in Nepal. But what do we want?
It won't be wrong to call our country India-locked. Our mind is India-locked. Look beyond the Himalayas, there are supply lines there too. Our economy will get a huge boost if the train that has come to Tibet comes to Nepal too. Nepal has road connectivity with West Bengal and UP. If we can construct rail tracks and fast-tracks, India-China trade will happen via Nepali territories.
Currently, we have to bring in goods from Shanghai via Malaysia, Singapore, Sri Lanka and Kolkata. This takes at least 30 days.  Through these tracks, we can bring in goods within 15 days.
(As told to Nabin Aryal)