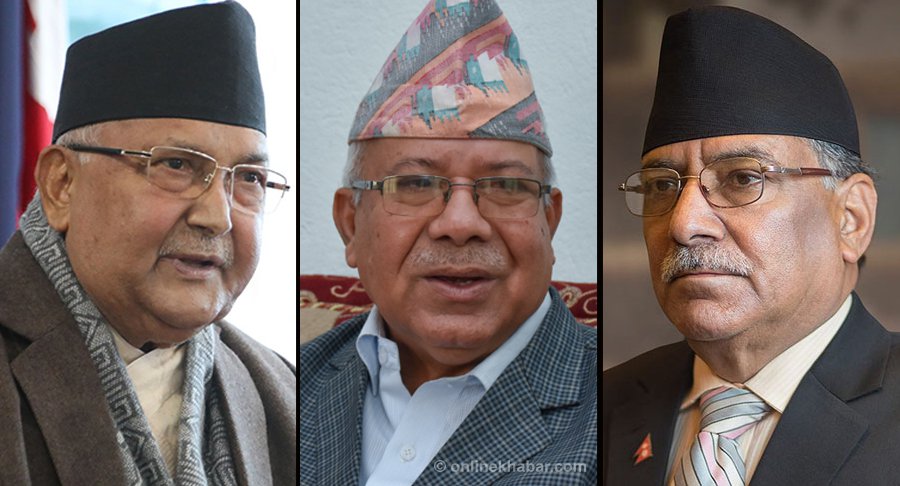 Kathmandu, July 16
Rival factions in the ruling Nepal Communist Party have not made any headway in resolving the dispute about the leadership in the party and the government on Thursday also.
Three key leaders of the party–KP Sharma Oli, Pushpa Kamal Dahal, and Madhav Kumar Nepal–held a meeting this afternoon to discuss the dispute, but to no avail. During the meeting, Dahal and Nepal urged Oli to resign from the prime minister's position, which Oli expectedly denied, sources close to the meeting say.
Before the meeting, Dahal and Nepal had met four other secretariat members close to them–Jhala Nath Khanal, Bamdev Gautam, Narayan Kaji Shrestha, and Ram Bahadur Thapa. The meeting of the six had decided to put further pressure on Oli to resign.
The failure to forge any consensus has made the standing committee meeting scheduled for Friday uncertain. Owing to a dispute between the two leaders, the party's ongoing standing committee meeting has been postponed till Friday.
When the meeting began last month, Dahal and a majority of the standing committee had demanded that Oli resign both as the prime minister and the party chair. Oli, however, has been refusing to budge, pushing the party into a standstill.
Since then, Oli and Dahal have met several times, mostly one-on-one, but to no avail.