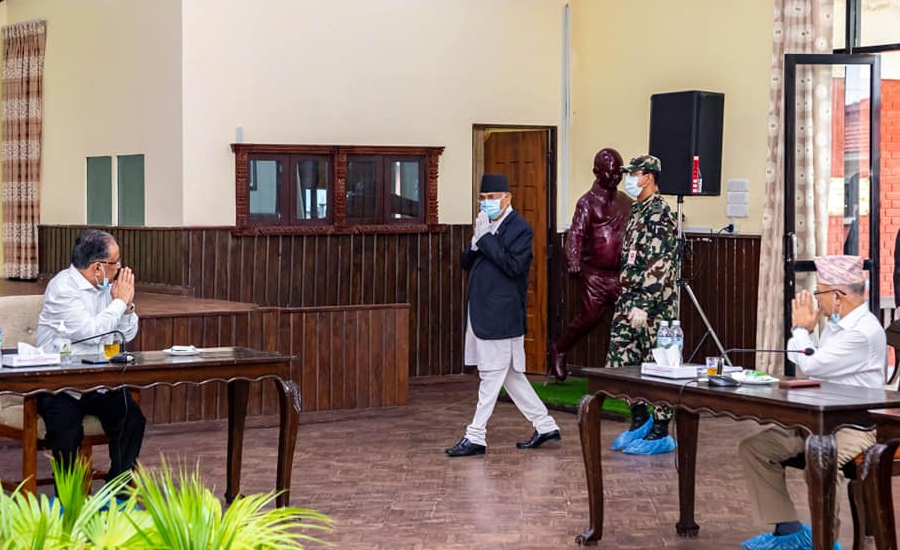 Kathmandu, July 29
The internal dispute in the ruling Nepal Community Party has deepened as a majority of the standing committee members in the party have formally disapproved Prime Minister KP Sharma Oli's singlehandedness.
Oli had postponed the scheduled standing committee meeting on Tuesday morning, by when some leaders had already reached the meeting venue, his residence in Baluwatar. Hence, the leaders held the meeting without Oli and concluded that Oli's decision to postpone the meeting was against the party statute. The meeting also assigned another chairman Pushpa Kamal Dahal, who chaired the meeting, to hold talks to Oli and resume the standing committee meeting as soon as possible.
The decision has put Oli in a moral crisis, apparently, as the majority of his party leaders have endorsed a proposal against his way of leadership at his own residence in Baluwatar.
Meanwhile, Dahal has commented that Oli has violated the consensus that the two chairpersons jointly lead the party. "This would not help us save the party unity," Dahal said, maintaining, he, however, would make efforts till the last minute to save the party.
Following Tuesday's activities, many have feared that the crisis deepened in the party. Yogesh Bhattarai, hence, tweeted, "An accident seems close to us. Let's stop and continue discussions."