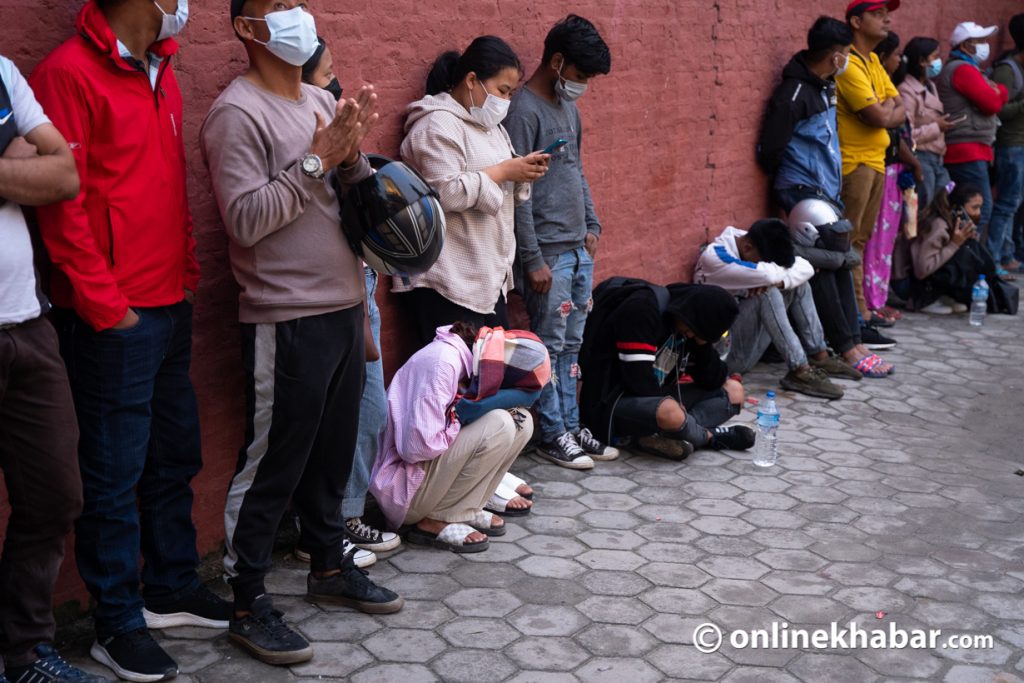 Youngsters near the west gate of Narayanhiti palace were standing and talking to each other at 8 n the evening last week. It was dark as there was not any electricity.
These youngsters were going to spend their night in a queue for the national ID card.
As the night was getting darker, the number of people increased. At around 4 in the morning, more than 200 people were standing in the same queue. Meanwhile, Bhakta Bahadur Lawangi Magar, who is from Gorkha, was writing down the names of the people in the queue using light from his cell phone.
Those whose names were registered were in alert mode and were carefully standing in the queue so that nobody would cross them.
This was Magar's third time here who was busy listing the name since the evening. "My wife is from Chitwan and I am from Gorkha. As it became uncertain for us to get our turn from both places, we came to Kathmandu for the national ID cards," he said.
"Yesterday and the day before yesterday, the quota was already filled by 6 and 4 in the morning respectively, and I could not get the turn. So I stood in the line since 8 pm."
Hundreds of people are forced to bear this trouble every day since the government has made it mandatory to have a national ID card for obtaining passports.
Service seekers' woes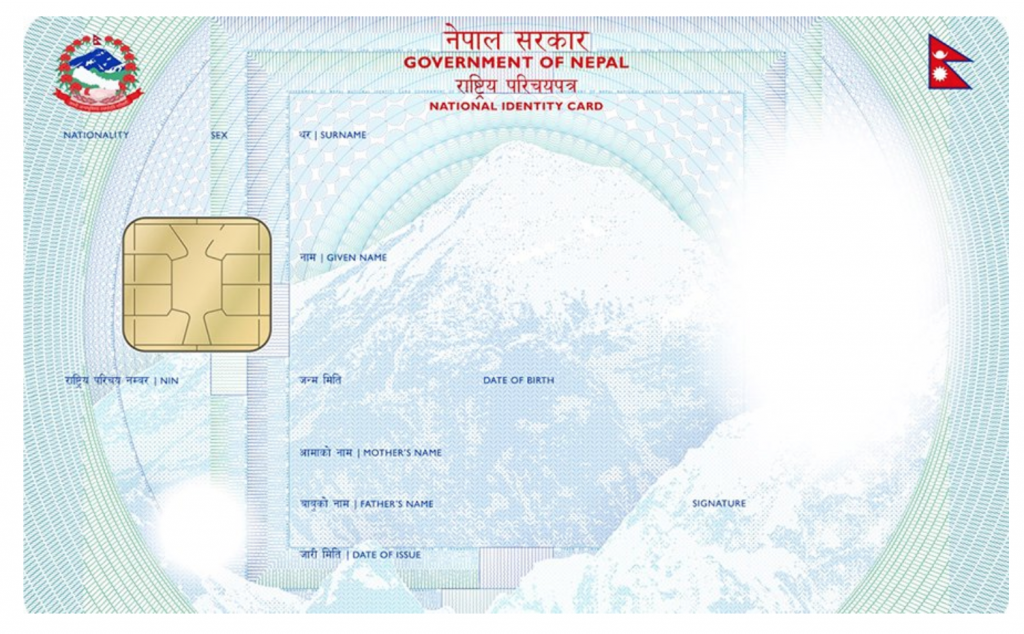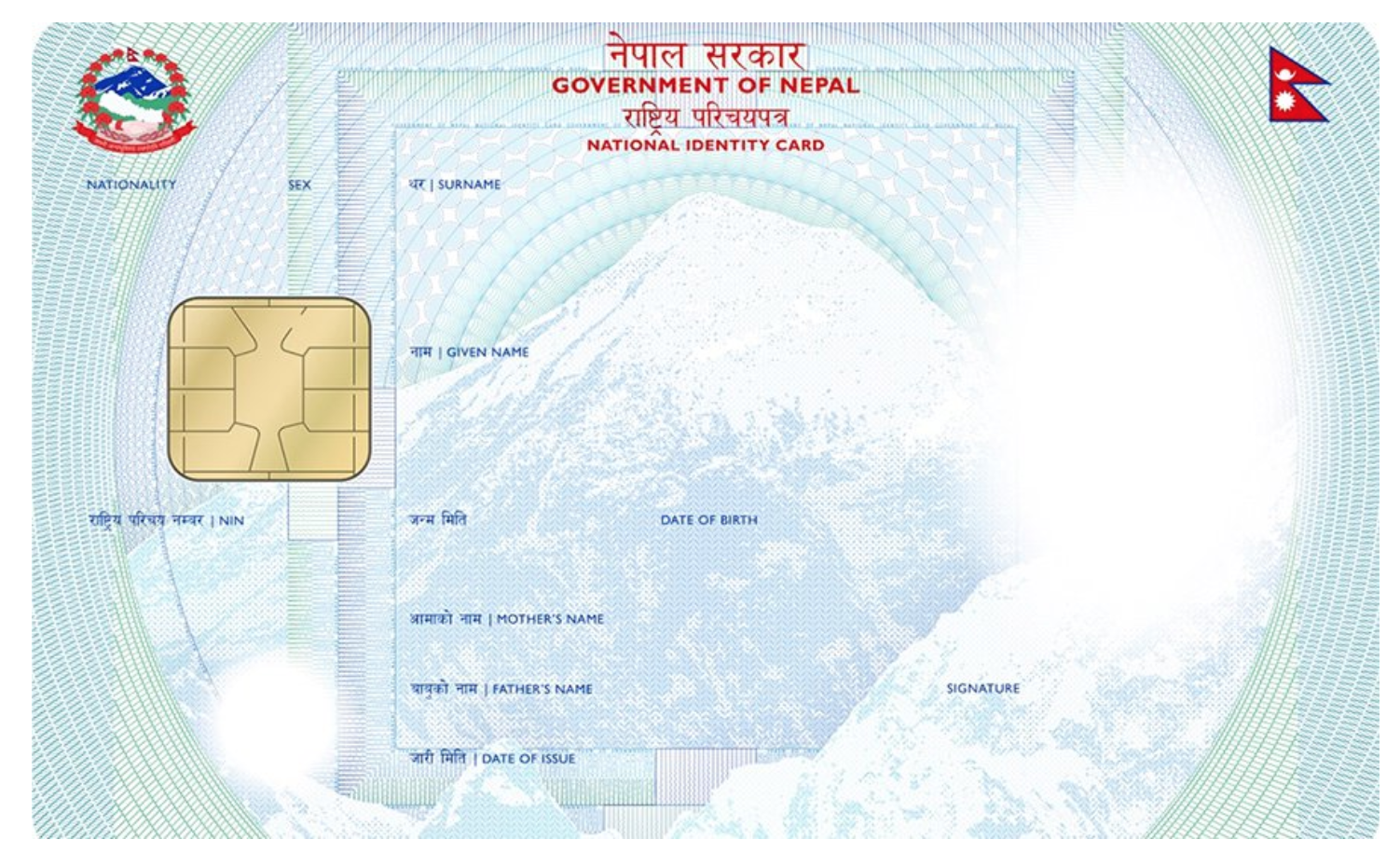 Puja Khatri of Nepalgunj was also standing in the line after registering her name in Magar's notebook. Khatri was with her sister and standing in the line from 10 pm. She was tired and hence sat down on the road. Radhika Dulal of Mahottari was also sitting next to them.
Amrit Khadka and his wife from Samakhusi of Kathmandu were carrying three vacuum flasks and noodles, biscuits, tobacco, and a box of water in a dalo (traditional bamboo basket) to sell them. They were informing the service seekers about the time that takes inside the office for obtaining a national ID card and handling their business simultaneously.
"Stand in the queue calmly; the door will open only at 6. The office to issue passports will start from 10 am" said Khadka. "It will take an entire day to complete work."
Those who were in line from the last day without sleeping became sad after listening to Khadka.
Khadka brought some cardboard pieces and mattresses after people began to fall down at the roadside.
He distributed them to 10 women and asked them to sit properly and return them after entering the office. "They can be useful for others on the next day."
But, the comfort provided by Khadka did not last for long as it started raining. The ones who were standing started running here and there and were hiding under umbrellas. Those who did not have umbrellas ran to the shed located nearby. But, the police personnel over there did not allow them to stand there.
After 2 am the line of national ID card applicants started getting longer. Some people came to substitute for their family members who were standing in line.
Lucky vs unlucky citizens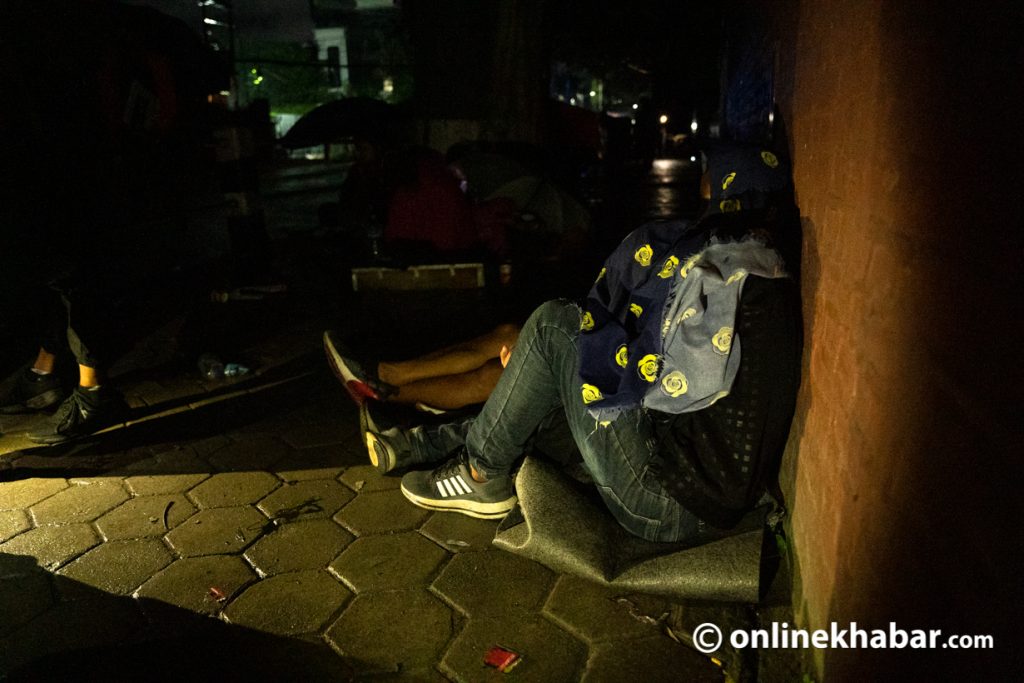 As the area around Kaiser Mahal started getting busy, Bhakta Bahadur Magar who had noted everyone's names called all of them to verify their name.
He called the names from 1 to 150.  Around 100 people who reached the department at 4 am could not obtain national ID cards and passports because the available quota was over for that day.
Khadka said that the "lucky ones" had been standing since 8 pm last day, hence there was no point that people coming at 4 am should get a chance.
There is one toilet inside that shed. It stinks so bad that no one can go near it. But, around 150 service seekers stood there for around half an hour.
One by one, everyone entered the office to get their national ID cards. Those people who stood in the queue for 10 hours at the roadside bearing the rain became happy after their work was done but many were sad as the police closed the entrance.
The office issues around 300 national ID cards, applied online and offline, every day. One who has filled out an online form can enter the office at 10 am. But, the offline form fillers suffer in hours-long queues for the whole night.
Reasons behind the pain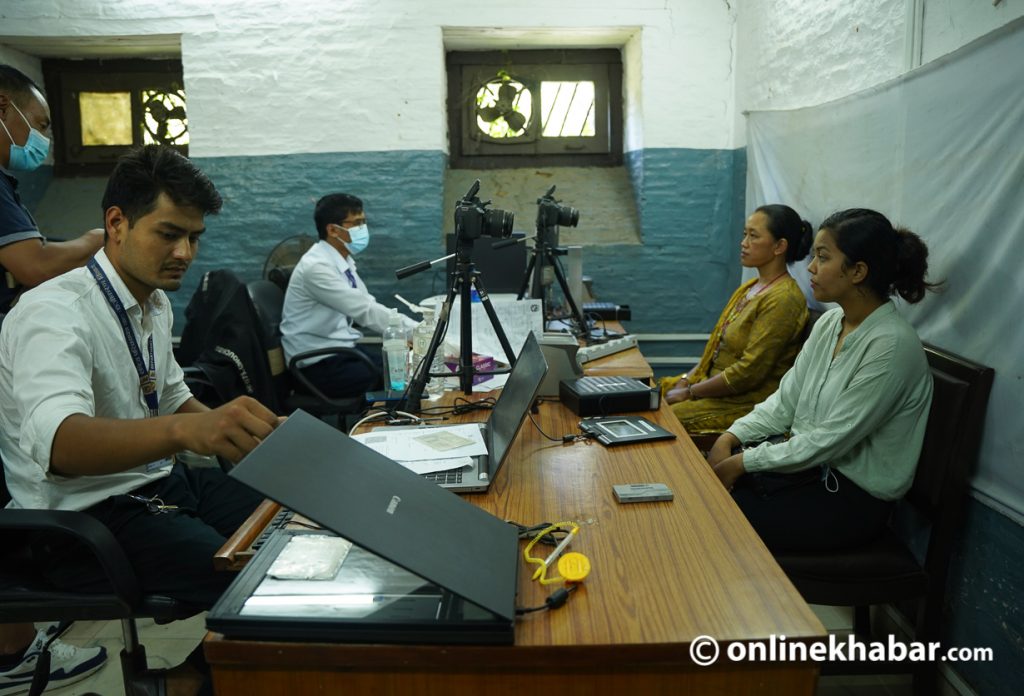 Someone who needs an urgent passport has to wait for a long time to get a national ID card even if the form is submitted online. This compels the service seekers to go to the roadside of Narayanhiti palace. The Department of National ID and Civil Registration has asked the general public of Province 1, four districts of Madhesh (Bara, Rautahat, Siraha and Mahottari), and all districts of Gandaki and Lumbini to take the service from Narayanhiti. The department has installed five booths each for online and offline service seekers.
"It takes time to enter the data from handwritten forms into the online system, print and verify them, get authorised signatures, take photos and biometric details," says Chattra Mani Subba, a government officer at the national ID card unit at Narayanhiti.
According to him, there are a lot of people in need of an urgent passport, and it is creating a great problem at his office. As people do not know how to apply for the national ID card online, people stand in line at the night, he says.   
He adds, "The number of staff here has been increased to provide quick service. After all, no one is happy for being unable to give timely service."
The Ministry of Home Affairs should have thought about service seekers who stood in the line for an entire night, he adds.
Police refused to comment on not allowing the service seekers to stand inside a shed while it was raining. But, one junior officer informally informs that it was due to the security concerns at Narayanhiti, the former palace of the kings.
Tirtha Raj Bhattarai, the director general of National ID and Civil Registration says he is not aware of people standing in the queue overnight.
"Only in a condition of emergency, one should go there. If people really stand there for the whole night, their name should be noted a day before and we should dispatch police to send them back."
---
This story was translated from the original Nepali version and edited for clarity and length.