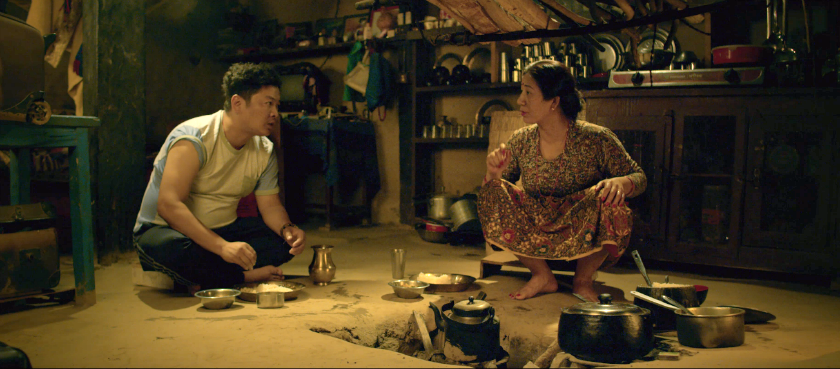 Many Nepali directors and actors, these days, have been working hard to make movies that not only entertain but also educate the audience. After Dipendra Khanal's Jholay, which depicted the reality of the lower-middle class, received a warm response from the audience, Ram Babu Gurung has come up with an equally entertaining Mister Jholay starting Dayahang Rai, Barsa Raut, Buddhi Tamang and Diya Pun.
The story revolves around three middle-aged childhood friends Purne (Dayahang Rai), Karne (Prabin Khatiwada) and Guna Prasad (Buddhi Tamang) all of whom are still bachelors and want to settle down. Purne's mother wants him to get hitched him with Sanu Maya (Diya Pun), the daughter of a landlord and an ex laure.
Sanu Maya's dad has announced 1.5 million rupees as 'cash prize' for her groom as no one dares marry his daughter because she was born on a no moon day (aunsi). Karne, who is from an untouchable caste is in love with Sanu Maya. But she doesn't have the same feeling towards him.
Guna Prasad, a public school teacher is unable to express his love to Karne's sister (Barsa Raut). The dreams and desires of each friend bring conflict between them and the drama reaches its climax when a 'hunter tourist' makes an entry in the village.

The movie shows how the caste system in the villages is used to discriminate the lower caste, in a subtle and satirical way. The actors in the movie have done the story justice as I couldn't point out a single bad moment. Dayahang Rai is at his usual best as he plays his character immaculately. Prabin Khatiwada plays the character of an 'untouchable' very well and will make you laugh throughout the movie, especially the way he giggles.
After a below-par performance in Taandro, Buddhi Tamang seemed to have found in his zone and has given an outstanding performance. After having a stellar year in 2017, Barsa Raut keeps on impressing with her acting.
Watching Diya Pun for the first time I was quite impressed how well she played her character.
The movie was written and directed by Ram Babu Gurung who has delivered hits like Kabaddi and Purano Dunga and like his previous movies, this one will not disappoint those who'll go watch this film. The film is witty and the funny one-liners that come throughout the movie will make it worth your while. The location to shoot the movie has been well planned as it has a feel of a traditional Gurung village around the Annapurna region with Machapuchhre in the background.
The background score of the movie has been prepared by Rohit Shakya and he's done a really good job with it. While some songs were out of place and if you are to disregard that and Rai's dancing, I think this movie will certainly do good at the box office.
Overall this movie is entertaining and worth a watch. I've watched a lot of Nepali movies which have been a waste of time but this one is worth all your time. Nepali movie industry is getting better year by year and with actors like Dayahang Rai, Barsa Raut, and Buddhi Tamang, the industry can only move forward.
Genre: Drama/Comedy
Director: Ram Babu Gurung
Cast: Dayahang Rai, Barsa Raut, Buddhi Tamang, Diya Pun, Prabin Khatiwada
Screening in cinemas near you