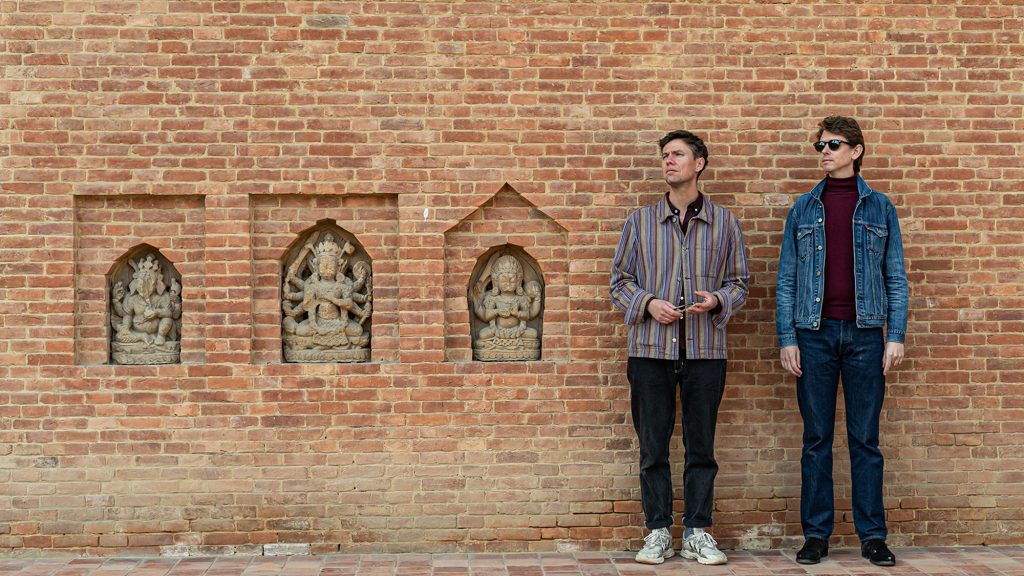 Amidst the chaos of Mangal Bazar in Patan on December 11, the stage was set in the courtyard of Nhyakan Bahi for a musical night like no other. On stage were two musicians from Switzerland — Michael Fehr and Rico Baumann. The stage had two sets of drums, one for each to play and a keyboard.
The crowd did not know what to expect from them. However, for the next hour, the two took the music enthusiasts on a surreal musical journey through their performance — Fehr through his unique storytelling and Baumann through his drums. Their performance compelled the audience to give the duo an encore.
The duo and their Super Light
The act, titled Super Light, was one of a kind. It was raw, fresh and borderline absurd as Michael Fehr sang about things ranging from dealing with illusion to frying cats on a frying pan to looting a grocery store.
"What I do is show people what can happen through imagination and take them on the journey. I understand things can go wrong when imagining things, but I feel there is some beauty in it," Fehr had told me at a rooftop in Patan a few days before his show.
But, maybe it is the absurdity that makes everything natural because he hints in his songs that the world is weird, and those in the audience may too feel the same.
Intrigued by the conversation, I had to see for myself if what he was saying was true. And for an hour, I was completely in awe of the duo and their music.
Michael Fehr has been doing this for a decade now. Born in Bern, and visually impaired from birth, it took a lot for him to get on stage. Feeling like an outcast as he was differently abled, he had a bottle of bourbon to thank for giving him the confidence to get on stage.
"I wanted to test my scream and thanks to the whiskey I was able to do it," says Fehr.
Michael Fehr played with Rico Baumann during their teenage years when they were percussionists in a feminist band, but as years went by, the two drifted apart only to start playing again just before the pandemic.
"I was doing music all over Europe and the US while he was doing his thing. We did play sporadically time and again, but it wasn't until 2019 that we started to play together," says Rico Baumann.
By this time, Michael Fehr had developed an act called Super Light during the lockdown. The act had songs that were different in nature. And, as the two wanted to do something original, they started practising it in their home in Switzerland.
The urge for music
Michael Fehr, for most of his life, had performed as a speaker, narrator and writer. He would go on tours and just speak to the audience about the absurdities of life through his writing. But, deep down, he wanted to sing.
"What I wanted to was to be a singer of tales, like the ones in the past when they sang to an audience with minimal instruments," he says.
And, their performance is exactly that, which feels ancient while experiencing them live. Vocals and drums only seem odd at first, but as you listen to them, the duos and their surreal songs grow on you.
The two complement each other too. Their raw style and ritualistic storytelling are a breath of fresh air. Michael Fehr's coarse voice and Rico Baumann's craft drum work are a combination that can inspire musicians here in Nepal too. Add to that some soft ballad with the piano and you have a show that will leave laughing and introspecting.
"I'm a surreal writer," says Fehr. "I like to write songs about what I dream. I think these things make me true to this art form."
Their chemistry is not by chance either. The two have practised a lot and what they do on stage is meticulously planned. Baumann recalls how the two synced while watching the waves during a family holiday. Since then, they say they just get each other.
"We don't have a hard and fast rule. Since it's just vocals and drums, we have a lot of room for imagination. And I feel everything comes naturally to us," says Rico Baumann.
Taking to the world
Michael Fehr and Rico Baumann now want to take this to the world. They have performed in different parts of Europe and have also played in India. But, both want to do more as they believe there is a lot of potential in what they are doing.
"It's been great and people have been recommending us to people and people from all over the world are calling us to play in their country or venue. That's what has brought us to Nepal," says Michael Fehr.
They came to Nepal upon invitation from Shilpakar & Co via a Swiss public foundation called Pro Helvetia in New Delhi, which supports and disseminates Swiss arts and culture in South Asia.
"When they approached us telling us there were these two artists coming and I instantly said yes because the type of music they are doing is unique," says Bhushan Shilpakar, the founder of Shilpakar & Co.
As with all of their events, the venue chosen for this was unique: a temple in the middle of a busy Patan. Amidst all the chaos going on outside, the music being played inside was just as chaotic as it reflected the world's social structure.
Michael Fehr, a few days prior to the show, had told me that he was critical of his shows and that he feels nine out of 10 shows were dud. But after the show, as I asked Rico Baumann if this was the one, with a gentle smile and nod he said, yes. And, it was evident when they played two more songs upon the audience's encore.
"This was great. We hope to come back someday and play again," says Baumann.