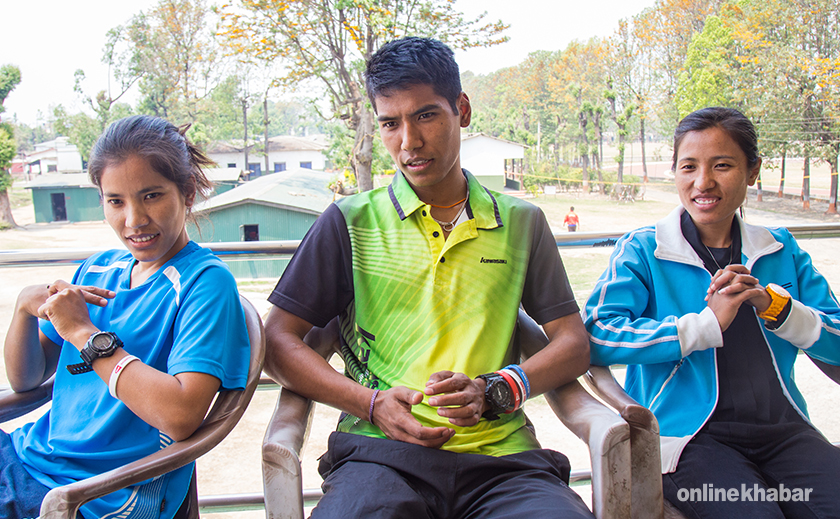 If you have been to the final of a national level badminton tournament in the past few years, you may have seen Saradevi Tamang, her brother Ratnajit or sister Nangshal play as a team or as individuals.
It would be an understatement to say that the Tamangs from Bhojpur have dominated the sport for the last few years. Sara has been the number one in women's singles for the last three years. And when she is not in top form, her sister leads the rankings.
The beginning 
Back in the 80s, badminton in Nepal was not even considered a serious sport. It was viewed as an early morning activity that would help Kathmandu's well-off sweat diabetes out. Upon their transfer from Kathmandu to other parts of the country, government officers would head for the districts with rackets and shuttles to continue their hobby.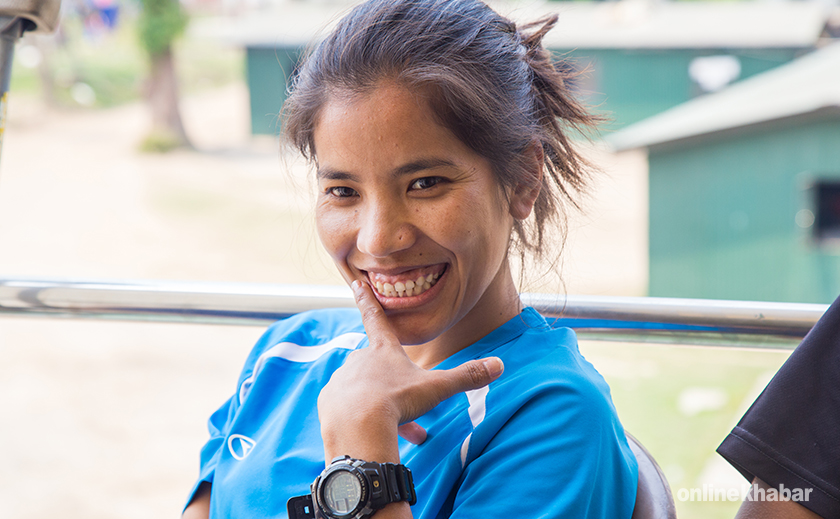 One of them was a Nepal food corporation officer, who had been transferred to Bhojpur. "He'd gather men from surrounding areas in the morning to play badminton," says Sara, who is now a captain in the Nepal Army.
"Our dad took the game very seriously"
Every day, early morning, the men would play for hours on end, and the officer would teach them the rules. "Our dad took the game very seriously," says Sara. "He would take part in the district-level tournaments, and even go to Kathmandu to play national level tournaments in Kathmandu — a rarity in those times," she remembers.
Sara was born in 1984, her sister Nangshal three years later, and brother Ratnajit in 1993.
"Our dad would come back home to tell us about the 'lahurinis' in Kathmandu who win tournaments after tournaments, and tell us that he wants us to take up the sport," Sara remembers. But she had to wait until she was 11 for her father to get her a new racket.

 "Look at him play, learn something from him, our dad used to tell us."
"Until then, they (our father and uncles) would not allow us to play with them. We were too small for them," says Nangshal, who now plays for the Army under a contract.
But in the case of Ratnajit, he was allowed to take up the racket at an earlier age. "Look at him play, learn something from him, our dad used to tell us," says Nangshal.
While the father, the son and the daughters were busy honing their shots and blocks, the mother was worried about the future of her children. "Our mum would say that we had to study, and badminton would get us nowhere," shares Ratnajit.
"Our mum would say that we had to study, and badminton would get us nowhere."
Sara, who first started her badminton career with the APF club, competed for a place in the army, and successfully cleared all tests. With her help, her brother Ratanjit also joined the army. Meanwhile, Nangshal, who is not an army staff, got the opportunity to play for the Army under a players' contract.
Number one in Nepal, but 'nobodies' abroad
Although the Tamangs have dominated the sport in Nepal, for over half a decade, they haven't been able to translate domestic successes into international trophies. At the peak of her game in December 2015, Sara was ranked 380th in the world, Nangshal's best ranking, also in December 2015, was 434th and Ratnajit's was 193rd in October 2015.
The family started playing badminton out of sheer interest, and went on with it without much of technical knowledge. They were not products of a state mechanism to develop and train shuttlers in Nepal. "When I play at the international level, I realise the vast difference between our skills and that of our opponents," says Sara, who played the Indian shuttler PV Sindu, and was defeated 21-2, 21-8. "The only thing that was positive was that in the second set, I managed to get 8 points."
Ratnajit also feels that although he puts in a hundred per cent effort every time, there is a gap, which can be fulfilled only through training and experience.
The dream
Sara, who has been recuperating from a torn ligament, says her dream is to get new talents into the game, coach them, and give them what she and her siblings could not get. "I am hopeful that I can recuperate soon, and make a comeback in a big way," she says. "Then I can think of fulfilling my dream."
So what does their mum say about their game now?
"When I do not play well, she calls me up and orders me to take the game seriously," Ratnajit says with a giggle.